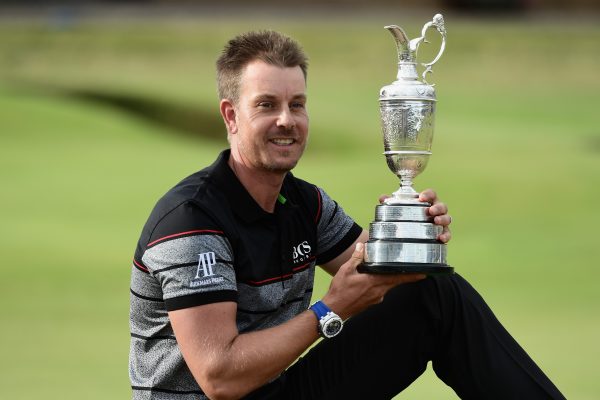 As much as we like watching a new rising star like Tiger Woods, Rory McIlroy or Jordan Spieth walk into golf's largest arena and thoroughly beat the best players in the world, and whilst we get transfixed on the re-writing of the scoring records and ushering in a new era, there is nothing quite as captivating for the television viewer, as watching two elite golfers duelling it out, playing their best, on a Sunday in a major…the duel that turns into matchplay, in a major, is a rare sight in this day and age and we got that on major Sunday at Royal Troon, Scotland, but we also got a lot more as Henrik Stenson and Phil Mickelson re-wrote the history books, on pages that seemed to be previously etched into stone. This was a major that will be talked about for decades and how appropriate that it happened in Scotland and at the oldest championship of them all.
The Ballstriking Viking may well be Henrik Stenson's new moniker after the Swede became the first (male) Swedish golfer to win one of golf's four coveted major titles. Of the great ballstriking rounds, in major championship history, this one by Stenson will be up there with David Graham's at the US Open at Merion, Jason Day at Whistling Straights or Tiger Woods at Pebble Beach, St Andrews or Augusta. Yet, dare I say it, maybe Stenson's ballstriking show is the new benchmark, with a closing round of the magic '63', tying the lowest score in major championship golf. To further the discussion, Stenson's 20-under total is also a major championship scoring record and it all took place on a golf course as difficult as Royal Troon, a course that last time it held The Open (2004) only surrendered a low score of 67 (Lee Westwood and Davis Love III). Stenson's closing round 63 and his second-round 65 were both sublime and only matched by his formidable duelling partner Phil Mickelson, who opened with the record-tying 63 and closed with a six-under 65. Royal Troon has a new course record, 63, owned by the duelling pair.
Thanks to the Scottish weather, this was no 'duel in the sun', although the script definitely had a similar plot with two golfers running away to a ten shot margin to third place. By day's end Stenson was 14 shots in front of third place and had rolled in ten birdie putts.  Looking back at the infamous 'duel in the sun' of 1977 at Turnberry Scotland between Tom Watson and Jack Nicklaus, it was tight and there was only one shot in the end decision and a victory to Tom Watson who became one of the most prolific winners of The Open Championship with five victories, matching Australian Peter Thomson's feat. As much as we like to be sentimental and look back at history and the epic events, we can't lose sight of the fact that this Open Championship has delivered its own script, one worthy of its own name.
If you listen to Jack Nicklaus, he knows how good this final day was.
"I was fortunate to watch every second of Sunday's final round of the Open Championship, and I thought it was fantastic. Phil Mickelson played one of the best rounds I have ever seen played in the Open and Henrik Stenson just played better – he played one of the greatest rounds I have ever seen. Phil certainly has nothing to be ashamed of because he played wonderfully. Henrik played well from beginning to end. He drove the ball well, his iron game was great, his short game was wonderful and his putting was great. Henrik was simply terrific."
In relation to the historic 'duel in the sun', Nicklaus offered the following:
"I thought we played great and had a wonderful match. On that day Tom (Watson) got me, 65-66. Our final round was really good, but theirs was even better."
Mickelson and Stenson both came within a hair's whisker of shooting 62 and breaking one of the longest-standing major records.  Only three other players in the field broke 67 for the whole tournament. The numbers just keep on popping out. Ten birdies in the final round, for an 8-under 63, the lowest final round score in a major (tying Johnny Miller's epic US Open final round in 1973) also contained two three-putts, again signalling the ball striking show that it was, from Stenson. Royal Troon is a demanding and long par-71 at over 7100 yards and in the final round Mickelson and Stenson shot a combined 14 under par. Incredibly five better than the famed duel in the sun of 1977. The final grouping securing the two low rounds of the day. Mickelson's 65 was two shots better than anyone else in the field.
The tension was clear midway through the back nine, who was going to flinch first, this really was like a boxing match. After 14 holes of incredible golf both players walked off the par-3 14th with birdies and there was still only one shot in the match, Stenson one up. The 15th green really changed the match as Stenson holed perhaps the longest putt he had all day, from over 50 feet, it was like a dagger to the heart of Mickelson, yet he did not give in.
Standing on the 16th tee and two down, Mickelson ripped his driver and then lazered another wood onto the par-5, while Stenson missed the green left in the rough, a window for Phil. That window was slammed shut with a stellar chip from the Troon rough that finished three feet from the pin. Mickelson's eagle putt looked in for all money, yet flirted with and stayed on the lip. They halved in birdies. Stenson two-up.
Standing on the tee of the long par-3 17th, Stenson was so focused it was almost like he brought the green from 220 yards right up to the palm of his hand and surveyed the green contours, then darting a long iron to 7 feet. That was the moment; it was like the referee in a boxing match blew the whistle, but Phil didn't hear it, he scrambled for par and gave himself a whiff, and that whiff may have transcended into the smell of victory had Stenson's ball rolled another 20 cm off the 72nd tee and into the famed 'Norman bunker'. But it didn't. Again, this was Stenson's day, the golfing gods were smiling on this affable Viking.
The lead changed seven times in the final 18 holes as they halved holes with birdies and lost holes with pars. 'Phil The Thrill' shot a bogey-free six-under 65 and still lost by 3. Had Stenson decided not to play this tournament, Phil would have won The Open by 11 shots and been the oldest Open Champion since Old Tom Morris in the late 1800s, but the golfing gods had other plans. One can only hope that Phil Mickelson wins the US Open in the coming years and puts himself in that elite Grand Slam company that he so richly deserves, a star of the game, the best left-hander in history and such a pleasure to watch.
This duel was Stenson and Mickelson at their very best and what a sight to behold. Three-times Open Champion Nick Faldo commented that "we will never see perfection on a links like that ever again in our lives." Phil Mickelson's longtime caddie Jim 'Bones' Mackay offered that 'this might have been Phil's best performance ever.' One cannot argue with that; Phil's 17-under score would have won or put him in a playoff for 141 of the previous 144 opens that have been contested.
Dominant major victories seem to be a phenomenon of the modern era of golf. Beginning with the heroics of Tiger Woods at the 1997 U.S. Masters. The record books were rewritten time and again by Woods and he has set the trend for the next decade with absolutely commanding wins by McIlroy, Spieth and now Stenson. While the aforementioned wins are memorable, none of them were as captivating to watch as this one by Stenson, starring Phil Mickelson.
Stenson dedicated his win to his friend (Mike Gerbich) that died on the Wednesday before the tournament, after a battle with cancer. Mike was a left-hander and keen golfer. Perhaps he somehow helped. It sure felt like Henrik Stenson had help coming from somewhere, he was simply awesome out there and anyone that was privileged enough to witness it will be talking about it until the grave.