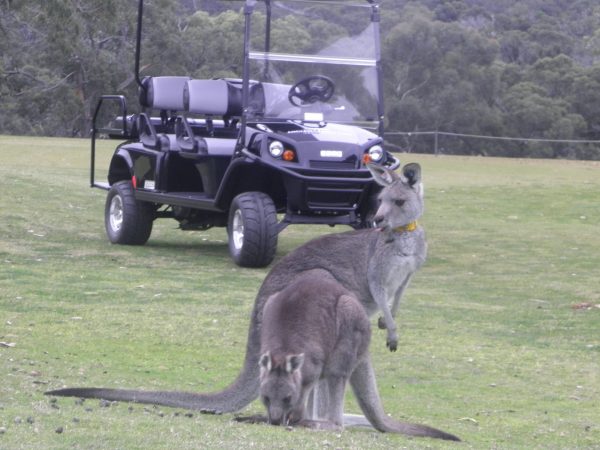 Borrowing from the old proverb "When life gives you lemons, make lemonade", Victoria's Anglesea Golf Club has turned what was once a potential health and safety hazard into a bustling wildlife tour business.
The Bellarine Peninsula-based golf club has long been famous for its generous population of kangaroos roaming the fairways. As a result, tourists from far and wide would travel to the club, and wander the course, unsupervised, to catch glimpses of these lovely animals.
"They would come up here to look for kangaroos and we end up with tourists just wandering out onto the golf course, which is obviously very dangerous," says Anglesea general manager Rachel Kane.
"So we decided to try and control that from an occupational health and safety concern and insurance concerns, and create structured, guided tours," Kane says. "Yes, one of the aims was to make money, but the other aim was to try and structure it and make it safer for everybody concerned. Our volunteers who drive the cart and take the tours are all golfers themselves. They're all club members, bar one, so they're quite aware of when to give way and when not to give way, so it hasn't had a great inconvenience on our members."
The club's 'Kangaroo Tours', which are run almost entirely by volunteer members, came into existence in August last year and in the 2015-16 financial year generated $62,500 in gross ticket sales revenue.
The 2015-16 figures show 7,200 people came to Anglesea's 18-hole layout for the sightseeing tours with adults paying $10, children under 12 charged $5 and $25 for a family of four.
"We operate Monday to Friday [10am-4pm] during the winter months and from October through until April, we do seven days a week," Kane says.
"It's certainly driven revenue. We've made considerable money since its inception in August, from taking people out, so I think the kangaroos might start forming a union shortly and want a cut," laughs Kane.
Visitors have come from more than 50 countries to experience the 25-minute tours.
According to Kane, the vast majority of the Kangaroo Tours' customers are Chinese while there are often visitors from Scandinavia and other parts of northern Europe.
"The Chinese new year that we had in February was huge. Volume-wise, they were just pouring down the coast and there was one day in particular where we couldn't keep up because the cart only takes five people so I took out walking tours of 72 people over three walking tours, plus the cart was going non-stop, so we had hundreds," Kane explains.
With many international tourists visiting the golf club purely to look at kangaroos, the tours have only generated a small increase in green fees but since October last year, food and beverage sales have spiked close to 10 per cent.
"If they turn up late morning, early afternoon, they're inclined to have something to eat while they're waiting."
The Kangaroo Tours do not operate on Total Fire Ban Days or extreme weather days.