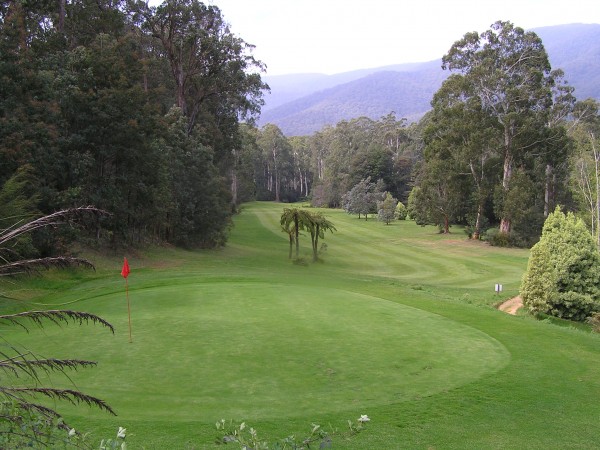 Driving down the main street of the tiny Victorian town of Marysville is a slightly surreal experience these days, not for what you see (for the view is truly beautiful), but rather for what you DON'T see.
For a town that lost nearly all of its buildings to the Black Saturday bushfires in 2009, one would expect to see charred trees, blackened bushes or frames of burned-down buildings.
But you'd be hard-pressed to see any of that now.
Mother Nature certainly has done her part to replace most of the burned areas with lush, beautiful greenery. In fact, much of the surrounding area in town has recovered to a point where you'd hardly notice there had been a bushfire at all.
The locals, too, are doing their part. Homes are slowly being re-built; grand, new buildings are sprouting up in town and scenic areas like Steavenson Falls are now fitted with new facilities and lights.
Like a phoenix from the ashes, Marysville is being reborn. But the one thing you DON'T see – the one glaring thing missing–is the tourists (well, that and a local pub, but I digress.)
The lack of summer tourists is a shame, as Marysville and the surrounding area has so much to offer. Being less than two hours from Melbourne, it is an ideal distance for a short break or weekend away, and there is heaps to do.
I had the pleasure to drop in last month for the Marysville Sparkling Wine Festival—a week-long event celebrating the amazing food, wine and activities of the area. Featuring a Business Breakfast, Golf Day, Gala Dinner and more, it is a fantastic event that sits nicely among a growing stable of great events and festivals beginning to emerge in the area.
Of course, I wasn't just there for the food and wine: I was keen to tee off at the golf day at the Marysville Community Golf and Bowls Club, which I have been anxious to explore for some time.
Despite losing 17 greens during the bushfire, the golf course at Marysville is now in amazing condition. I don't say that lightly. I reckon the greens at Marysville are currently some of the best of any country course in Victoria. They roll true, are well manicured, and have benefitted greatly from an extremely wet winter, which has made them (and the rest of the course) lush and green. Of course, the great condition is also due to the hard-working greenskeeper Rob Christie, who–with the help of a dedicated group of members–has done some amazing work.
The course is a pleasure to play – even in the rain that plagued us during my visit. With plenty of dog-legs, club-grabbing rough, changes in elevation and the ever-present river guarding key areas of the course, there are some real challenges to be had. I really loved this course, and I will be sure to make it a regular stop in my future travels.
There is also some amazing scenery. Looking around from the elevated 13th tee offers some spectacular views of the lush surrounds – which are once again beginning to teem with wildlife.
The club recently embarked on a funding project to redesign some of the holes, upgrade the clubhouse and improve various aspects of the club. So it will certainly be going from strength to strength in the coming years.
Of course, there are also heaps of other things to do in the area. Hiking, biking and bushwalking are popular around areas like Steavenson Falls or the spectacular Lake Mountain Alpine Resort; while anglers will enjoy dropping a line in the river to try and hook one of the many juicy trout that swim throughout. But there is heaps more.
When planning a trip to Marysville, securing accommodation should be your very first task, as the number of places to stay is currently a bit limited (but that will soon change with the recently-announced $28 Million Hotel and Conference Centre to begin construction next year, which will include a 100-room four-star hotel, conferencing facilities and accommodation for around 300 people.)
While many current visitors opt for one of the popular B&B's, I was fortunate to stay at the Marysville Caravan and Holiday Park – which features quaint and clean cabins, and sits right on the river. Perfect for a group of golf buddies on an "annual golf weekend", the cabins have WiFi, big screen TVs, kitchens and clean and comfortable beds. Families will also enjoy the park, as the kids will find plenty to do in the playground or on the "Jumping Pillow".
So do yourself a favour and give Marysville a look these days. You won't be disappointed.
Links:
www.marysville-golf-bowls.com.au
www.marysvilletourism.com
www.lakemountainresort.com.au