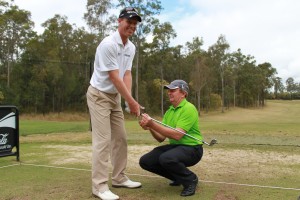 YOUNG guns Rory McIlroy and Jason Day might be the hottest golfers on the planet right now, but that won't stop John Senden believing he can win this month's US PGA Championship.
The former Australian Open champion will tee it up in golf's final major at the Atlanta Athletic Club (August 11-14) secure in the knowledge he has done everything he can to give himself the best possible chance.
Senden even made a flying visit to Brisbane to see his long-time coach Ian Triggs, who is delighted with his protégé's game going into the PGA Championship.
Triggs, who recently set up his Ian Triggs Golf Academy at Brookwater, said Senden was playing "exceptionally well".
"He's has proved that over the last 10 months by being on the leaderboard 90 per cent of the events at some stage," he said.
"Physically and technically John is really well-organised so it's just a matter of being patient.
"He's really starting to get some great consistency in his game and, like most people near the lead, just needs that little bit of a break to totally compete.
"I think the US PGA Championship suits his game. He went close in 2007 when he finished fourth behind Tiger Woods.
"The event is being played at a place called Johns Creek so I think that's a bit of an omen."
Senden, who won the John Deere Classic on the US PGA Tour in 2006, said he felt confident going into the US PGA Championship.
The tall Queenslander turned 40 in April and believes it's the start of a new chapter in his life.
"I'm 40 years old now so I'll be playing using my experience."
I ask him if he will put himself in contention if his putter is red hot from August 11-14.
"Absolutely, you need to be putting well and it's a matter of being hot in the scrambling department as well," he said.
"In fact, every part of your game has to be in place, although the strongest battle is mentally.
"My results in major championships haven't been brilliant, but I have had a fourth place in the US PGA so it's there.
"You saw what Rory McIlroy did in the US Open. He had a great attitude all week and kept pressing forward, committing well and that's where I need to be."
Senden believes his biggest challenge will come from proven young performers like Day and McIlroy as well as a number of experienced veterans.
"Rory (McIlroy), Jason (Day) and American Rickie Fowler are the men to beat now and are looking the goods at the moment," he conceded.
"They are all playing very well and so is Bubba Watson.
"And then you've got the veterans like Phil Mickelson, Steve Stricker and Tiger, who has been a little bit up-and-down, but they have the experience to win the PGA Championship."
Asked to rate the rest of the Australians' chances, Senden said: "Jason Day is extremely focussed and so is Adam Scott, who has unfinished business in the majors.
"Aaron Baddeley is going great, Geoff Ogilvy is playing well and (Robert) Allenby and (Stuart) Appleby have been solid their whole careers."
JOHN SENDEN PROFILE

Age: 40

Turned pro: 1992

Height: 190.5cm (6'3")

Weight: 90kg (198lb)

Lives: Dallas, Texas and Brisbane

Family: Jackie and son Jacob, 7

Interests: Family, bike riding, fishing and boating

Tournament wins: Australian Open (2006), Indonesian PGA Championship (1996), Interlaken Open, Alliance Open (1998 European Challenge Tour), 2006 John Deere Classic (US PGA Tour)

Career prizemoney: $US12m+.