With a potential return to the PGA TOUR in the cards, as well as a world-class golf course development in the making, Mat Goggin's future is looking bright.
Not many people know the cut-throat nature of life on the world's biggest golf tour better than Tasmanian Mathew Goggin.
He's spent 10 seasons on the PGA Tour since 2000. He's been relegated to the Web.com Tour on three occasions – most recently last year after finishing 177th on the PGA Tour money list.
Bouncing from the PGA Tour's five-star lifestyle to the relatively humble surrounds of the US secondary tour would test the patience of any professional.
But Goggin says his desire has never waned.
"It tests your ego more than your competitive resolve," Goggin told Inside Golf. "If you lost that you couldn't compete at any level as a pro. You are always trying to shoot the lowest score possible, doesn't matter where or when."
A return to the big time in 2014 appears likely with Goggin well inside the all-important top-25 money list.
Eight top-25 finishes including a second-placed finish at the season-opening Panama Claro Championship are hallmarks of a consistent season.
But it's spawned mixed emotions for Goggin.
"On the one hand it's been good to be around the lead for most weeks, on the other hand it's been frustrating not putting four rounds together and capitalising on the good play."
At 39, Goggin has been on the scene for a long time.
He burst onto the Australian golf landscape in 1998 with a second-place finish at the Australian Masters and victory later that year at the now-defunct Australasian Tour Championship.
Since then he boasts only four professional wins – all coming on Web.com Tour.
Contrary to predictions of greatness earlier in his career, he's yet to notch a win on the PGA Tour.
It remains a gaping hole in the Hobart native's resume but one he still expects to fill.
"I think you always believe your best golf is ahead of you, time will tell," Goggin says.
"Winning a US tour event would be great for job security and a realisation of a lifelong dream."
Goggin is even more inspired to perform at his peak on home soil.
He came agonisingly close to victory at the 2008 Australian Open – losing in a playoff to South Africa's Tim Clark.
"Winning the Australian Open would mean more to me than any event outside of the majors."
A tie for 21st at June's US Open served as a reminder of what Goggin is capable of.
"When I play nicely my game is good enough to compete with and beat the best."
But weekend action at majors has been sadly lacking for Goggin.
A tie for fifth at the 2009 British Open at Turnberry is his only standout finish – one of just four cuts made from 12 majors.
Goggin admits he's consistently underperformed.
"I haven't played anywhere near the level I know I can play at. It's always frustrating sitting on the sidelines."
While Goggin seeks to rectify his major form, he's been preoccupied by his efforts to bring another world-class golf course to Tasmania.
Goggin has been eyeing a piece of land at Seven Mile Beach – less than 20 kilometres east of Hobart – for the development of two golf courses.
The project is known as The Golf Preserve.
The coastal land – a mix of pine trees and rolling sand dunes – has undeniable potential and has drawn comparisons with Oregon masterpiece Bandon Dunes and a New Jersey course widely considered one of the world's best – Pine Valley.
"I grew up playing just down the road from Seven Mile Beach at Royal Hobart Golf Club. I used to go down to the beach and look over the land hoping that one day someone would build a course. The land is astonishing, pine trees over sand dunes, very reminiscent of Pine Valley."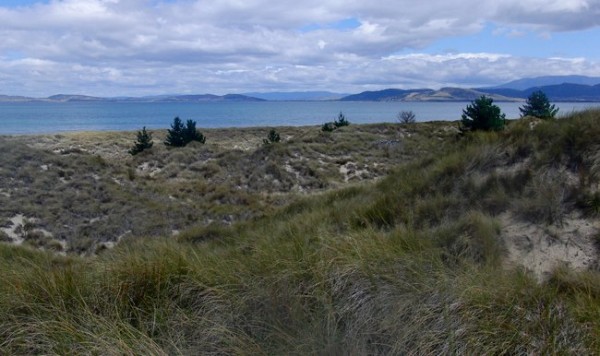 After his own investigations, Goggin found previous projects in the area had never gained any momentum.
But he's determined to leave his mark on the land.
"Mike Craw and I came to the conclusion that there was no defensible reason why there wasn't a golf course down there and we set about the task of making it happen. Three and half years later we are still pushing and have assembled a really good group of investors and experts."
Ogilvy Clayton has been called in to look at the future design of two championship courses.
"Hopefully we will get the okay soon and we can further enhance Tasmania's reputation as a golfing destination and make people forget about the sand belt."