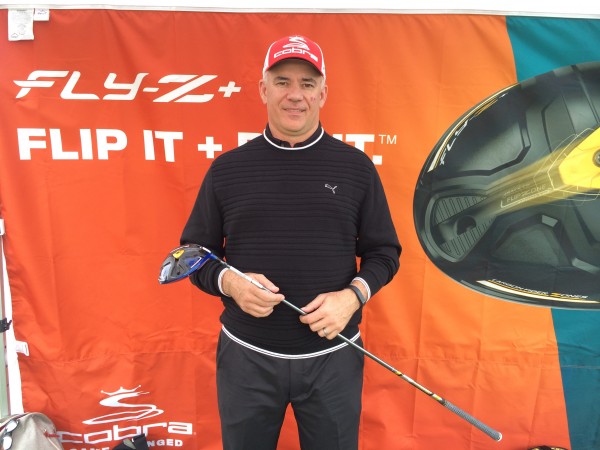 What excites you most about Cobra's current gear?
There's a bunch of things really. The Fly-Z+ is our flagship driver, and we have something called a Flip-Zone weight where we can move the weight from front to back. The big debate in the industry is….TaylorMade says put the weight in the front, PING says put the weight in the back.  We're actually going to give you the choice.  And the great thing about our system is, we saved a lot of weight in other places, like the head, so we can really make this weight system effective, and it's very low.
So if you look at most other movable weight systems, there's a track which runs all the way across, all around the back. All those systems raise the CG (centre of gravity).  Our system doesn't because it's low and in the middle.  We're going to have one of the lowest CGs of any adjustable weight driver in the market today.  So that's very exciting.
We do some things with carbon fibre on the crown and on the soles, it saves weight.  The speed channel gives us more speed on misses and saves weight.  Internally, we've changed some structures where I think we have the most efficient hosel structure in the game, so all that weight we save up front and off the crown can go into the rear weight and make a better performing driver.  In the end, that's what people see.  If they see better performance, they're likely to buy it.  And the flexibility of the system is something that no one else is providing right now.
When we look at the Fly-Z, we've taken a lot of things we've learned, we have the speed channel, we save weight on the crown. But in this design it moves all the way to the back.  It's a very forgiving driver.  It doesn't have the flexibility of moving the weight but gives us extremely high inertia.  This is about 5000 MOI, so that's one of the most forgiving drivers on the market today. But the weight is still relatively low, so we get great distance and great forgiveness, and really great performance in the middle of the market.  So we've got two real killers here.
Then the last one we do in the drivers is the XL, which is an offset design with no sleeve, really built well for seniors and women.  It's very forgiving, with a strong draw bias.
So that's just the drivers.  But I'm excited about the whole line because we've got really good results so far.
Tell us about the design process. How long does it take from initial idea to completed product?
Typically, the way it works in our industry is you start with a concept or an idea, maybe two or three years in advance.  Then you have some of your engineers in the research group working on 'how do we make that thing work', or 'how do we save the weight here' or 'how do we change this face structure'.  You have people working on different components and you've got to pull them altogether.  The concept of when you get to 'what's the name', or 'what's the design', is usually a 12 to 15 month-out process.
I started at Cobra about 15 months ago, so it was right on the ground steps of this project.  So we had to work through a number of issues, a number of challenges. And then you've got to go into production and figure out the production issues.  You can usually make one part really good…but now you have to make thousands and thousands of parts. So there's a production process there, and we work with our vendors and agents to really fine-tune that, make sure the product sounds good, feels good, lasts, and looks good.  All those things are relevant to the final product.  We call it the 'Tsunami process', because usually it hits the concept stage first, then the design stage, then the engineering phase, and then the production phase.  Each of those is a big loading on those particular phases, so we have to manage that.
Talk us through the challenges of designing a 'family' of clubs, with different characteristics
When you're designing all one name and kind of a family look, you have to make sure you have what we call 'the same, but different'.  They may have some similarities so that it looks like a family but I need to make them different so you can tell which is which.   So that's the 'same but different challenge' that we throw at our designers all the time.  And we have to start it pretty much about the same time.  What you try to do, though, is try to balance the work load.
What were some of the biggest challenges in this product cycle?
All kinds of challenges.  You know, one of them is when you put carbon fibre into a head with titanium, you have to make sure that structure is built right so that everything bonds together properly, and is consistent, and your process is good. Because you're basically making these things by hand one at a time in Asia.  So, if you don't have process consistency, you can't make one to the next very consistently.  That's more challenging than a design where it would be, say, all cast titanium.
Sound is always a challenge on any driver.  Usually, the more structure you have in metal, the louder it sounds.   The great thing about a composite structure is that you can quiet those vibrations.  So, if you look at some drivers that may have had moving weight systems that don't have composites, they sound loud and sometimes can be objectionable to certain golfers.  That's always a challenge – making sure the sound is right.  We make 'bells' when you think about it, because there's a sound, a vibration and a frequency, and all those things have to be designed.  The good thing nowadays in the industry is we do a lot of that on the computer.  We have packages that analyse the structure, and we can analyse the sound output before we make a part.  Then the go after that is to get the part you're making be like the one you're designing, so there's always a little bit of 'back and forth' there.
How has design changed since you first started in the industry?
It's hugely different.  In the old days, you would give the designer—the 'model maker'—the specs, and say 'I want X to be 0.75 inches, the head to be 3.2 inches, X to be 4.7 inches'.  You'd draw that on a piece of paper and say, here's what I want.  Then you'd work with that tool maker and say 'I want a shape like this', and they would have some idea.  Sometimes you would use clay or bondo to shape it up.  Then they would have a tracing machine, so they would trace it and cut it onto the master part.  Then you'd get the master and then you'd have to make the internal core, because all of these structures are hollow, so your core is the jigsaw pieces that you take out.   You make it as light as possible, and then you test it to see where you put the weight, and then you finalise the core.
That process took months, because we would get the parts, and then we'd weight them up and see what happens.  Nowadays, all you have to do is tell the engineer 'I want to hit this CG target', and he would say 'make this weight here and here'.  Boom, he'd give me the CG target, the weight, the lie, all those things.  It's just way faster, and that's why the industry can move faster than it did.
In the old days, when I started, it was a three-plus year gestation period from new product to the next product.  Now you see some companies go 6 months.  That's not always good for the business, but in reality you can do things a lot faster.  It still means there are challenges because now that you can go faster, you can uncover more things. And uncover more opportunities.  This speed channel feature took us a lot of man hours to analyse and design to make sure it looks right.  But once we get it done on the computer, it works pretty well.
In addition to performance, Cobra is known for the snazzy, exciting look of their gear. Where does the "look" fit in the creation process?
The group that works under me are researchers, engineers, technicians and the design team.  The design team is industrial and graphic designers.  So the industrial designers are working on how they want this to look, and what the cosmetics should be.  The mechanical guys are working on the structure.  The manufacturing guys are working on how we can make something right.  So, they're all kind of working in parallel, and hopefully you're going to bring it altogether at the end, and you end up with a great package.  There's always some trade-offs.  The designer may say 'I want this edge to be sharper', and the manufacturing guy says 'it's really hard to do', so there's always these trade-offs.
The designer has a certain look that they want to see.  Our internal motto is "cool stuff that works." So we know we want it to work and we know it's got to be cool but we have a lot of latitude from our leadership as to what "cool" is, and we study a lot of trends in the industry, whether it's automotive, or bicycles, or football helmets, or whatever to help give us some clues as to how to make it cooler than it was.  With paint, decals, shapes, and things like that. We have a lot of fun with that, and it's definitely at the top of our list, because we know that a product that you like the look of—both from shape and the coolness aspect—is more likely to be the one you buy.
Looking ahead, what sort of advances do you think we'll see in golf clubs in the next few years?
Sometimes we don't know this far out what three years will hold for us.  Three years ago, we had thought about moving weight systems, but we hadn't figured out the mechanisms or ways that were cost-effective and performed and sounded good…all those things.  It's a constant challenge.  We're always looking ahead.  The way I talk about design is…I don't care who it is, engineers, designers, writers, journalists… you're trying to always get better.  That's the age-old thing in golf.  If we can make better weight properties, and thinner structures, then the club performs better. We're continually working on those things.  So, I would expect in three years, five years, you're going to see structures that are thinner, weight systems that are better, shafts that are better, everything about it is going to be better.