Castle Hill Country Club in Sydney's population-booming north-west region in recent years has been surfing a surge of success which has provided it with a winning profile that few golf clubs in Australia currently could boast.
However once you meet Castle Hill's General Manager Melissa Ellis—enjoying her third year at the club despite coming from a non-golf business background—you soon realise that Castle Hill Country Club is not about to be caught drifting along, satisfied it has reached a comfortable niche in the competitive golf club industry.
Castle Hill Country Club already boasts probably the largest playing membership in NSW with 1600+ members—including a healthy boost late last year of 119 new chums in the highly-prized 35 years to 45 years demographic.
Add to that a return to "happier times" with an almost full booking sheet on the Corporate Golf Days front – only three days remained available in 2015 as of March – and it's hard to imagine that things could get much better.
"Running a profitable golf club is a real challenge. It had been a year of consolidation for us with a few costly changes. Our golfing numbers this year are down a little bit but we have a lot of different things on the boil, an enthusiastic Ellis says.
"Our corporate days are doing really well—bolstered by a sparkling new cart fleet—and the course is looking beautiful, which allows us to maintain our prized reputation in that important area.
"But, while we are doing well, we can't afford to slack off and we have to meet new challenges."
Ellis, a qualified chef, who previously operated a business catering firm before becoming involved in executive training, has approached her initial role in the golf industry at Castle Hill Country Club from a fresh new angle.
"I really feel for a lot of golf clubs because I think it's a really difficult industry and we have to push and push and push," she says.
"I think golf clubs have to reinvent themselves and become more appealing to the masses. I'm really into bringing our juniors through and getting families more involved with our club.
"We haven't dropped our joining fees, like a lot of clubs have, but in March introduced a scheme where the joining fee can be paid over five years.
"We think some potential members have 'banked' their joining fees 'until the kids grow up'. I think this new scheme will bring across many people who can't afford to outlay the $7500 in a lump sum.
"We constantly have to look at ways to do that in regards to membership.
"Also we have a large clubhouse which is extremely expensive to run on its current footing as it is very labour-intensive and we are looking at ways to improve that.
"One of the great difficulties is to balance the needs of our golfing members—some of whom choose to play and go—with more social members and visitors who enjoy our Bistro dining, which has become a great revenue stream, given the outstanding food and wonderful setting.
"The club has to be commercially minded. I don't consider the selling of adjacent land — which might provide financial comfort to some golf clubs — as the sole answer; it's more about what we create."
In that regard she and the Castle Hill Board are keen to expand on their very successful recent ventures of the hosting of men's and women's professional tournaments.
Despite her catering-business background, Ellis is acutely aware that Castle Hill Country Club's renowned championship golf course is its shining asset and it remains the major focus of the club's commercial activity.
"The course is looking great. Following the retirement of our quite legendary course superintendent Martyn Black of 25 years standing in December, we have given our younger green staff members the chance to step forward for a trial period" Ellis says.
"They have come out with some fresh new ideas which certainly will involve a lot more detailing of the course and we also are looking at a major refurbishment of our bunkers."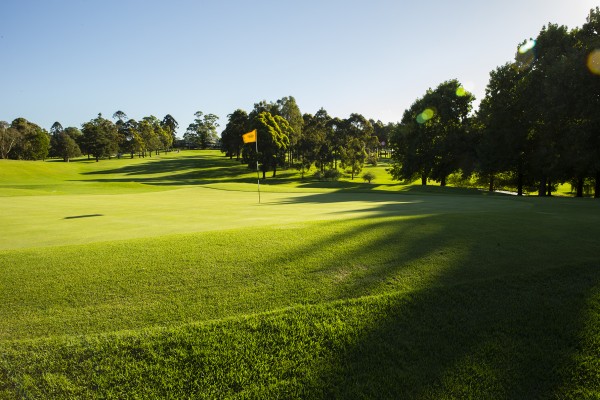 Encouraged by the outstanding success in 2013 of being the venue for the famous NSW Open Championship—which included staging not only one of Australia's PGA Order of Merit titles but also a very popular food and community cultural festival—Ellis and the Castle Hill board of directors are keen to do more.
This year they have been in discussion with the Australian Ladies Professional Golfers about holding a major women's tournament at Castle Hill in 2016.
Ellis said that she is amazed that Sydney does not stage a national women's professional title and is hoping to rectify that in 2016 by Castle Hill hosting a brand-new event: the ALPG Tournament Players Championship, played over 72 holes.
Plans are well-advanced for the tournament with the finalisation of a naming rights sponsor the clinching factor in making it happen.
"Our women's ALPG Renault pro-am, held in January, which involved a really exciting three-hole playoff won by French golfer Marion Ricordeau,brought rave reviews from the players, members, the public and all of the sponsors involved," Ellis says.
Another indication of Castle Hill's innovative outlook will be on show in June when the club will host Australia's first World Series of Golf  event with the exciting $250,000 Turbo Tournament to be played over just one day, involving amateurs and professionals.
A maximum field of 200 golfers will each pay a $3000 entry fee ($5000 if sponsored) and compete in a unique knockout competition, against only four players over 12 holes at a time, with each player using just five clubs.
After two rounds of 12 holes the 200-strong field is reduced to 12 players and then four players will contest the final with the winner earning $100,000.
Initially, when approached, Ellis was worried the event might be staged over several days but on learning the details, she realised that it "virtually was just a larger scale corporate day".
The financial and media benefits to Castle Hill Country Club (the Turbo Tournament is to be replayed on the Foxtel TV network and is likely to be heavily sponsored) make it look like a commercial and public relations winner for the club.
"I think it will be really good with an interesting fun format, involving hole-in-one competitions and television and sport celebrities competing, and it will be entertaining for our members," Ellis said.
"I think some of the traditional business outlooks of golf clubs need a rethink."
And judging by the on-going success the Castle Hill Country Club has enjoyed under her stewardship many of her wise words and her fresh approach might be considered by many other golf clubs.
FACT FILE

Castle Hill Country Club
Spurway Drive, Baulkham Hills NSW 2153
PHONE:  (02) 9634 2499
WEB: www.chcc.com.au