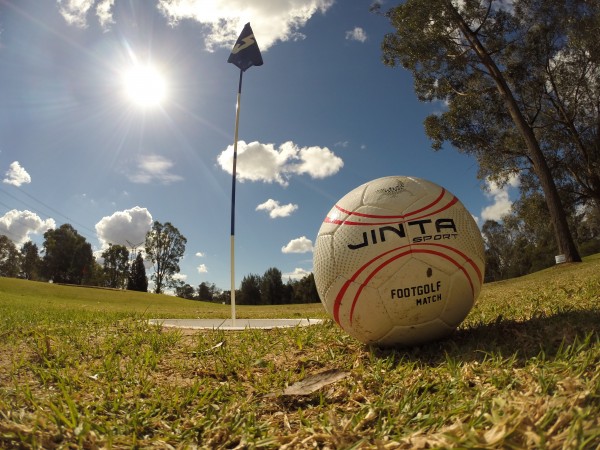 Cardinia Beaconhills Golf Links is leading the way as a pioneer of the sport of FootGolf in Victoria. The fledgling sport, which combines soccer and golf, could be introduced as a regular weekly fixture at the club and is being considered as the basis for a separate membership category.
"You get a soccer ball, you have a kick-off area, which is similar to a tee-off area and just kick the ball into a big hole, just like you do in golf," explains Club Manager Fiza Errington. "We put the FootGolf hole on the side of the fairway in the rough, so it doesn't affect the play of the golfers and you can play without having to disturb anything."
Cardinia Beaconhills plans to set the giant FootGolf cups about halfway from tee to green on each hole. The cups are about one and a half feet wide with a normal sized flagstick, allowing a round to be played much faster than a typical game of golf.
"It's definitely appealing for a younger generation," Errington says. "Hopefully with FootGolf, the idea is that they come into the sport, get exposed to the elements of golf and the golf course culture, hopefully down the track, they'll pick up golf as a sport."
The club officially launched its involvement in FootGolf on November 27, during Playgolf Week, which is a national event aimed at boosting golf participation.
"Not only is it a secondary stream of income, for clubs like ours who always struggle financially, it's also a great way for the younger generation to come in," Errington says. "Just like you pay a green fee, anyone can come in and play FootGolf. Down the track, if interest is up, we might even introduce a FootGolf membership and a golf membership."
Cardinia Beaconhills plans to take advantage of its 27-hole offering by staging FootGolf competitions, open to green fee players, simultaneously with golf competitions. "We can play around with it with 27 holes, where one nine will be dedicated just for FootGolf," Errington reveals. "On weekends, we might have an allocated time for the FootGolf players to go out."
The first official FootGolf tournament was staged in The Netherlands in 2009. The Hungarian capital of Budapest held the inaugural FootGolf World Cup in June 2012, which featured eight countries competing. Since then, Australia has joined more than 20 other FootGolf playing nations recognised by the Federation for International FootGolf.
"A member of the club came up to me and showed me some brochures about FootGolf, which is very popular in Europe," Errington says. "She just came back from a tournament there where FootGolf was massive with a big audience and lots of interest. I did my own research and thought it was a good idea as well."
According to the governing body of the sport in Australia, FootGolf Australia, there are only two venues currently staging official FootGolf events – Wembley Golf Club in Western Australia and Colonial Golf Course in New South Wales.
"FootGolf Australia, so they're going to run comps in every state hopefully if this game kicks off," Errington hopes.