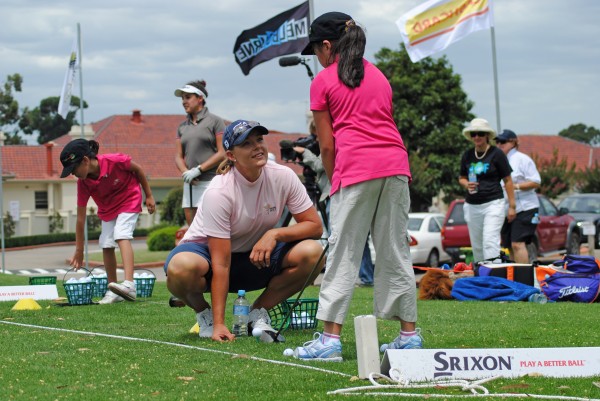 Last month, we reported on Golf Australia's plans to boost women's participation in golf via radically overhauling women's dress codes and potentially bringing an end to the traditional men's-only Saturday competitions, etc.
While many of you responded with positive feedback about the plans, there were a few of you who weren't terribly impressed—especially regarding the highly-coveted Saturday tee times.
Indeed, some of you went so far as to announce "If we have to give up our Saturdays to ladies, then I may as well give up the game completely!"
While that may be a bit of an overreaction, I understand that many of you feverishly cherish your Saturday golf and don't always want to embrace change. But the fact of the matter is that the game of golf is changing, whether you like it or not.
The line between Men's and Women's golf is becoming slightly more blurry. And I, for one, am thrilled.
Recently, we reported on the historic achievement by Robyn John, who became the first female captain at Moss Vale Golf Club in the club's 100+ year history. This month, we've got an equally inspiring story about Nerida Wilson (page 30) who was elected as Cairns Golf Club's first woman president.
These two individuals earned their titles not because they were ladies, but because they were the best individuals for the job.  They represent forward-thinking attitudes in a climate where we need the most energetic, intelligent and creative people "at the helm" if we want to preserve this great game. All egos and traditions aside, it's "all hands on deck".
So I applaud the clubs and their members for their progressive approach to what has traditionally been an old-school mentality.
Remember, women represent the fastest- growing demographic in the sport, with 41 per cent of all new players being female. In Australia, roughly 22 per cent of club members are female. This represents an enormous market that clubs, manufacturers and other businesses are slowly beginning to recognise (and target).
It's also why the "Men's Golf Club" mentality is slowly fading away in many countries around the world. Augusta National Golf Club famously announced that they had invited former U.S. Secretary of State Condoleezza Rice and South Carolina financier Darla Moore to become the first female members since the club was founded in 1932. And there are many who predict that the Royal & Ancient Golf Club of St Andrews will finally break their 250+ year "moratorium", and invite their first female member before too long.
So when it comes to Saturday comps, what is the harm with opening up the tee sheets to anyone who wants to play, regardless of gender (or age, for that matter)? A full tee sheet is, after all, still a full tee sheet, right?  From a club/industry perspective, getting more people on the course is the main goal.
And don't forget the flow-on effects from having more people on the course on a Saturday. Imagine a "Family Day" where you have mums and dads competing on the course, the kids in a clinic at the range, and a rousing BBQ at the end of the comp. Sound familiar? If you've been to a weekend event for AusKick, Cricket, Basketball, Tennis, Soccer, Cycling or (insert any other sport here, really) then you'll know how successful these can be. And every one of these sports is competing with golf for a share of Family time/finances.
Golf tournaments like the Vic Open are proof that men and women can compete simultaneously, and the excitement that is driven by events like this proves that the general golfing public supports the model.
As long as someone pays their dues, plays at a reasonable pace, respects the course (and fellow golfers) and enjoys themselves, then, in my opinion, that's all we can ask.
See you (all) on the fairways.
Richard Fellner