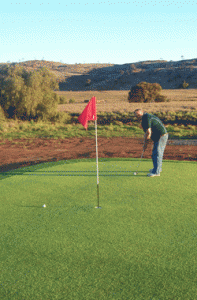 As anyone who has ever driven the length of the Eyre Highway will contend, there's not much to do along the barren, desolate expanse of the Nullarbor.
That is, unless you love a game of golf.
Winding along the Eyre between Norseman in WA and Ceduna in SA, the brand-new Nullarbor Links is set to take the title as the World's Longest Golf Course. Played over 18 holes — with one hole in each participating town or roadhouse along the 1365 kilometre stretch of the Nullarbor — this unique course offers a quintessential Australian experience and a much-needed activity/attraction for travellers.
Inside Golf first reported on this story back in 2006, when it was in the mid planning stages. Now, after many years of blood, sweat and tears (not to mention a heap of soil, sand and synthetic grass), the course — which was the brainchild of friends Alf Caputo and Bob Bongiorno — is finally set to open this month.
This 18-hole, par-71 layout was constructed using a combination of existing golf course holes – including holes from Ceduna Golf Club, Kalgoorlie Golf Club, Eucla and others — as well as a variety of custom-built holes at various road houses and motels along the way. Some of the holes feature traditional Aussie "sand greens" while the newly-constructed holes are played on synthetic grass tees and greens, with rugged outback-style natural terrain fairways.
Grass That Lasts — an Australian synthetic grass distributor and installer — was contracted to build the 13 synthetic greens and tee areas at various locations along the course. All up, over 2300 square metres of synthetic turf were used, as well over 650 tonnes of sand, rubber underlay and road base.
Each hole of the course offers a distinctive setting and challenge, as well as a glimpse into the history and/or unique attributes of the hosting location. The fourth hole, for example, is the "Wombat Hole" in Nundroo, which was aptly named due to the fact that Nundroo has Australia's largest population (2.5 million) of Southern Hairy Nosed Wombats . The hole itself is a massive 520-metre par-5 that works its way uphill into the prevailing wind – presenting a challenge for even the most accomplished of golfers.
Other holes include "Sheeps' Back" (Fraser Range), "Skylab" (Balladonia) "Nullarbor Nymph" (Eucla Beach) and "Windmills" (Penong) – all with a different story to tell, and a challenging test of golf. If the rough terrain and strong winds aren't enough of a challenge, there is also plenty of native wildlife to contend with, including wombats, roos, eagles, snakes, camels, ostriches and even ball-stealing crows.
To play the Nullarbor Links, golfers purchase a scorecard for $50 at either the Kalgoorlie, Ceduna or Norseman Visitor's Information Centres, or any of the participating roadhouses along the Eyre Highway. After playing the first holes at either end of the course, golfers get their card stamped by the staff at the visitors centres, before hopping back into the car and driving along the Eyre to the next town, road house, visitor centre, or service station. Once all holes have been completed (and all stamps received) golfers are presented with a free certificate that proclaims "You have played the World's Longest Golf course." Hire Clubs are available at each stamping point and cost only $5.
The project was overseen by the Eyre Highway Operators Association, and included funding, assistance and contract work from a variety of sources, including the Australian Government, Department of Resources, Energy and Tourism, Cadbury Schweppes, Macmahon, Cardno Spectrum Surveys and others.
The result is not only a "Real Australian" course that will certainly appeal to die-hard golfers locally, but will also likely create a great boost for tourism, as the World's Longest Golf Course story is generating worldwide interest.
"Our project has carried National and International attention," explains project manager Alf Caputo.
"There have been hundreds of stories written in many languages all over the world. Our website has been inundated with visits. In the first week of the announcement the site was in meltdown — some 403,000 hits from 27 countries in five days. In the month of July our website has received 1,776,965 hits" he added.
The course will be officially opened late this month with a tournament to be run over 4 days, commencing in Ceduna on Thursday October 22nd and finishing with a presentation in Kalgoorlie on Tuesday the 27th.
For more information, or to book a round, visit www.nullarborlinks.com
More Information:Kalgoorlie Visitor Information Centre Kalgoorlie Town Hall Hannan St Phone 08 9021 1966
Ceduna Visitor Information Centre58 Poynton RdPhone 08 86252780
Norseman Visitor's Information Centre 68 Roberts StPh 08 9039 1071