Victoria's Mornington Peninsula is one of Australia's most popular golfing destinations. Featuring some of the country's highest-rated courses along with jaw-dropping scenery, golfers are spoiled for choice.
Portsea Golf Club
Portsea Golf Club consistently ranks in the top 50 golf courses Australia wide and with its new modern clubhouse, hotel and course upgrades, it is a must-play for golfers visiting the Peninsula. With sweeping views of nearly the entire course, the new clubhouse is a great place to enjoy a fine meal or beverage after a round. With an integrated 4-star hotel incorporating 24 boutique rooms the facility is well equipped for "Stay & Play", Corporate Golf Days, Functions, Conferences and Weddings.
Located on the tip of the Mornington Peninsula adjacent to Point Nepean National Park, the course was re-routed in June 2013. The first hole (the former 6th) is a gentle uphill par-4 that sets the stage for the day, and eases you into your round. Finishing the round is also more enjoyable with the new configuration, as holes 16-18 (formerly 3-5) provide a mixture of risk-reward that allows you to play conservatively or aggressively, depending on your situation. The 18th is an especially enjoyable closing hole, as the gentle dogleg gives way to a small and slick green which is well-guarded by bunkers and swales. Most impressive, however, are the Portsea greens. In impeccable condition, they are smooth, receptive, true-rolling and a pleasure to putt on.
Portsea has earned a fine reputation over the years, especially with golf professionals. Although a private club, Portsea welcomes non-member golfers to enjoy their fabulous facility on allocated golf days, and provides golf enthusiasts fantastic "Stay and Play" packages.
MORE INFORMATION:
Portsea Golf Club
Phone: (03) 5981 6100
RACV Cape Schanck Resort
Located at the southern edge of the Mornington Peninsula, the new RACV Cape Schanck Resort is unlike anything you've ever seen.
In this rare and raw location, you'll experience one of the most special corners of Victoria. A rugged wilderness formed by the elements, and a beautiful new resort shaped by the landscape around it.
It's a place to reconnect with what's real.
Where an invigorating hike along the Cape's dramatic coastline can be followed by an indulgent spa afternoon. Where you'll be taking in the sights and smells of the landscape, before enjoying the locally-sourced food and wine it has nourished.
Play in the heart of the Cape's rugged landscape on the 18-hole course at RACV Cape Schanck Resort. Designed by renowned golf course architect Robert Trent Jones Jr, year round playability ensures you can experience the Cape in all its dramatic seasons.
The course at RACV Cape Schanck Resort has some the most spectacular views of the Mornington Peninsula coastline, provides competitions each day, and will offer a challenge for golfers of all abilities. Take some time out at the RACV Cape Schanck Resort and experience the refreshing effect of a place truly shaped by nature. You'll be different after your days at the Cape.
Green Fees: Midweek $43 – RACV/Auto Club Members, $69 – General Public. Weekends/Public Holidays $59 – RACV/Auto Club Members, $75 – General Public.
Book online at www.racv.com.au/travelleisure/racv-resorts/our-destinations/cape-schanck-resort/golf.html and use the Promo Code INSIDEGLF and receive a complimentary cart when you play. (subject to availability, valid Sept 1 2018 – Dec 24 2018, online bookings only.)
MORE INFORMATION:
RACV Cape Schanck Resort
T rent Jones Drive, Cape Schanck, VIC 3939
Phone: (03) 5950 8000
Email: CapeSchanck@racv.com.au
Devilbend Golf Course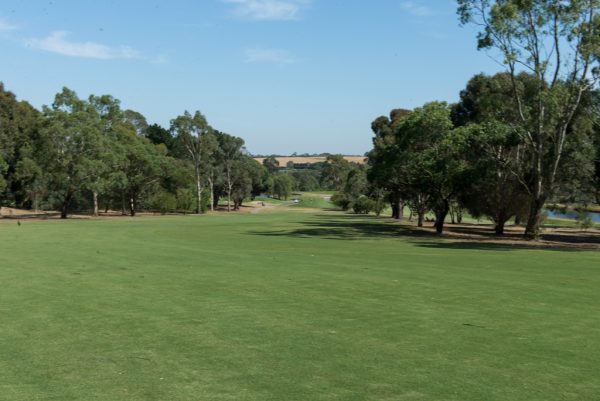 Established in 1973 and located in the 'Heart of the Peninsula', Devilbend Golf Course provides a great day's golf on a course that has magnificent couch fairways, and fast, smooth greens. It is a challenging 18 hole at almost 6000m set amidst a flora and fauna reserve, which features beautiful waterways and an abundance of birdlife.
The club has positioned itself as one of the best value for money public access courses on the Peninsula. Extensive upgrades to the course over the past five years has enhanced the course playability right throughout the year and enabled them to utilise their fleet of golf carts all year round. Each hole provides magnificent views of undulating countryside and provides a variety of challenges for all golfers. Facilities include a driving range, practice nets and a large practice putting area. Devilbend has also introduced a very affordable Lifestyle membership option for the time-poor golfer that allows you to have a majority of the member privileges at a fraction of the cost.
Social Golf Clubs have a great tradition at Devilbend and their famous meal deal is very popular throughout the industry. The club caters for all sizes of social clubs and offer a two tee start which allows your group to finish at the same time so you can hold your presentation in the clubhouse.
The clubhouse is renowned for its friendly atmosphere, the bar and bistro operate on competition days, meals are generous and well-priced. Function packages are available at very competitive rates. The golf shop is well equipped for all your needs and lessons can be arranged with the professional staff. Bookings are required and moderate dress standards apply.
MORE INFORMATION:
Devilbend Golf Course
Rosebud Country Club
Offering 36 holes of Championship golf, a light-filled clubhouse with Café and Bistro open from 7.00 a.m. daily and on-site 4 Star accommodation, Rosebud Country Club is the golfing jewel on Victoria's Mornington Peninsula. Both courses offer a contrasting experience – the North course is framed by large pine trees, while the South course boasts wide fairways and large greens.
Rosebud Country Club offers a complete practice range experience, a 220m Driving Range along with chipping greens, putting greens, and practice bunker. Their facilities provide you the opportunity to work on all aspects of your game prior to taking to the golf course. Teaching professional Matt Bolton operates Bolton Performance Golf, catering for group lessons, individual lessons, and also a very successful junior program.
Golfers staying on the Peninsula during the summer months should consider the option of a Lifestyle Membership, an innovative points-style membership offering flexibility and member benefits.
Located an easy one-hour drive from Melbourne, just 100m off the Mornington Peninsula Freeway with on-site accommodation, Rosebud Country Club is the perfect destination for the avid golfer or social group excursion.
MORE INFORMATION:
Rosebud Country Club
Phone: Clubhouse (03) 5950 0800,
Golf Shop (03) 5950 0888
Group discount pricing visit:
Moonah Links Resort
Arguably one of the premier Golf Resorts in Victoria, Moonah Links Resort offers two world-class championship golf courses, each boasting superior course conditions which assure year-round playability.
The Open Course is a true test of golf. Designed to host the Australian Open, the course is long, challenging and full of risk reward situations. It is a visually stunning course that offers some of the most amazing scenery around, and some of the best conditioned greens in the area.
The Legends Course offers the perfect complement to the Open Course. While equally stunning in both design, scenery and conditioning, the Legends Course gives golfers of all levels a setting that is fun and challenging.
Complementing the course facilities are a driving range and practice facilities designed to Australian Institute of Sport specifications and one of the foremost elite training facilities in world golf—The Moonah Links Golf Academy – which has played host to Golf Australia and the Australian Institute of Sport elite player development programs. With the largest fleet of motorized golf carts in Victoria, a comprehensive pro shop, 92 luxuriously appointed guest rooms, restaurant, spike bar, extensive banquet and conference facilities and ancillary recreational facilities such as a swimming pool and practice putting green just outside the apartments, Moonah Links Resort constitutes one of the finest, most comprehensive Golf Resorts in the country.
Since opening in late 2013 Moonah Links Resort has achieved global recognition and acclaim having hosted five major internationally telecast tournaments: the 2003 and 2005 Australian Open Golf Championships and the 2008, 2009 and 2010 Moonah Classic. Both the Moonah Links Open Course and the Moonah Links Legends Course have consistently been ranked the Best Conditioned Golf Courses in Australia. New memberships available and intermediate medallions available now with 7 day playing rights starting from $89.95 a month (Age restrictions apply).
MORE INFORMATION:
Moonah Links Resort
Phone: 1300 362 386
Fairways Resort
Overlooking Rosebud Country Club, the 4-star Fairways Resort enjoys an enviable location, with a secluded bushland setting that's only a few minutes from the seaside village of Rosebud. With on-site golf and clubhouse Café, Bar & Bistro, Fairways Resort is an ideal place for a Mornington Peninsula social golf escape.
Located a short drive away from many of the region's other top visitor attractions; 15 local golf courses; Peninsula Hot Springs with its indulgent mineral baths, as well as Point Nepean National Park with its magnificent walks and ocean views.
In-house guests are also entitled to favourable green fees at Rosebud Country Club.
With 39 generously-sized guest rooms, all with king beds, ensuite bathrooms, private courtyards, LCD television and inverter climate control systems. Fairways Resort is perfect for both intimate getaways and large groups – with a variety of rooms including 2 bedroom, king and twin suites, while superior rooms include the Executive and Spa Suites.
MORE INFORMATION:
Fairways Resort
Phone: 1300 363 349
Safety Beach Country Club
Safety Beach Country Club/Golf Club is nestled in a valley surrounded by Arthurs Seat and Mt Martha, on Melbourne's beautiful Mornington Peninsula. This flat 18-hole golf course meanders around lakes that are dotted around on the property. The new, renovated clubhouse, which overlooks the course, is a great place to relax and have a drink after the game. Safety Beach's resident golf professional – Shane Johnson, runs the pro shop and is on hand to give individual lessons. For ladies wanting to play golf but need guidance, ladies clinics commence in October. The Safety Beach Country Club is also available for small weddings. Contact Debbie Hedges in the office for further information.
MORE INFORMATION:
Safety Beach Country Club
10 Country Club Drive, Safety Beach 3936
Phone: 5981 0100 – Pro Shop– Shane Johnson
Phone: 03 5981 0120 – Office – Debbie Hedges
admin@safetybeachcountryclub.com.au
www.safetybeachcountryclub.com
Experience tournament play on four top courses on the Mornington Peninsula
The Dunes Golf Links, Portsea Golf Club, Moonah Links (Legends) and The Flinders Golf Club will all be in pristine condition for the Ninth Annual Mornington Peninsula Golf Classic held from 29 October to 1 November 2018.
These courses will surely challenge and delight both men and lady golfers as they come together to play in the 72-hole graded individual stableford tournament. Morning and afternoon fields are available.
Don't miss out on playing these top four courses on the magnificent Mornington Peninsula, Australia's #1 golf destination! Register now, to play in this fun, friendly and great value tournament.
The Entry Fee of only $775 includes golf, carts on three days (Flinders can be easily walked as it is reasonably flat), four lunches, daily and overall prizes, the Welcome and Presentation Dinners and a tournament branded polo shirt.
The Mornington Peninsula is well known for the number of quality golf courses, ranging from coastal links to resort style layouts. To quote the late Peter Thomson, golfing legend and internationally renowned golf course architect: "For sheer variety, golf on the Mornington Peninsula is unmatched and for the traditional golfer's welcome, it is hard to find better."
To Register, go to
www.golfmorningtonpeninsula.com.au
or for more information, phone the Tournament Director, Steve McPherson on 0422 691 754 or send an email to
info@golfmorningtonpeninsula.com.au.
The Mornington Peninsula Golf Trail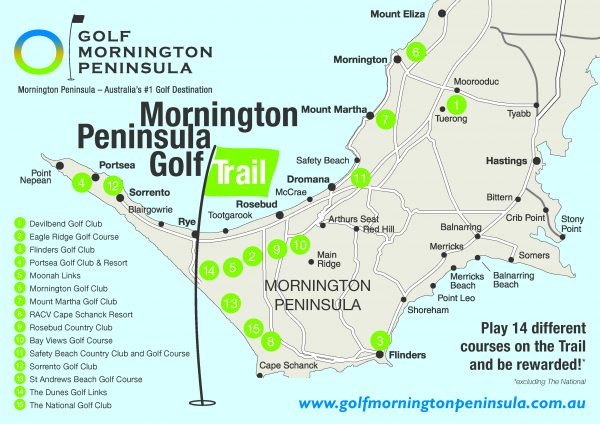 The Mornington Peninsula Golf trail should be on every golfer's "Bucket List". World famous architects, such as Thomson Perrett, Robert Trent Jones Jr and Tom Doak, have created wonderful examples of links, resort and traditional courses that are on the Golf Trail.
The Mornington Peninsula Golf trail provides a unique golfing experience of playing eighteen different courses that are all within a one-hour drive. Eleven of the Mornington Peninsula trail courses regularly feature in the top 100 Australian courses.
Avid golf enthusiasts and social golfers are discovering that the combination of courses, their accessibility, their variety and the sheer number of them provides a golfers' paradise that is hard to resist. The courses provide exhilarating views over Port Phillip and Westernport Bays and Bass Strait.
For more information on this unique golfing experience, email Mornington Peninsula Golf Tourism on info@golfmorningtonpeninsula.com.au, phone 0439 396 617 or go to
www.golfmorningtonpeninsula.com.au
MORNINGTON PENINSULA GOLF TOURS
GREAT GOLF GETAWAYS specialises in customised golf tour packages for all types of golf travel including group tours for club members, corporate events, social club trips and weekend getaways. The Mornington Peninsula region is one of their top destinations for domestic golf travel and attracts golfers from all over Australia and Internationally.
Great Golf Getaways is also based on the Mornington Peninsula and their staff have extensive local knowledge and experience in handling group tours to this region. Their golf travel services cover all aspects including: planning your personal tour itinerary, selection of courses and accommodation to suit your preferences and budget, coordinating return flights and ground transportation (coach, car and bus rental) and arranging the perfect dinner venues too.
Packages are designed to suit each individual client's travel requirements. Client testimonials acknowledge the high standard of customer service provided by Great Golf Getaways, such as the "Bluey Landon Cup" social group from NSW (pictured at Mornington Golf Club) who celebrated their 6th annual 7-night/6-round Mornington Peninsula tour this year with GGG and returning for a 7th consecutive annual tour in March 2019. This social group, who have travelled together since 1996, share their feedback on their past experiences and why they can't wait to return again to the Mornington Peninsula.
"The accommodation and golf package provided by Great Golf Getaways was so good that our crew have been back on a 6th tour in 2018. Great Golf Getaways can organize everything and the location of the accommodation in Sorrento is perfect to get to any course in the Mornington Peninsula area. Our group have had an absolute ball catching up and playing golf in what can only be described as golf heaven as the golf is that good. We recommend anyone wanting to have a great time away playing golf to give Lee and the team a call at Great Golf Getaways". T Egan (NSW)
Contact Great Golf Getaways to assist you in creating an exciting tour itinerary and great value package for your next golf trip to the Mornington Peninsula.
MORE INFORMATION:
Great Golf Getaways
National Travel Desk: 1300 124 220
info@greatgolfgetaways.com.au
U Choose Golf Holiday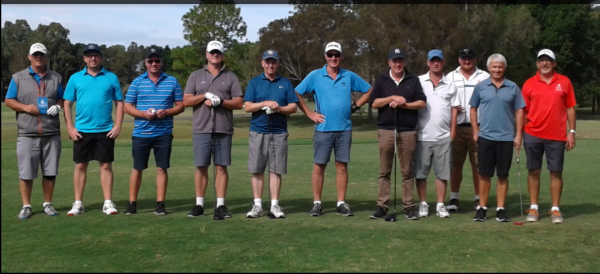 U Choose Golf Holiday is one of Australia's longest running Golf Tour Operator's. They specialise in customised Golf Tours to ALL destinations in Australia as well as Queenstown NZ.
If you are looking for a full-service golf travel specialist to take care of everything for you, then look no further than U Choose Golf Holiday.
Owner-operators Sharon and Gary provide golfers with a professional and well-organised golf trip –every detail carefully taken care of and nothing to do but turn up and have a great time.
They take pride in offering good value and personalised service. Sharon, who looks after your trip from start to finish, will tailor a package, provide choices of accommodation, courses and optional extras all designed to suit your requirements and budgets.
U Choose Golf Holiday has been growing strong each year experiencing 80 per cent of loyal repeat customers, which speaks volumes about their quality service and attention to detail.
U Choose Golf Holiday offers golfers the chance to experience the best destinations that Australia has to offer, like the Mornington/Bellarine Peninsula, NSW, Gold Coast, West Australia, Sunshine Coast, Nth Qld, Adelaide, New Zealand and the Murray River destinations.
MORE INFORMATION:
U Choose Golf Holiday
Phone: 0418 713 620
sharon@uchoosegolf.com.au