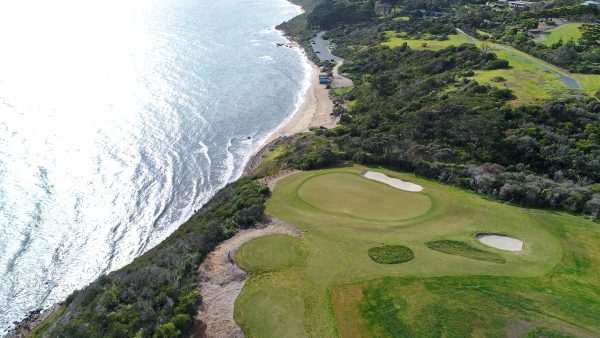 LIKE any good golfing anecdote, a golf course can always be improved on – and with a bit of embellishment, get even better with time. So when Mornington Golf Club 'discovered' a pocket of uncleared land on one corner of the course, they decided it just might be the perfect opportunity to give the membership something else to boast about.
That 'sowed the seed', so to speak, on a marvellous new par-3 that will surely become the club's signature hole in the years to come.
The fact it isn't already is actually a marvellous compliment to some of the other stunning holes on a course that really can no longer claim to be a hidden gem… too many people have heard about it and have been heading there to find out for themselves.
The new clifftop par-3 19th hole at Mornington Golf Club has something that most courses on the eastern seaboard would simply die for – breathtaking views of Port Phillip Bay as well as the Melbourne City skyline.
The new addition to the 6040m par-72 layout is the 129m (115m for the ladies) gem which adds to a stunning finish to your round as the views in all directions are really something to behold.
Do yourself a favour, hop into the clubhouse before you play and check out the marvellous aerial shots on the wall of the foyer and you'll be champing at the bit to get out there and find out for yourself.
And while there—both before and after your round—be sure to sample the great food and beverages served up by the friendly and helpful Mornington Golf Club staff.
The course was preparing for its club championships when the Inside Golf staff called in, and the fairways and greens were in pristine condition. For some of the players in our group, this was their first time playing the course, and to say we all were impressed is an understatement. The entire course was an absolute treat to play; hole after hole brought repeated smiles to our faces, and we found an excellent mix of risk/reward holes, surrounded by tranquil (and at times stunning) scenery.
In short, we LOVED this golf course. We all agreed that Mornington Golf Club is, without a doubt, a fantastic members' course, and it's truly an unsung hero of the Mornington Peninsula. It features the rare combination of thoughtful layout, enjoyable playability and top-notch conditioning.
This was no more evident than when we approached the new 19th hole. In the pages of this magazine, we have often remarked about how some of the most memorable par-3s in the world aren't necessarily the longest. Indeed, there are some cracker holes out there that, though they may only require only a wedge or 9-iron to reach, are fraught with potential danger in the form of tough bunkers, slick putting surfaces or treacherous swales.
And the 19th at Mornington fits the bill nicely in this respect, as the combination of strategically-placed bunkers, thick bushland/ rough surrounds and tricky-to-read breaks (not to mention the awe-inspiring backdrop) all add up to a serious challenge. On this visit, only two of our foursome managed to find the green, with only one par recorded (by yours truly).
But don't let that trick you into thinking this hole is a brute. On the contrary, it is an extremely fun and enjoyable hole that begs for repeated visits. It's a cracker! General Manager Craig Murdoch is understandably thrilled with how the new hole has come up.
"Well, we found this parcel of land covered in bushland and straight away it struck us as that it might be the perfect place for a parthree of about 150m," he told Inside Golf. "We looked at it and figured why not clear it of some of the trees and see what we have there.
"So we pulled in some of our members — our Dad's Army, which is a team of volunteers to assist our course staff — and as they cleared the land we realized we had this ideal golfing terrain, with a beautiful view down to the bay and across to the city . . . it really is quite spectacular."
Things soon began to 'steamroll' from there. The club called in a couple of designers local to Mornington and asked if they could build a nice par-three there for the club.
Course advisor Darius Oliver and course architect Ben Davey (Contour Golf Design) were enlisted to design something that everyone could enjoy playing. Thanks to a forward-thinking board, the hole went ahead and the rest, says Murdoch, is history. He agreed there were very few, if any, golf courses in Australia where you can get impressive city views as well as water views while you are actually enjoying your round of golf.
"Certainly there's nothing on [Port Phillip] Bay that can boast anything like this," he said. Murdoch says the club felt there were still some elements on some of Mornington Golf Club's holes than could still be improved, including a few 'sloping' fairways. "We are looking at doing a bit of tinkering with them," he said. "We have a 10, 15 or 20-year plan with so much allocated each year for the master plan. And part of that is re-directing or re-routing a couple of holes on the front nine to make them a bit more 'fair' to members.
"There's a couple of holes on the inward nine as well that we'd like to have a look at improving.
"It's all finance-dependent and we're not going to rush it and we're not going to go into debt. It will be done gradually which is good for the members as well so there is not so much disruption."
A new 9th green, 18th green and putting green is also part of the plan, and will be the next stage to be undertaken.
Murdoch says the 15th is his and a lot of members' favourite holes, as is the new 19th.
"Time will tell, there is still vegetation to grow and it will only improve," he says. "It's probably not the best hole yet – but time might change that. It's already probably in the top five. Certainly it has the best outlook with the spectacular views from the cliff's edge."
The new hole is part of a collection of holes with a creative nickname endowed by the members, owing its origin to Augusta National.
"It's part of what we call 'Baymen Corner'. Every year we have an event when the US Masters breakfast is on and we go out and play a special competition on our Baymen Corner.
Murdoch says most of the membership is based around Mornington and nearby Frankston and the member numbers have been increasing so rapidly that the club's previous "Hidden Gem" description is no longer applicable.
"We've been lucky that a few things have fallen into place which has boosted our membership," he said.
And for anyone looking for a golf club to join, Mornington ticks all the boxes . . . it is a mere 50kms, or an hour's drive from the Melbourne CBD. In addition, the various membership packages and categories feature something for everyone, with extremely affordable rates. Go and see for yourself and you'll be impressed by what they have created there.
Mornington Golf Club
Tallis Drive, Mornington, Victoria 3931
Clubhouse (03) 5975 2784
Pro Shop (03) 5975 4171
manager@morningtongolf.com.au
www.morningtongolf.com.au