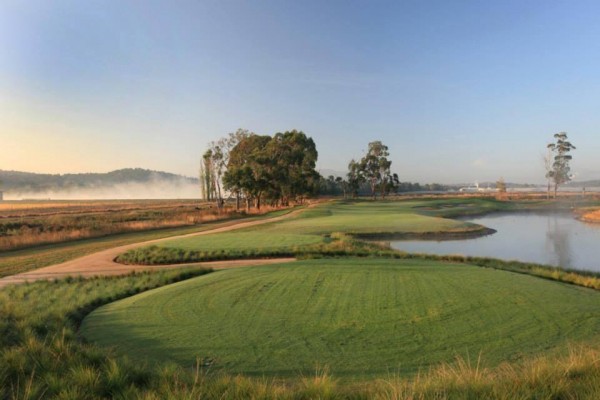 Long known for its fabulous wineries, culinary delights and picturesque views, Melbourne's Yarra Valley region is becoming increasingly known for its world-class golf. Already home to top-quality courses like The Heritage, Yering Meadows (formerly Croydon Golf Club) and RACV Healesville, the region has two exciting "New kids on the block";  the upcoming Greg Norman-designed Eastern Golf Club (due to open next year) and this month's "Club of the Month", the recently opened Gardiners Run, the new home of golf for the Chirnside Park Country Club.
Only a short drive from Chirnside Park's previous location, the Gardiners Run layout is nestled in a quiet and picturesque landscape on the site of a former quarry in Lilydale. The gentle hills and valleys of the site make for a very interesting layout, and the entire site is well-suited to a fun, member-friendly golf course.
The clubhouse is a modern, comfortable and functional facility that sets the standard by which many clubs should model their new developments.  The bar, lounge, pro-shop and function room all share the open-plan space in a seamless, integrated manner, and the room offers a welcoming atmosphere to members and guests alike.  It makes for a very inviting and friendly start to a round, or a relaxing place to wind down after golf with a beverage.
After a warm-up at the well-designed driving range (complete with target greens), or a putt on the large practice putting green, golfers can move on to the course, which has been designed to appeal to players of every level.  With multiple tee locations, and versatile greens providing a multitude of pin placements, the course can play completely differently from one day to the next.
The two nines at Gardiners Run are very different in look, feel and character. The front nine features an open and meandering course that takes full advantage of the area's scenery and landscape. This is especially true on holes 2-6, which are laid out in all four compass directions, and feature some sharp changes in elevation. The 508m par-5 2nd is a lovely hole that plays over a hill to an open valley. The longer hitters who can hit it straight here will be rewarded with a chance at hitting the green in two.  If you're offline, however, be prepared to re-load, as a lost ball will be commonplace.
The downhill 328m Par-4 5th hole is a tempting and challenging little gem with a remarkable view. With the wind at your back—via an elevated tee—the green is driveable for many (even with a fairway wood), but the bunkers and swales surrounding the green can be extremely penal.  Indeed, driving this green requires courage, skill and more than a bit of luck. The safe play is to the large landing area on the left, leaving you with a short iron to the green.
This is followed by the challenging 340m par-4 6th hole, with water on both sides leading to an elevated green.  The generous fairway will be a saviour for those struggling off the tee, but the resulting uphill approach shot requires finesse.
Both of the Par-3s on the front nine (the 157m 3rd and the 175m 7th) are straightforward and enjoyable, albeit deadly if you miss the green; the 3rd features a ball-grabbing lake in front, while the uphill  7th has imposing rough, bunkers and a difficult ridge line.
The back-nine is a more undulating layout that features a number of risk-reward opportunities, as well as a few blind tee shots to keep you on your toes. The 534m par-5 10th is a rollercoaster of a hole, with an uphill tee shot followed by a downhill approach around a dogleg right to a well-guarded green.
The finishing set of 15-18 will provide many opportunities to either bolster or destroy your scorecard, depending on how much risk you take. The shortish 319m par-4 15th features a blind tee shot over a hill to a lowland landing area; if you hit it straight and long, you'll find yourself with an easy chip and/or birdie opportunity. Wayward shots, however, may require some serious scrambling (and hunting) to save par. The short 148m uphill par-3 16th requires a solid tee shot, lest you find yourself in one of two very difficult bunkers. 17 and 18 are difficult closing holes that require solid tee shots and course management; with 18 partially surrounded by a lake at the back/sides, and a sneaky bunker on the front. It definitely has the potential to add a big number to your scorecard if you're not careful, so treat it with respect.
The greens throughout are big, soft and a pleasure to play on. Though still young (and a bit slow due to their infancy) they roll true and feature just enough break/slope to keep you guessing.  But there are no gimmicks or gags here; find your line and speed and you will be rewarded.
The entire Gardiners Run layout provides a fun yet challenging round of golf. Like most brand-new courses, it will take some time to settle in—but it is currently very playable, and certainly worth a hit in the near future.
(Photos: Courtesy of Gardiners Run/Gary Lisbon)
FACT FILE
Gardiners Run Golf Course
130 – 132 Victoria Road, Lilydale 3140
03 9739 7522
www.gardinersrun.com.au
Twitter: @GardinersRun