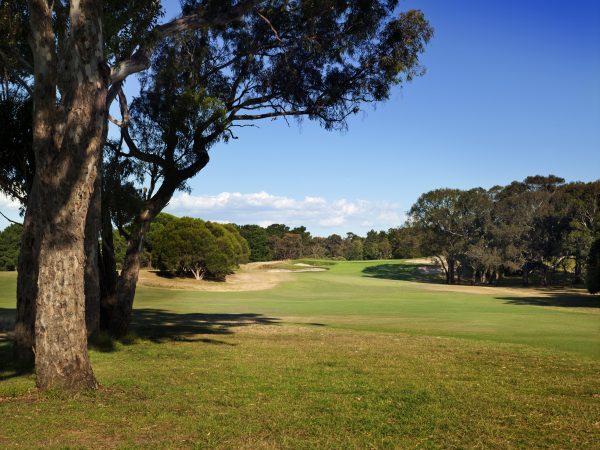 Regular readers of Inside Golf will have seen Curlewis Golf Club in the news pages lately, as the club has been making many headlines over the last 12 months. The iconic club (regarded as the 'emerald' of Victoria's Bellarine Peninsula area) has been turning the Australian golf world on its head following a spate of initiatives, innovations and improvements which has seen the club become one of the (if not THE) fastest-growing clubs in Australia.
Bellarine locals David and Lyndsay Sharp (owners of Leura Park Estate, Jack Rabbit Vineyard and Flying Brick Cider Co.) purchased the facility last year, and immediately set about to transform it into a thriving, energetic and popular club for both locals and visitors.
Some of the improvements included upgrading of the clubhouse decor, improvements in the course itself, the installation of a $50,000, 3.9km rabbit-proof fence circumnavigating the entire course (an Australian first), and the introduction of GolfBoards – a cool fusion between a golf cart, snowboard and Segway—which have been a unique, fun addition to a classic golf round.
Welcoming Green Fee players of all standards, the highly revered Curlewis has recently catapulted up the golf course rankings, and is currently ranked as one of Australia's top 100 courses.
The recently refurbished clubhouse is commanding both attention and swelling visitation – and not just for golfers.  With spectacular vistas spanning the You Yangs, Corio Bay and beyond, it's both hip and welcoming – a great place to relax and enjoy the full bar, coffee, snacks, lunch and brilliant Bistro dinners on Friday and Saturday nights.   A contemporary menu awaits – one which includes house-made cakes crafted by Head Chef Tara Thyer (See breakout story).  Already a huge hit with members, the array of treats are drawing coffee and cake lovers from near and far.
At last count, more than 110 new members have joined Curlewis since July 2015 (and that number is always growing—with golfers scrambling to become new members at Curlewis, the Inside Golf staff always struggles to keep up to date with the numbers!)
Inside Golf has had the pleasure of playing Curlewis many times over the years, and while it has always provided a fun yet challenging test, it's currently getting even better and better. Watered year-round via an onsite, state-of-the-art water reclamation plant, the lush greens and undulating fairways of this links-style course are known to lull players into a false sense of security; but beware—it can seriously take you down if you don't pay it the respect it deserves.  Either way, the course is playable year-round, and is a great spot for a quick round, weekend getaway, annual social golf weekend or corporate event.
If improving your skills is on the agenda, Curlewis Golf Club's popular, highly respected PGA Pro, Steve Brodie and Pro-Shop team welcomes players of all standards.
Curlewis understands that to the beginner, novice or visitor, visiting a golf club can often be a daunting experience, so they pride themselves on friendliness and inclusiveness. This is why they offer clinics for people thinking of taking up the game or people who haven't played for a few years and looking for a way of easing back in.
They have thus tailored three new coaching packages to help golfers get involved with the game, and transition to course play: Beginners Package (Those who would like to start, but don't know how or are a bit daunted by golf clubs), Intermediates Package (Those who have played a bit but are frustrated by their game and, as a result, don't play often), and Starter Package (Those who have been through the first two clinics and are now ready to play golf, but are daunted by joining the regular 18-hole competitions).
One of the great aspects of these three coaching packages is that there is no obligation to become a member before being ready to play regular golf.
"Our objective is for people to discover the enjoyment of playing golf first, then as their skills progress a playing membership will be the gateway to gaining a handicap and playing in the regular comps," says Brenden Caligari, Curlewis Club Manager.
The club are also offering a free coaching clinic every Friday from 3.30 – 5 pm for all junior members.
A round at Curlews won't set you back a small fortune– Midweek you can tee off for 18 at $35, Saturdays $47 and Sundays and Public Holidays $40.  For pensioners and those under 18, discounts apply.  Carts and clubs are also readily available to hire.
With its views towards the bay, undulating fairways and natural vegetation, to play Curlewis is to fall in love with this much loved 'emerald' of The Bellarine.
Curlewis Golf Club welcomes new members and green fee players.  Located 15 minutes from Geelong, Curlewis Golf Club is open 7 days a week.
Tailored corporate events a hit at Curlewis
Corporate events with a difference are fast becoming a specialty at Curlewis Golf Club.
"Here at Curlewis, we are really tailoring golf days with events and activities designed to suit the clientele with the main emphasis of course being on fun and team building," says Brenden Caligari, Club Manager.
"Every company has different reasons and desired outcomes for initiating a corporate golf event and the options for the 'ideal' golf day are only limited to the imagination – a classic round, an Ambrose format, a simple driving comp, 'skins' comp, putting comp, beat the Pro. . .the list goes on!
"Apart from tailoring fabulous, fun golf days complete with events and activities designed to suit the clientele, players are loving the options of matching their unique golf events with the host of dining opportunities on offer at Curlewis," he adds.
From gourmet BBQs, breakfasts, canapés on the East deck, to roving refreshment carts, on-course pop-ups featuring local food and wine tasting, or a more formal sit-down dining experience in the Club House – the Curlewis Hospitality team will work with you to tailor your perfect day.
The recently-introduced stable of GolfBoards add yet another exhilarating dimension to the fun component of corporate golf events at Curlewis.
"They are fantastic fun, easy to learn and can be mastered by just about anyone in a few minutes," Caligari says.
Hip, Green and seriously delicious:  A true Bistro 'find' as Curlewis extends dining to Dinner
Under Head Chef Tara Thyer and Chef David Dowling's direction, Curlewis has quickly gained the reputation as a foodie destination for a great, contemporary lunch (seven days) and more recently, a true Bistro 'find' for dinner on Friday and Saturday nights.
Sweet tooths can't help but delight in the elegant range of house-made cakes on offer, great consorts for barista-made coffee in the clubhouse.  Think Madeleines, mini Humming bird cakes, eclairs oozing with crème chocolate patissiere, baby Lemon Merengue pies, warm house-made scones (to mention just a few).
The newly-launched, exclusive Dinner Menu represents a brilliant fusion of 'classic clubhouse' meets modern Australian.   Bistro favourites include Ham and Manchego cheese croquettes, Coconut Ginger Portarlington Mussels and seared Eye Fillet with garlic mash but there are also dishes such as a delicious Thai Red Duck Curry, a Gnocchi with smoked chicken and chorizo and a stunning Dark Chocolate Pave thrown into the mix.
Curlewis is a haven not just for members – everyone is welcome to enjoy the ambience and offerings of the retro-inspired club house (which has undergone a radical transformation in all respects!) Enjoy the hip, new furniture as well as the expansive al fresco area to relax and enjoy the view with a drink and some nibbles, lunch or perhaps a pre-dinner beverage? It's up to you!
FACT FILE
Curlewis Golf Club
1345 Portarlington Road, Curlewis
Phone 03 5251 2534