For years the land Barnbougle Dunes now sits on was considered useless. Owner Richard Sattler, a local sheep and cattle grazier, couldn't use it for any commercial purpose and as his daughter and now Marketing Manager Liz recalls she and her siblings would use it for camping in the summer months.Thankfully for the golf world that's not still the case.
Local golf enthusiast Greg Ramsey convinced Sattler, not a golfer, that his "useless" parcel of land facing Bass Strait would be an ideal spot for a golf course.US course architect Tom Doak was eventually called in and after walking the site concurred with Ramsey's assessment. With the help of our own Mike Clayton construction began and so was born one of the most remarkable golf courses built anywhere in the world in the last 50 years.
After reading the following review you may think we have overstated how good Barnbougle is and, until you see it and play it you may be difficult to convince otherwise. But if you're a golfer (and frankly why else would you be reading this) do yourself a favour and check it out for yourself. Nothing is ever universally agreed upon but I would be more than a little surprised if 99 out of 100 people who make the trek to Barnbougle didn't come away awestruck.'
The Facility
Rod Morri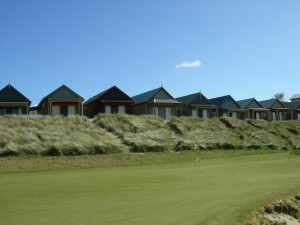 About 10 years ago I was lucky enough to take a month long golf pilgrimage to the UK taking in the British Open and 30 something rounds of golf. Among the better known courses we got to enjoy were the likes of Lahinch and Ballybunion in Ireland and Prestwick and The Old Course at St Andrews in Scotland.I remember thinking as the plane took off from Heathrow for our return trip what a shame it was that if I ever wanted to experience that marvellous links form of the game again, it would mean a 20 plus hour flight back to the UK.A decade down the track that is no longer the case.
Tasmania's Barnbougle Dunes, opened in 2005, is the equal of any of the great layouts I fell in love with on that trip. In fact, being only three hours away from home might just give it the edge over all of them. As Richard Fellner describes below the course itself is mind boggling. But where this destination really racks up the bonus points in my opinion is all the little touches that surround the 18-hole centre piece. For all the reasons the bean counters would predict Barnbougle to be a failure, it has been a success. No multi million dollar, multi storey clubhouse. No day spa. No luxury appointed, five star rooms. No artificially landscaped entrance and exit roads.Here, the experience is pure, tasteful and understated. From the post and rail fences around the property put together from the branches and trunks of dead trees to the bench seat outside the pro shop made from a fallen giant of a tree, Barnbougle could fairly be described as rustic.
You'll find no carts or cart paths here as Barnbougle is a walking only course. The land doesn't lend itself to motorised transport but the walk is a joyous part of the experience. Big Wheel buggies are available for hire (this was the first time I ever used one of these unusual looking contraptions and I must say I was extremely impressed) while those with a medical condition that precludes them from walking can, with a medical certificate, hire one of the two electric carts. They will, however, be assigned a driver as the first time player would find it extremely difficult to navigate around this course in a cart.
Away from the course the cabins are tastefully appointed without being overly fancy and have been built back from the beach so as not to spoil the views. The clubhouse is smallish and comfortable, tastefully constructed of timbers that fit in with the environment.The food, while it wouldn't be described as cheap ($28 for a steak), isn't expensive either and the quality of the meals is outstanding.Words, and even photos, don't really do justice to the course and the same can be said of Barnbougle's surrounds. When you travel here you get the full experience. The property works and, for mine, is the most enjoyable golf experience I've ever had in Australia.I can't give the place 10/10 because nothing is perfect. However, this is as close as I've seen and I will happily stump up.
The Course
Richard Fellner
Barnbougle Dunes is a true golfer's golf course. It's for the traditionalists who adore rugged, raw, "knock-down-bump-and-run-the-way-the-game-was-meant-to-be-played" golf. It's a humbling, awe-inspiring course that demands accuracy, exceptional course management skills, and a smidgen of good-old-fashioned risk-taking "guts".
Golf "purists" will revel in Barnbougle's simple, non-commercial splendour, and the absence of the modern-era "just make it long" mentality. Golf "tragics" will become mesmerised with the sheer "work-of-art" beauty of each hole, and the Zen-like feel of the course itself. As for the golf "hackers"…well…bring a lot of golf balls, a lot of "adult beverages", and the most comfortable golf shoes in your closet — you'll need them all!
The impeccably-manicured fairways and greens are among the most beautiful and challenging in Australia. To say that designers Tom Doak and Mike Clayton followed the natural lay of the land is an understatement. It's as if they simply unrolled a grass carpet across the undulating landscape, giving the course a (somewhat controversial) "buried elephants" feel. But while this feature would be ridiculed if it were artificially manufactured at a city course, it fits perfectly in Barnbougle's seaside setting. Players will love the challenge of snaking a putt through the enigmatic left-right-left-downhill breaks on the slick 13th green. Or "threading the needle" on the monstrous 8th to carefully place a drive on a narrow strip of elevated fairway — flirting precariously with the ball-devouring rough on the left, and the valley of death on the right. Indeed, this is golf at its finest! (Tip: the yardage book is an absolute must-buy.)
The elements play a pivotal role at Barnbougle. On a calm day, golfers will have many opportunities for creative, glorious, "tell-your-friends-about-it" shotmaking. On a windy day, however, you'll use all 14 clubs in your bag. (Maybe all on the same hole!)
That's not to say that the wind is a killer. Unlike other seaside courses, where stiff cross-winds can render holes absurdly unplayable, Doak and Clayton masterfully (and mercifully) arranged the holes so that the wind is generally either in your face, or at your back. So even in the heaviest of gales the course is very playable for the smart golfer (but don't expect to reach many of the par-4s in two shots). Add to this the course's nearly unlimited combinations of clever tee-boxes and creative pin placements, and you end up with a course that is deliciously unpredictable, and highly addictive.
Barnbougle Dunes is, hands down, the most exciting, beautiful, challenging and purely "magical" course I have played in my 30+ years of golf. If heaven has a golf course, then let it be just like this one.
Getting There (and back again)
Sam Arthur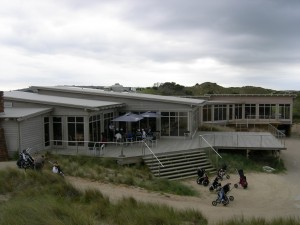 I won't rave on like Rod and Richard have about how good this course really is. I'll just say one thing – it's the best piece of land you will ever walk on anywhere in the world! It's as simple as that.
Now for the most important part of any golf trip – how to get there.
Getting to Barnbougle Dunes is pretty easy. A few people have told me that it's a big day trip on a plane and then in the car. It was a piece of cake to get to the course with plenty of time for lunch and 18 holes. For this course review we flew from Melbourne to Launceston. It only took us 50 minutes on the plane. We picked up our luggage off the cart that comes straight from the jet then loaded up the hire car and we were off to Bridport.The easiest way for first timers is to head towards George Town. It's pretty much the one road from the airport and through Launceston for a 45 minute drive. Just before you get into George Town you'll see a clear sign to turn right to Bridport. This 30 minute road trip will take you all the way to a T junction. You take a left then before you know it a sign to Barnbougle Dunes tells you to turn right in Bridport. After a minute or two the small pearly gates await you on the left. Welcome to heaven, to god's country, to golf the way it should be played every day of the year.
You will pass the accommodation and drive and park just before the clubhouse. Pick your jaw from the ground and go into the pro shop to get your room key and confirm your tee times for the day, weekend or week. Make sure you spend some time in the clubhouse. It's pretty small but the atmosphere is perfect especially when you see the view. They have just completed an extension to a state of the art conference room. It's perfect for that business conference that just had to be on one of the best golf courses in the world. Also just finished is a specialised wine cellar that holds over $35,000 in wine. Some of the best wine in Tasmania, and even the world, awaits you with your superb meal.The staff at Barnbougle are outstanding. Nothing is a problem for them and, unlike some upscale resorts and developments, everyone has a sense of humour which only adds to an already special experience.On the way return journey we took the "rally car road" as it is known by some of the locals. This is a very windy road but you actually get to Launceston a bit quicker (as long as you don't get stuck behind a truck, a fate we thankfully avoided). The country side is worth a look too and you really appreciate how beautiful Tasmania is. If you have some spare time before your flight it's worth calling in to some of Tasmania's most famous vineyards.Give Barnbougle's Marketing Manager Liz Sattler a call if you have any questions about planning your trip to Barnbougle Dunes. We guarantee that you will love it as much as we did.