DON'T cruise into Griffith Golf Club and think you'll 'carve it up' because you've heard there are few bunkers and no water holes.
This layout is widely regarded as one of the best in the Riverina and is a stern test of anybody's golf skills.
And here are just some of the reasons why.
Griffith even has its own version of Augusta National's famous 'Amen Corner' and even the single figure markers struggle to get through these three holes in even-par.
Perfectly-set in the foothills of Scenic Hill in Griffith, arrive by air if you can because it's the best way for a perfect view of this picturesque layout located in close proximity to the Griffith Airport.
It's often referred to as "an Oasis in the desert" because of its lush green kikuyu fairways and bent grass greens, Griffith Golf Club sits comfortably as one of the Riverina's gems.
Its fairways are lined with a vast array of native trees and are home to many forms of wildlife, with kangaroos almost always on the course, while a big array of birdlife can be seen and heard in the course's many native trees.
Sure, Griffith does have no water traps and there are only two bunkers … one on each nine.
But to combat that there's some smallish and very fast greens which ensure it plays a lot harder than it looks and if you are off the fairway with your tee shot, well, you will encounter some difficulty in trying to recover.
Members are proud of Griffith's own Amen Corner, which stretches from holes 12 through 13 and 14.
All three are long par-4s and are ranked as the three hardest holes on the course, all usually playing well over par.
The 12th hole, measuring 382 metres with a slight dogleg left is actually ranked No. 1 on the Griffith scorecard.
Then follows the 13th hole of 372 metres, which is a straight hole boasting an out of bounds on the right and a rank of No. 3 on the course index.
There's little respite, because next comes the 348m 14th hole, which has a slight dogleg to the left before you arrive at a very tricky green. This too is no piece of cake as it is ranked No. 5 on the card index.
Surprisingly, none of those three are Griffith's signature hole.
That honour surely goes to the 18th hole, a straight-away par-4, measuring 356m and a stroke rating of seven and the perfect place to finish your round with members watching you putt out from the sanctity of the clubhouse.
Griffith has a slope rating of 121 for men and 122 for women.
The course measures 5893m with a par-71 for men and 5313 with a par-72 for women.
The town of Griffith was proclaimed in 1916 as the Murrumbidgee Irrigation Region and today Griffith is a city with a population of 27,000 (but servicing a district population of 55,000) and is regarded as the agricultural powerhouse of the Riverina.
Golf has been an integral part of the community since the 1920s when the original course, named Lakeview Golf Club, was located at Lake Wyangan, bordering the south lake.
That course operated until 1960, when it merged with the Griffith Golf Club.
The actual Griffith Golf Club was formed in the mid-1920s when the club developed a nine-hole course on land after the NSW Government gazetted a parcel of land on Griffith's outskirts for public recreation.
In 1936 the golf club was able to expand to 18 holes when adjacent land became available.
At that stage Griffith Golf Club and Lakeview Golf Club had a good working relationship with members able to play in competitions at both courses.
As Griffith grew, more land was required for housing and the golf course was a prime location.
In the late 1950s the government agreed to gazette a 51.47-hectare portion of Crown Land on Remembrance Drive near the Griffith Airport for a golf course.
Griffith Golf Club began development of an 18-hole course which officially opened in 1960.
Before the new course opened, the Lakeview Golf Club was being affected by rising water levels in the south on Lake Wyangan and their problems were exacerbated when a fire destroyed the clubhouse at the course.
That led to a merger of the two clubs and the new course on Remembrance Drive became the city's sole golf course.
Griffith Golf Club then set about building a new clubhouse on the club's land, which opened in late 1961.
It does offer glorious picturesque views overlooking the first tee as well as the ninth and 18th greens.
Producing good golfers has almost become the 'norm' at Griffith.
In the past 20 years, three current professionals have emerged from their ranks.
Craig Mears is now the head professional at Dubbo Golf Club; Jason Pavese was a teaching professional in Canberra and now runs a golf franchise on the Gold Coast while Bryan Trembath still has his golf professional status although is currently in a different field of work.
Griffith has also produced some stand-out club champions over the years with the most notable being:
• Ron Crowe, who won the club championships at Griffith an amazing 18 times between 1954 and 1990; and
• Matthew Staines is Griffith's current men's champion and he has won the title 16 times, with his first title in 2002.
One interesting fact to emerge from the club's history is that since 1997 left-handed golfers have won all but three of the club championships.
The women have also produced some stars.
And at the top of that tree has to be Elizabeth Graham, who has won the Ladies Club Championship no less than 46 times.
Her first victory came in 1966.
Elizabeth then had a stretch winning every club championship from 1972 to 1990, 19 titles in a row.
There would be few golf clubs that could match a record anywhere near than.
From her first win in 1966 there has only been nine times when Elizabeth Graham has NOT won the title.
Incidentally, this amazing woman has won the championships for the past two years as well and is currently leading the ladies' championship for this year.
Who would dare to suggest she won't be there again in 2021?
FOR MORE INFORMATION:
Griffith Golf Club
Remembrance Drive, Griffith NSW 2680
Phone: (02) 6962-3173
Email: wayne@griffithgolfclub.com.au
www.griffithgolfclub.com.au
---
Wright finds a happy home in the Riverina
AFTER years of caddying for the likes of champion golfers like Rodger Davis and then teaching golf to the Vietnamese, among other things, it's fair to say Bradley Wright has found a happy home at Griffith.
Recently appointed as head professional at the Riverina club, Wright is still settling in there – and loving it.
"It's been a bit of a whirlwind," he said. "It's sure been hectic since I arrived here at the end of June.
"It's a great club and the people are awesome."
"We were at Long Bien, a 27-hole course about five minutes out of Hanoi and we were putting through about 400 players a day – it was pretty busy."
Wright said he spoke with a few people who knew of the Griffith position and everything that came back was positive.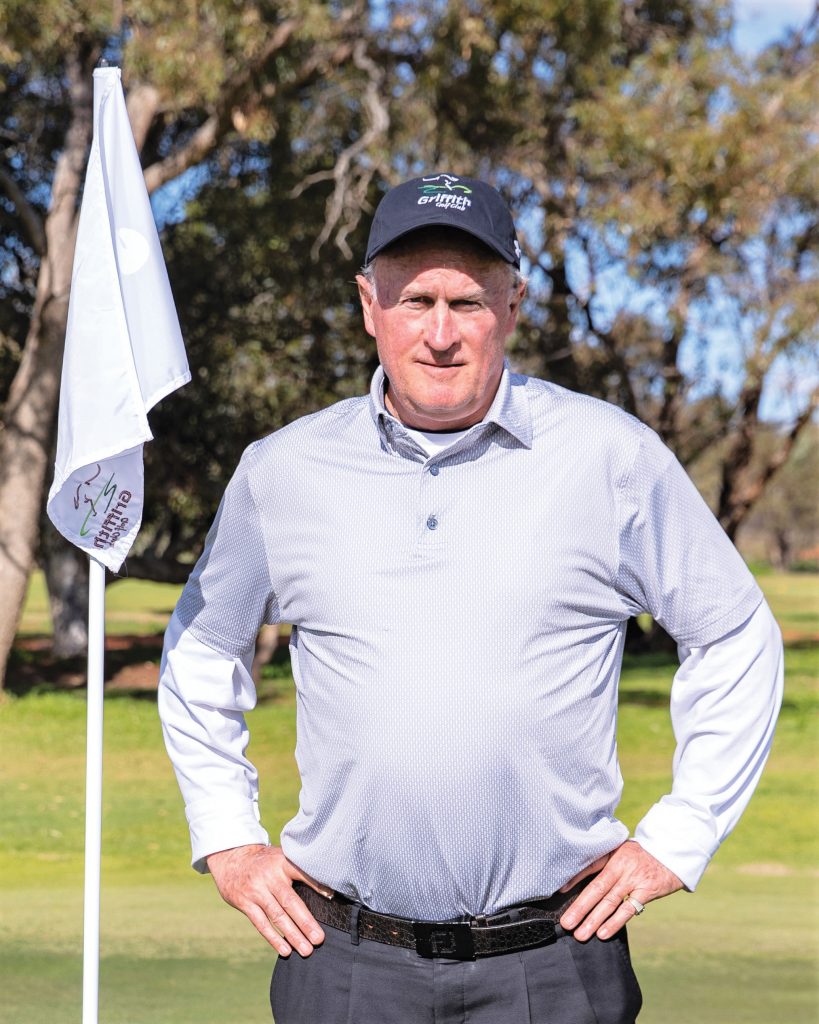 "Everyone here has been so helpful. They even organised a car for me," he said.
"We have a big junior program with about 30 kids coming in at 9am Sunday morning then another group at 10.30 and that is working perfectly at the club."
Originally from Melbourne, Wright one day helped out by caddying for a friend and Rodger Davis was in the group and 'the Dodger' later asked if he was interested in heading for Europe," Wright said.
"He won three events over there and came home and won the Aussie Open when I was with him … it was quite a ride."
When Wright needed a new challenge, he decided to focus on playing and headed for the US for a stint and later spent time in Singapore where he worked for eight and a half years, followed by five years in Brunei and eventually he found himself in Vietnam.
"It's been a great 25 years and I've enjoyed it immensely and I might even take some groups back to Vietnam later on to play," he said.
"Now I'm enjoying the life and the freedom here. I'm giving plenty of lessons and this club is a good fit.
"It's a good golf course too. The greens are small – and super quick.
"The head greenkeeper, Jason Magoci, does a terrific job and he's been here 10 years so he knows what he's doing."