GAILES Golf Club, originally known as Goodna Golf Club, is renowned for having one of the best layouts in Queensland.
In fact, it was rated good enough to host the 1955 Australian Open won by South African great Bobby Locke.
But long before Locke won the national open at Gailes, another world-beater rated the course Queensland's best.
American Gene Sarazen, a winner of seven majors, toured Australia with Joe Kirkwood in 1934 and played an exhibition match there against Arch McArthur and Ossie Walker.
Sarazen managed to eke out a stylish 71 and writing in the Courier-Mail the following day declared Goodna (now Gailes) Queensland's best.
He later repeated that opinion in a radio broadcast from Sydney and strongly recommended an Australian Open be held in Queensland and that the first one should go to Goodna.
"That Goodna layout is first rate," he said. "There is little to criticise and I was tickled to death to be able to play there.
"I'll bet that course develops some (great) players because they have to play golf there."
Located 25 minutes from Brisbane's CBD, Gailes has produced plenty of very good players including Bronson La Cassie who played the US PGA and Web.com tours a few years ago.
La Cassie, who first joined Gailes Golf Club as a 13-year-old, is back at his old stomping ground.
You'll find the friendly 35-year-old in the pro shop entertaining members and visitors with stories and tips on how to play the course.
"The golf course is always fun to play and it's always a decent challenge for all levels of golfers," La Cassie said.
"When I was a junior I would come to the club because it was a fun place to be and that hasn't changed.
"There is always a relaxed vibe around Gailes and even if you aren't playing golf it's a fun place to hang out."
Brent Barlow, who arrived to take over as head professional earlier this year, said he was "blown away" by the camaraderie and friendliness of the members.
"I'm thrilled to be working at a club that has hosted an Australian Open and has a championship par-73 golf course that is highly regarded and one of the best in Queensland," he said.
"The golf course is in excellent condition as we prepare to host the Queensland men's and women's amateur championships in late August."
So, what can golfers expect aside from playing on pristine fairways and greens?
According to La Cassie, they will have to bring the A-game.
"We have the toughest par-3s in the country … in my opinion," he said.
The players will only have two holes to warm up before reaching the first par-3 – the lengthy and challenging 197-metre third hole.
The par-3 sixth hole is 201 metres to a narrow green and being slightly uphill it plays longer than its actual length.
The par-3 12th is just 134 metres, but it's equally challenging.
The smallish green is raised and virtually surrounded by bunkers. If you miss the putting surface there's no guarantee you'll get up-and-down.
"The bunkers at Gailes are quite deep so it's important you hit your targets," Barlow warned.
"The par-4s offer a mixture of short, mid-length and long holes that dogleg left and right giving golfers the opportunity to use every club in the bag.
The longer hitters can reach the par-5s in two, but only if they hit their tee shots to the correct side of the fairways – generally down the right because the fairways do slope from right to left."
Of course, Gailes caters for golfers of all abilities with numerous tee positions from which to choose.
From the black tee markers the course measures 6245m (slope 127), 6151m from the blue tees (slope 126) and 5984m from the white tees (slope 124).
From the red tees, the course measures 5375m and has a slope rating of 123.
One of the advantages of playing Gailes is you don't need a box of golf balls to negotiate the course.
"Gailes is a friendly course as far as lost balls are concerned," Barlow said. "You won't lose too many around here because there isn't a lot of water."
Mind you, if you do miss a fairway you will more than likely have a gallery of kangaroos as company.
Kangaroos are a feature around the picturesque course and it's not unusual to see the marsupials close to the clubhouse and putting green.
Special offers: A progressive and friendly club, Gailes welcomes visitors and guests.
"I love working here because there is a really good vibe around the club and there is a lot going on," Barlow said.
"Currently we have a special where it costs $25 to play 18 holes (walking).
"Gailes is a relatively easy-walking course, but if golfers prefer to use a motorised cart we have a limited time offer of $69 for two players from Monday to Friday."
There's also a limited seven-day membership on offer to players aged 26 to 45. It costs just $963 per annum, which is substantially less than the full membership fees.
"This category allows golfers to access the golf course socially seven-days-a-week, play up to 25 Saturday competitions annually and unlimited competitions on other days," Barlow said.
"It's ideal for those who struggle to play competitions every Saturday."
Juniors and women too are well catered for at Gailes with regular clinics.
As La Cassie said, "Gailes is a fun place to play golf and hang out".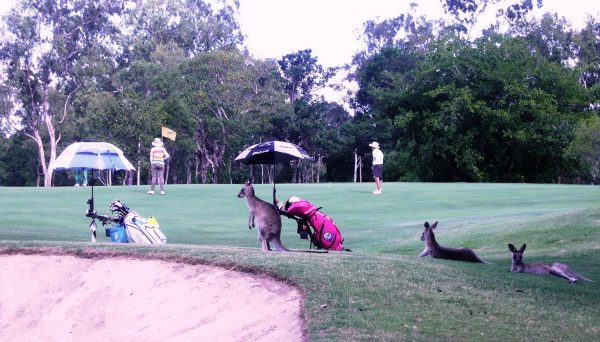 Facilities: The practice facilities at Gailes are first-class with a large putting green, a chipping green, which is currently being enlarged, and two practice bunkers – one with a low lip and the other a high lip.
The driving range has designated targets and stretches to more than 260 metres. Range balls can be hired from the pro shop.
The clubhouse at Gailes Golf Club has all the expected comforts including a dining and bar area that caters for 120-plus people.
It's a popular venue for weddings and other functions including seminars and corporate golf days.
Beat the Pro Challenge: At Gailes, members can't wait for Wednesdays and Saturdays to come around because these are the days they get to take on one of the club's professionals in the Beat the Pro Challenge.
It costs $2 to enter and those who do manage to beat the pro share the money pot.
"We normally get 80 to 100 enter on Wednesdays and 100-plus on Saturdays," La Cassie said.
Members regularly beat the pro and that's when the friendly banter around the well-stocked pro shop begins.
Another popular event is the Dingo Hill Classic, which is a black marker challenge played every second Friday of each month. It's open to everyone with a Golf Australia handicap.
It costs visitors only $30 (burger included) and is a real test of skill.
While Gailes is not long by modern standards, it consistently resists low scoring.
It is a pleasure to play because there isn't the faintest suggestion of trickery or artificiality in the design.
Still, Barlow and La Cassie did give Inside Golf a tip to pass on to readers: "Keep the ball under the hole on the greens."
The current course record of 65 (eight-under par) is jointly held by current Gailes member Nick Kazich and former member Darren Kapusi.
The old course record was set by former long-serving club professional Jack Coogan, who fired a nine-under-par 64 in 1959 club championships.
Gailes Golf Club
299 Wilruna Street, Wacol Qld 4076
Phone (07) 3271-2333 (club)
Phone (07) 3271-1045 (pro shop)
Email: office@gailesgolf.com.au
Pro shop: proshop@gailesgolf.com.au
Website: www.gailesgolf.com.au