Rated by many as among the top golf layouts in the world, the Cape Kidnappers golf course offers a combination of breathtaking scenery and world-class golf like no other.  Inside Golf ventured to this unique kiwi destination to experience this beauty for ourselves.
"Is it normally this windy here?" I asked, holding onto my cap, and leaning forward into the 3-club howler that swept over the tee box.
"Nah," chuckled the assistant greenkeeper, who had paused to watch my tee shot, "When you see sheep flying through the air, THAT's the normal wind 'round here."
Thus began one of the most enjoyable (and challenging) rounds of golf in my life.
Perched high atop the dramatic cliffs of Hawkes Bay on the East Coast of New Zealand's North Island, Cape Kidnappers golf course is one of the most beautiful, exciting, difficult and unique courses I have ever played.
Set on a 6,000 acre sheep and cattle farm, Cape Kidnappers golf course – and its five-star luxury resort The Farm at Cape Kidnappers – is one of the best "seaside" courses/facilities in our region. The Tom Doak-designed, par-71, 6,510-meter championship course is a links-style layout in a non-traditional links setting.  With the sand dunes, tall cliffs, deep ravines and long ridges, the setting feels more like a National Park than a golf course…and you'd almost expect to see rock-climbers or hikers traversing the area, daypack and tents in tow.
The landscape also provides for some dramatic views, with the lush, green fairways of the golf course contrasting sharply against the jagged beige rocks of the cliffs and the gorgeous emerald waters of the bay below. It makes for an almost dreamlike, hypnotic setting.
Completed in 2004, the course is reminiscent of some of Doak's other great designs, notably Barnbougle Dunes (Tas) and St Andrews Beach (Vic). Known as a "minimalist" designer –using the natural landscape and terrain as much as possible – Doak is said to have moved very little earth in designing Cape Kidnappers, with one report claiming that he moved as much dirt for the driving range as he did for the rest of the course. Another story reports that Doak and his crew played 15 of the 18 holes before anything was built, such was the ready-for-golf, flat state of the sheep-grazed land.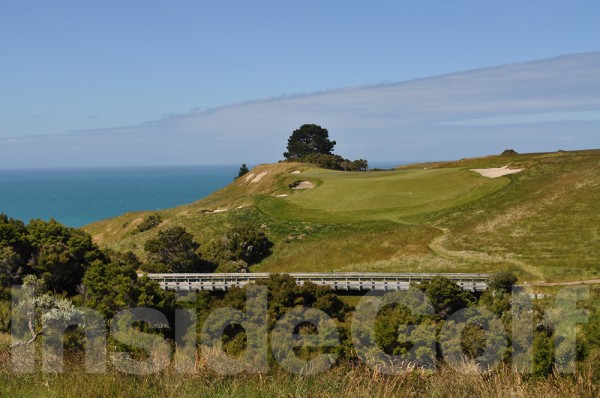 The layout features two distinct nines. The front nine meanders inland, with a nice collection of scenic and challenging holes that almost act as a "starter" to the main meal that is the spectacular, cliff-hugging back-nine.
Playing this course requires accuracy and control – especially if the wind is up. Despite some very wide fairways, and only a smattering of fairway bunkers, many of the holes demand that you land your tee shot accurately in order to have any shot at hitting the green in regulation.
While the wind can play havoc with club selection, we were happy to discover that there are very few holes where a cross-breeze comes into play. Doak's intelligent design (with a little help from Mother Nature) placed most of the holes with either a headwind or tailwind – resulting in a very playable course.  There are also five sets of tees on each hole – some with up to 130m of difference — so every hole offers an enjoyable option for all levels of player.
Approach shots are the real challenge at Cape Kidnappers – with most of the greens heavily guarded by deep bunkers, deeper ravines or monstrous cliffs. This is the case on holes like the par-5 15th ("Pirate's Plank"), where hitting too much club will result in your ball gaining an extra ten seconds of hang time (enough time to wave it goodbye) as it plunges 140m into the ocean far below!   Or the par-3 6th hole ("Gulley") which has only one option: hit the green. If you are short, long, left or right, your ball is either dead, or you'll wish it were.
On many of the other holes, missing the greens means you'll be faced with fringes/collars that can be a real challenge – as the grass grabs ahold of the club, turning those short chips into real knee-knockers.
As is the case with many seaside courses, the fairways and greens are firm and quick. But not too quick to make them unfair. In truth, I found the greens to be exceptionally true and in magnificent condition, albeit very challenging to read. While you'd expect the general slope to break towards the ocean, many of the greens are elevated, and feature a variety of swales and mounds that cleverly trick the eye, leading to many "missed reads" and nasty three-putts. (You'd have to play the course a few times to get a real feel for reading these greens properly. At least, that's what I'll tell my wife.)
For the mid-to-high handicapper, check your ego at the door and be prepared to play knock-downs, punches and safety clubs if the day is windy. Of course, there are a few really good grip-it-and-rip it holes, so your driver won't feel neglected. For the low marker, you'll find some enticing risk-reward opportunities and the chance to put your short game to a real test. Case in point is the par-5 457m 16th ("Widow's Walk"). With a highly-elevated tee (featuring more spectacular views) a good drive here makes it reachable in two. A bad drive, however, and you can see a snowman in your future.
But golf is only part of the story here. The Farm at Cape Kidnappers is a world-class resort that has to be seen (and experienced) to be believed. The ultimate in luxury and pampering, the Lodge and Restaurant offer top-quality service, spacious five-star rooms/suites, and meals that would not be out of place among the world's elite restaurants.  While projecting a "rustic" feel that fits perfectly within the setting, the entire facility is full of jaw-dropping beauty that makes you feel like you're living the life of the rich and famous.
The resort itself offers a full selection of non-golf activities, including a full-service luxury day-spa, swimming pool, jacuzzi, farm tours, ATV quad biking, hiking and guided walks. In addition, the surrounding area offers wine tours, Horseback riding, river kayaking and even world-class fly fishing. Giddy-up!
All told, Cape Kidnappers golf course easily fits into the "Must Play Before You Die" category. When experienced with The Farm at Cape Kidnappers, it's 'Bucket List Golf' at its finest.
COURSE NOTES

The Farm at Cape Kidnappers &
Cape Kidnappers Golf Course
446 Clifton Road, Te Awanga, Hawkes Bay, 4102

www.capekidnappers.com
Phone: +64 6 875 1900
reservations@capekidnappers.com.au

Green Fees: From $270-$385(NZD) (Depending on Season)
Lodge: Suites from $740-$1850(NZD)/person (Depending on Season)

Note: Cape Kidnappers also features a sister facility, Kauri Cliffs golf course and Lodge in Matauri Bay, as well as a third lodge, Matakauri on the edge of Lake Wakitipu in Queenstown .
Picasa Slideshow (Requires Flash – hit REFRESH if the viewer doesn't show):

Picasa Album