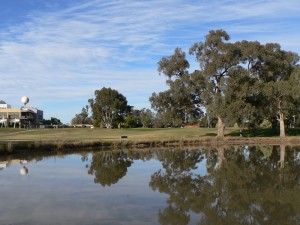 Nestled alongside the beautiful Murray River at Echuca Moama, Rich River Golf Club offers a pleasant and challenging golf experience for players of all levels. With fully self-contained accommodation on site, it is also a great location for a "Weekend Away" with the gang, as Bushranger Golf stalwart Mick Van Raay recently discovered.
Clubs…check. Stubby holder…check. Slab…check. Novelty playing cards…check. Sub nuclear loud golf apparel…check. Friday off work…check. Three straight days of golf and fun with 20 good Bushranger Golf mates awaits. Locked and loaded, let's roll!
I love these Murray River golf weekends away, it's always a beautiful country Victoria drive full of anticipation and yarns, with a mate riding shotgun, but I have to admit I never look forward the 3+ hour drive home after 54 holes of golf and shenanigans. So it was to my pleasant surprise that we rolled into the car park of RRGC after less than 3 hours drive from Melbourne.
The golfing at Murray River courses is always excellent, and Rich River is certainly no exception. A pair of well established, solid quality, long country courses awaits the hungry golf tragic upon their arrival. I love these more forgiving open style country courses; the tree lined Rich River fairways are a challenge if your aim is not true off the tee but I guess a slicer like me has a handicap for a reason and a recovery shot is often on the cards if you do find yourself in trouble. I particularly liked the greens, many of them small and some with a double tier, they rolled true and provided a familiar feel on each hole. Long fairways with some nice open tees beckon you to open up the shoulders and leave nothing in the bag. However, trouble off the tee can often be found in the form of a large fairway bunker or in one of the many formerly overflowing but now sadly quite dry dams.
Rich River is perfect for these kinds of weekend or group events. The accommodation is robust, the facilities are extensive with good hearty meals at the well-equipped bar and restaurant and you'll never need to get into your car at this fully self-contained golfing facility. Family friendly, there's a nice pool area as well as full lawn bowls and tennis clubs.
I averaged about 3 under my handicap over all 3 days and — as a relatively high handicapper of 24 — never really felt that the course was bringing me to my knees, like some links courses can at times. I'd highly recommend a group golfing weekend at Rich River.
Rating: 7/10
Course Notes:Rich River Golf Club
Twenty Four Lane
Moama, NSW 2731

Pro Shop: 03 5481 3372
Email: rrgc@richriver.com.au
www.richriver.com.au
Green fees

Midweek

18 holes (unlimited) $30
9 holes $20
Reciprocal Club Members $15
Under 18 years $15
Motorised cart hire (18 holes) $40

Weekend

18 holes (unlimited) $40
9 holes $20
Reciprocal Club Members $20
Under 18 years $20
Motorised cart hire (18 holes) $40