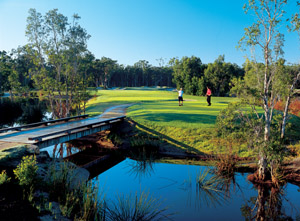 Consistently ranked among Australia's best public access courses by Golf Australia, The Golf Course Guide and Golf Digest — including a #1 placement for NSW in 2007 — Pacific Dunes Port Stephens is the latest member of Inside Golf's "Must Play" courses. A challenging layout, combined with the east coast's most spectacular scenery and temperate, year-round golfing weather, creates an idyllic setting for a great round of golf in New South Wales.
Sam Arthur
Fortunately we get to play a bit of golf in this business so I was quite keen to see how Pacific Dunes has developed since it first opened several years ago. I've played here 5 times and I must say the condition of the course just gets better. Full credit to the course super and his staff. They are doing a great job. Two different nines, with the first tree-lined on all holes and very little water.
To me, the back nine at Pacific Dunes is probably the best finishing nine holes around. That's a big call, I know, but we stood on most of these tees and looked at each other saying "how good does this look". We were really in awe of the place. I didn't get this feeling three or four years ago so it really has taken shape over time.
Starting off with a sensational, short 288 metre par 4, the 10th hole can easily set you up for a birdie chance if played aggressively. Water comes in to play pretty much on every hole on the back nine. You need to play smart to score well. For me, holes 13 to 18 were just awesome. The fairways were perfectly shaped and inviting to really step up and have a crack. That's what every golfer wants to feel on a tee. You still see plenty of trouble but you are given a good opportunity to find the short grass with a big hit.
Holes 14 and 17 are great par 3's playing slightly up hill on 14 and playing into the prevailing wind on 17. Hole 17 is a monster measuring just over 202m — we were forced to hit full 3 woods in.
But it all comes down to a good final hole…where your memory of a course can go with you. There's nothing better than to finish on a tough par 5 riddled with water all the way up on the right side. A good drive will let you have a 3-wood in for a chance of an eagle putt or birdie — but be careful as the water can come out and get you.
Stewy and Scott have summarised the first class facilities and the Troon reception very well (below), and I agree with them 100%. I can't tell you any more how good the Troon treatment is.
Well done Pacific Dunes…the combination of a Troon facility, great green staff and very friendly facility staff makes it a necessity to play this course the next time you visit the Port Stephens area. You will not be disappointed.

Andrew Stewart
I always look forward to a phone call from Sam Arthur in the hope that it is an invitation to do a course review, and to my luck it was. All the courses I have done reviews on have always been of the best of quality, and Pacific Dunes was definitely no exception.
From the moment you enter the gates it's all first class; you're greeted by friendly staff, beautiful scenery, and — on a quick glance — fairways like carpet and greens with barely a blemish.
From the first tee to my final shank on the last, this golf course is not for the faint hearted. Pacific Dunes is definitely set up to be a championship golf course and will punish those who fail to keep the ball on the fairway. In making those comments I don't mean to scare off the average golfer, because whether you have 10 points or 40 points Pacific Dunes is such an enjoyable golf course you won't care what your score was anyway.
Pacific Dunes offers great facilities for the social golfer and the lower marker. Its 18-hole golf course, driving range, function centre, bar, restaurant, bistro facilities and proximity to Nelson Bay are all reasons why you should make a weekend of it.
In short, this golf course offers almost everything and is one of the best I have ever played. I would especially like to give a big thank you to all the staff who made the experience that much better.

Scott Hogan
When I received an email from Sam Arthur asking if I was interested in an upcoming course review at Pacific Dunes, I was excited and relieved at the same time. Having been a golfing friend of Sam's for many years, I've been eagerly awaiting a chance for a course review call up from the bench.
I was thankful my time had come, half expecting my first course review to be "Sylvania Par 3 Pitch & Putt".
Pacific Dunes, of international championship course standard, I could not have asked for more; maybe "Ambassador of Pacific Dunes", tennis champion Pat Rafter, to make up our 4BBB with Sam, Stewy and myself. Unfortunately it was Dax.
I'm employed in the Golf Industry, so I knew Pacific Dunes' reputation for excellence and commitment to quality. This I have come to expect from any Troon-managed golf facility — from experiences at Twin Creeks Golf & Country Club in Sydney and Brookwater Golf Club in Brisbane. Troon Golf is truly the world's premier golf course management company. The staff and service in the pro shop, clubhouse and restaurant was five star. At times there seemed to be more staff than in a David Jones store. Pacific Dunes is a great place to pamper yourself when becoming all too used to average metropolitan golf clubs in Sydney.
The Port Stephens / Nelson Bay area is perfect for a golf getaway considering the proximity to Sydney and quality and quantity of courses in the area. It's an easy two hour drive from Sydney, even with a slight detour to pick up Sam from Newcastle Airport along the way. The regional Airport is 20 mins away.
Although most of the winding layout undulates through scenic natural bushland and wetlands, the experience definitely has a "Gold Coast resort course" feel about it, which I thoroughly enjoyed. Pacific Dunes has some of the best short par 4's in Australia. A big call!
In hindsight it was not a smart decision to play off the black (back) markers when trying to have a relaxing round with the boys with a few bets on the side. Intimidating is the best way to describe the feeling standing on some tees. The course plays much easier off the blue markers with larger landing areas and less fairway bunkers. I'm sure my playing partner Stewy will agree, tough times will be had if you have "snap hooks" or "shanks" on the day.
To summarise, I'm sure any golfer that visits Pacific Dunes will have a memorable and rewarding experience. It is a great test of golf.
Dax de Traubenberg
If you ever allow yourself to sit back and wonder how the other half live, fear not my friends, you have the chance.
Usually with these reviews I try and detail some of the course's best holes and how they may challenge your typical golfer. However with Pacific Dunes, I think it's a little more appropriate to focus on the overall experience instead of each individual hole. It's the kind of perfectly manicured, yet challenging layout you might find on a course in Las Vegas or Palm Springs…. or the Gold Coast … or in heaven.
It's pretty easy to get a false sense of importance when you rock up, as you're greeted by a gentleman who removes the hassle of taking your clubs from the boot of your car to your golf cart for you. From there it's into the clubhouse or onto the range, both fully equipped with whatever you need.
When you finally do get to the first tee you're confronted with a mixture of conflicting emotions, varying somewhere between, "how good does this hole look" and "where the hell can I hit it and still find it". One gentleman by the name of Andrew Stewart failed to answer the latter of the two questions on no more than 10 occasions.
The front nine weaves in and out of bush land (which now owns 5 of those said golf balls) but is also littered with plenty of fairway bunkers that require accurate driving to avoid. The back nine is far more open and more of your typical resort style course with a bare minimum of trees. What this picturesque nine lacks in foliage though it more than makes up for with water, water that now plays host to the other 5 of Mr Stewart's golf balls.
No matter what the level of your game though or the style of course you like, Pacific Dunes will leave you feeling like you're in one of those lotto winner commercials.
Accommodation is available at the nearby Landmark hotel and is as high in quality as the course itself. A fantastic golfing experience and one that I strongly recommend.
NEED TO KNOW

Pacific Dunes
Par: 72
Length: 6,403 Metres
Designer: James Wilcher
Grasses: Fairways- Santa Ana, Greens- A1 Bent
Address: Championship Drive, Medowie NSW 2318
Phone 02 4916 0500

http://www.pacificdunes.com.au/port-stephens-golf

Green Fees: (all prices exclude carts) 18 Holes: $59 Mon-Thur,
$70 Fri-Sun