Rich River Golf Club is situated within the beautiful Murray River region of Echuca-Moama. Less than 3 hours from Melbourne, this popular historic town was voted number 35 amongst the top 100 towns to visit in Australia.
Rich River Golf Club features two very impressive 18-hole championship courses, the East and the West. They've been developed over the years to become one of regional Australia's premier golfing venues, where golfers love the rolling fairways, carefully tended greens and towering eucalyptus.
The West Course has traditional tree-lined fairways with tricky, small greens that take the serious player on a thought- provoking and challenging 6,183m journey. The East Course, which had a major transformation after a redesign by Peter Thomson in 1998, features large greens, wide fairways and those famous Thomson bunkers which really keep you thinking about your strokes. Course length is 6,131m.
Tee times are available seven days a week, with services including golf carts, pro shop, equipment hire and a beverage cart for a quick refresher.
The 12th on the West is one of the most difficult holes on the course. A strong dogleg-right, it's critical to hit the fairway in just the right spot (hint: Fairway metal or iron off the tee is often a good bet). Your second shot requires a good solid strike over Howard's Lake to reach the green, which is gently sloped from front to back. A par on this hole is always a good score.
The 18th on the East course is a monster at 532m. Be sure to avoid the fairway bunker on the left from the tee, as well as the fairway bunkers on your second shot (80 meters short of the green). With water down the left of the fairway, and a green surrounded by bunkers, it's a very challenging hole.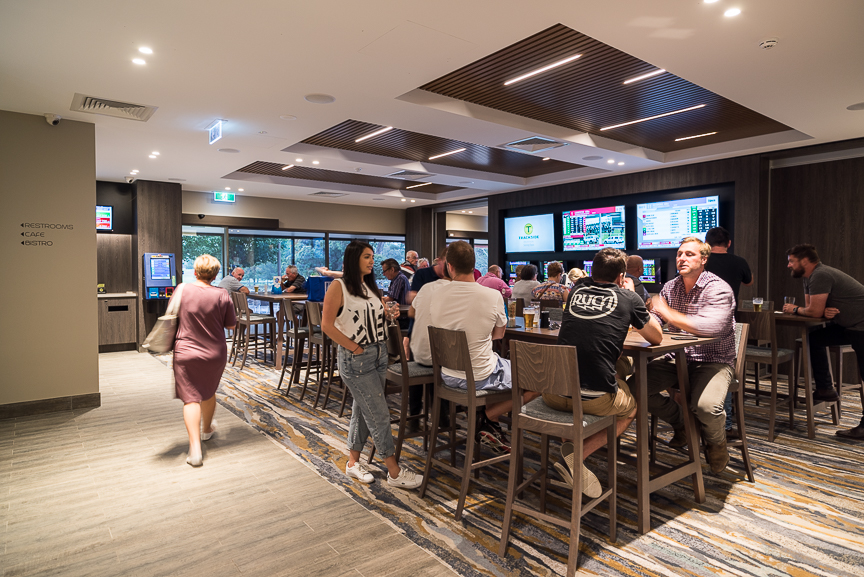 The Clubhouse has recently undergone a fresh and modern transformation. The brand-new Café, open from 9am, provides hot and cold snacks, expertly brewed espresso coffee and sweet treats freshly prepared by the in-house pastry chef. The impressive Sports Lounge/TAB features various sports and racing on a daily basis, as well as live sport action on the Big Screen. Snack menus are available throughout the Club from 12pm
The Bistro, which has been revitalized, is locally famous for the magnificent views of the golf course, and for the mouth-watering choices on the breakfast, lunch and dinner menu. Premium Australian and New Zealand wines and local and imported beer feature too. Bistro specials are available everyday of the week.
The deluxe accommodation offers privacy and seclusion ensuring your own space to relax after golf. There's a great choice of rooms too, for couples, families and small groups. 40 spacious and airy standard suites have a king split bed in the bedroom and single bed in the lounge room. The 22 deluxe rooms are rated 4-star, and feature a queen bed. If you're travelling with a small group, a large and fully self- contained apartment can accommodate up to 7 people with 3 bedrooms, a welcoming lounge/dining area, 2 bathrooms and 3 toilets. There are so many leisure options here: two outdoor pools, a spa, gym equipment, three bowling greens, three croquet courses and nine tennis courts.
If you travel in a self-contained motor vehicle, short-term parking is nestled against the East Golf Course with clubhouse facilities at your doorstep. A dump point and access to water is also located adjacent for your convenience.
The brand new Rich River Golf Club is a must-see for those who have not visited in a while!
(Photos courtesy of www.ashtonphoto.com.au)
FOR MORE INFORMATION
Rich River Golf Club
Twenty Four Lane, Moama, NSW, 2731
www.richriver.com.au
(03) 5481 3333
golfpackages@richriver.com.au