BALLINA Golf and Sports Club, located about an hour south of the Gold Coast and 10 minutes from Ballina Airport, is a lush green parkland golf course that offers peaceful vistas of North Creek and lovely carefully maintained flora.
Known as the Garden Course of the Northern Rivers, Ballina GSC is a traditional golf club that offers a relaxed atmosphere, friendly staff and members like Vince Newman, who was keen for a chat while carefully negotiating the picturesque 11th hole that borders North Creek.
Vince says he has been a member for 30-plus years and never tires of playing the golf course.
"Have a look at this beautiful golf course and the environment we're in," he said when asked what draws him to the club and course.
"I play three times a week and it's always a challenge and, besides, where else would you rather be."
Not only is the golf course and surrounding area beautiful, but the climate is perfect for year-round outdoor activities.
And perhaps best of all, Ballina is one of the most desirable places to visit … even retire.
For the past three years, Ballina GSC has been turning over healthy profits courtesy of the club's forward-thinking board, general manager Mark Whiting and his team, club professional Colin Edwards and course superintendent of 23 years Wayne Tickle.
When Tickle arrived at the club in 1993, he thought he would stay in the job for a few years but new projects on the golf course kept him more than interested.
The club's 950 members are pleased Tickle stayed because he and his staff have the golf course looking a picture.
If your golf ball finds the fairway you are virtually guaranteed a perfect lie and the medium-sized Bermuda 328 greens are perfectly paced and a pleasure to putt on because there aren't too many contours or subtle breaks.
"The golf course always presents well and is one of the better wet-weather courses," Tickle said.
"The course drains well and we are able to get out and cut the fairways shortly after a rain event.
"And because we now have cart paths all the way around the golf course it means members and visitors don't miss out on their game and that makes them happy."
The club's head professional Colin Edwards has been at the club for six years and is assisted in the pro shop by fellow pros Chris Hawkins and Lachlan Ritson.
"The golf course is in the best condition all year round of any golf course I have worked at," Edwards said.
For the A, B or C grade golfer, it's a good challenge.
It's an easy walking course, it's user friendly and if you keep the ball on the fairways it's not that punishing but if you stray into the rough or trees which line the fairways it can be a challenge.
"We also have a number of strategically-placed bunkers to catch wayward shots, but it's a golf course that won't beat you to death."
With four tee positions – blue, white, gold and red – golfers can choose their own medicine.
The par-72 golf course stretches to 6052m off the blue tees, 5815m (white) and 5241m (red).
Ballina Golf and Sports Club is extremely comfortable with what it has to offer, but it's not resting on its laurels as it continually seeks ways to improve services to members and visitors alike.
"We think the club is a cut above and we want to remain that way," Whiting said. "We (staff) work hard to achieve this in the services we offer.
"We are certainly not snobbish – it is a matter of a standard we set and a standard we try to repeat.
"The club believes our services and the environment give people a good reason to come to our club."
The clubhouse includes a host of excellent amenities, including a well-stocked pro shop, locker rooms, showers, a lounge, dining facilities and more.
"In recent years, the club has transformed into a viable entertainment option for people," Whiting added.
"Certainly, the people of Ballina have taken to our club and that's because of the constant improvements like changing the décor, adding new furniture, installing large TV screens along with numerous other initiatives.
The club's restaurant, run by long-term caterers, is popular with members and the local community.
"We offer excellent Chinese cuisine as well as Australian cuisine," Whiting said. "The food is exceptional and that's another reason why the community supports the club.
"We also have a quality, challenging golf course, which is always lush and green and you never get a bad lie.
"Everything you like about golf and a golf course –the sights, the sounds, the smell, the flora and fauna – I believe we have at Ballina.
"The course is always in good condition and it's enough of a challenge without being stupidly hard. It's inviting, enjoyable and has nice views on different holes as you go around the course."
Ballina golf course has its own version of "Amen Corner" – three tough, demanding holes in succession.
"The 14th, 15th and 16th (all par-4s) would not go astray on any golf course in the world," Whiting said.
"If your game is in good shape when come to the 14th hole make sure you have a couple of shots in the bank because you might need them.
"These three holes (index 3, 1 and 5 respectively) are all around the 400m mark and can rip the heart out of a good round."
The trio of holes might be brutes, but isn't that what golfers crave from a round of golf – a solid test.
Still, there are plenty of birdie opportunities, according to professional Col Edwards.
"The first hole is a short par-5 (437m from the white tees), which is reachable in two for long-hitters," he said.
"The par-5 13th hole (441m) is another birdie chance. It doglegs right, but for those willing to have a go it can be rewarding."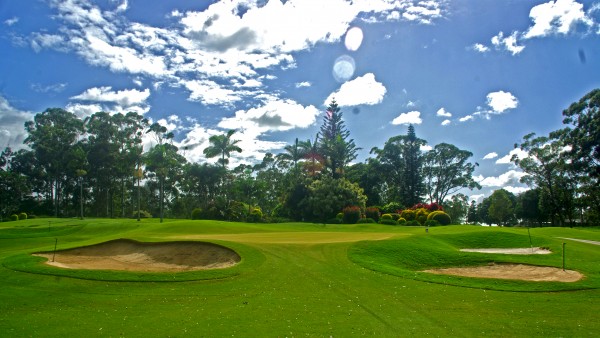 The four par-3s are short (138m, 152m, 128m and 110m from the white tees) and require accuracy to make birdie or par.
"You have to put the ball in the right position on the short holes, especially the 12th and 17th because they are uphill," Whiting added.
The practice facilities at Ballina Golf and Sports Club are adequate and perfect for golfers keen on honing their short-game skills.
There is a large putting green, an 80m chipping area and a 130m range.
Currently, the club is investigating the possibility of extending the driving range from 130m to full-length.
Aside from golf, Ballina has beautiful surf beaches and is a popular fishing destination.
"We also have the hinterland with its natural parks and waterfalls on our doorstep and the historical town of Alstonville, which is popular with tourists," Whiting said.
"Since the Pacific Highway has been upgraded to a dual carriageway road visitors from Brisbane and the Gold Coast are making the effort to come and see what Ballina has to offer.
"From the Gold Coast it's a quick run so if golfers want to get out of the city for a day or a weekend they should not hesitate because we have a lot to offer.
"For visiting golfers, Thursdays and Sundays are best because we have special packages available. On Thursdays, it's $30 per person for 18 holes in a shared golf cart. On Sundays, we give golfers a burger and chips, 18 holes of golf in a shared golf cart and that's only $50 per person.
"It's worth going for a drive to discover something different.
"We like to think that if someone comes here to play golf they will definitely come back again, but golfers need to call the club and book a tee time."
FACT FILE
Ballina Golf and Sports Club
Jameson Avenue, East Ballina 2478
Clubhouse: (02) 6686-2766
Pro shop: (02) 6686-0144
Website: www.ballinagolfclub.com.au