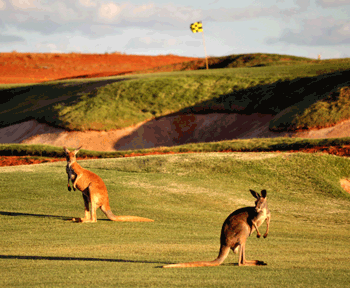 While better known for its gold mining, red earth and blue skies, the Western Australia town of Kalgoorlie-Boulder is soon to be known for its amazing greens, following the launch of the new Kalgoorlie Golf Course. Inside Golf made the trek out west to play this amazing course.
We weren't quite sure what to expect when we landed in the mining town of Kalgoorlie-Boulder. Visions of 'the Old West' came flooding to mind: rough-and-tumble pubs, gruff goldminers and a dry and dusty landscape.
But our antiquated visions couldn't have been further from the truth. In reality, Kalgoorlie is a fairly bustling regional centre with a population of 30,000 and all the modern conveniences of any Australian country town.
And now, they can boast to having one of the finest golf courses in Australia.
Only a few months old, the brand-new Kalgoorlie Golf Course is an absolute gem, and may very well be one of the most "Australian" courses you will ever play. Designed by Graham Marsh, and owned by the city of Kalgoorlie-Boulder, this 18-hole par-72 championship track features an extremely playable layout, set in one of the most magnificent settings in the country.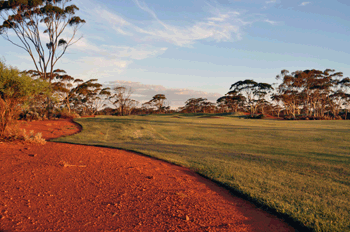 Kalgoorlie Golf Course is home to the newly amalgamated Goldfields Golf Club, which brought together three local golf clubs under one roof: Hannans, Kalgoorlie and Boulder. Having played previously on oiled/sand-scrape greens with little or no grass for fairways, the local golfers in the area weren't sure what to expect when the city embarked on the Kalgoorlie project. But despite the hurdles and growing pains, it's safe to say that the golfing residents of Kalgoorlie will soon be the envy of club golfers across the country once word gets out about how good this course is.
With six different tee boxes, Kalgoorlie is playable for any–and I mean ANY–skill level. Played from the black tees (yes, we are suckers for punishment), the course measures a staggering 6768m, making it one of the longest courses (if not THE longest) in Australia. The "public" tees are a more manageable 5933m, while other tees are available for members, ladies and even juniors.
Most of the holes are quite straight and wide, meaning that you'll be relatively safe to hit driver throughout the day. But that doesn't mean the holes are easy; on the contrary, they are anything but. A few of the doglegs – notably the par-4 12th – will require careful club selection and course management if you want any hope of par. The same can be said for holes like the par-5 9th, which features a massive (yet narrow), three-tiered green that slopes from front to back (i.e. AWAY from you), and is guarded by a deep pot bunker on the front-right. If the pin is cut on the first/front tier, prepare for an automatic 3-putt.
The par-3s at Kalgoorlie are glorious, especially the 218m 8th. With a slightly raised green, strategic bunkers and plenty of danger on each side, it's the type of hole that can destroy a scorecard. Especially if the wind is in your face. Same with the 202m 17th, which features its own selection of nightmarish bunkers.
The par-5s are equally strong. All four of them are solid three-shotters, including the monstrous 15th. Nicknamed the "Golden Mile", this 569m beauty features a blind second shot, a valley of death along the right, bunkers at every turn and a very treacherous green. A par here feels like a birdie. (Not that I would know.)
Of course, the main feature of Kalgoorlie GC is the red earth surrounding the course. It not only "frames" the course in a stunning visual display, but it also provides a notorious hazard for wayward shots. Playing off the red earth is akin to a soft clay, and requires plenty of practice to master (I had plenty of practice during the round!). The same can be said for the various orange-coloured "waste bunkers" throughout the course: pretty, but deadly.
The sparse surrounds beyond the rough means you'll likely find your wayward shots. But it's a hollow victory, as the numerous prickly desert shrubs and bushes provide their own layer of peril; it is nigh impossible to play out of many of them. Also, much of the course is slightly "raised" off the ground – so if your ball rolls just off the fairway onto the red earth, you can find yourself wedged against a raised grass "lip", which requires a tricky wedge shot to get back onto the fairway.
Despite the fact that the course is brand-new, we were amazed at how playable it already is. Most courses require years of growth before they are as playable as Kalgoorlie is today. The greens (Bent G2) and fairways (Couch wintergrass) are in fantastic condition. Putting is a pleasure, and the greens roll true, despite still being a bit firm in their youth.
And it will only get better. This is due to an amazing effort by the staff and greenskeepers (and the course management company, Prime Golf WA), who have worked tirelessly throughout the project. They have also done a great job with the newly-opened The Waterhole restaurant in the clubhouse. The food here is high-quality, and a step beyond the usual golf club grub. It's also great for functions and events.
With a course of this calibre on offer, Kalgoorlie is a fantastic destination for a quick golfing holiday or even an annual Social Golf Weekend, as it offers world-class golf, comfortable accommodation, and a unique "frontier town" nightlife scene. (Hint: try one of the thick and juicy Pepper-crusted eye fillets at the Balcony Restaurant above the Palace Hotel. We're talking Fred Flintstone-sized portions here). After dinner, grab a few beers and mingle with the locals at one of the historic pubs, or kick back in your room at one of the 25 local hotels and dream about the next day's round at Kalgoorlie GC.
All in all, Kalgoorlie Golf Course is an amazing track with a setting that is second to none. We are confident that this course will one day find itself listed among Australia's top rated courses.
And don't be surprised if you see large tournaments hosted here in the future. Yes, it's that good.
COURSE NOTES

Kalgoorlie Golf Course
93 Aslett Drive
Kalgoorlie WA 6430
Phone: 08 9026 2626
Email: golf@kalgoorliegolfcourse.com

Website: www.kalgoorliegolfcourse.com

Green Fees:
9 holes: $35 (Juniors: $26.25)
18 holes: $55 weekend/$45 midweek (Juniors: $41.25)
Member guest: $31.50/$49.50
Motorised cart hire (per person): 9 holes: $14, 18-holes: $20

Accommodation
Stay and play packages are available via Rydges Kalgoorlie
Rydges.com/Kalgoorlie

Tourism:
www.kalgoorlietourism.com

Nightlife
Palace Hotel: www.palacehotel.com.au

Airlines:
Qantas and Skywest Airlines operate daily flights between Perth and Kalgoorlie-Boulder. The flight takes approximately one hour. Skywest also offers limited direct flights between Melbourne and Kalgoorlie.