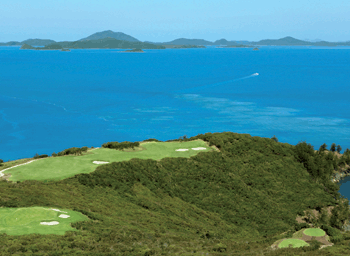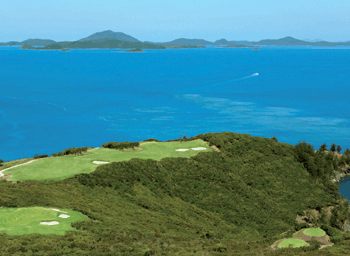 The mere mention of Hamilton Island is enough to get most tongues wagging. The tropical surrounds, the laid-back island atmosphere and the overall friendliness of the locals are all world renowned.
And now, you can add "World-class golf" to the list.
The brand-new Hamilton Island Golf Course – situated on the nearby Dent Island – offers a truly unique golfing experience. Designed by the skilled magicians at Thomson Perrett, the course wends its way around (and over, and through) a lush, tropical paradise that has a distinct "Hawaiian Golf" feel.
It's hardly a location that you'd expect to find a course – the rocky and hilly landscape seem more suited to mountaineering than golf. But Thomson Perrett did a remarkable job in making the course seem natural and inviting.
Indeed, this majestic layout is something you have to see to believe.
After a quick five-minute ferry ride from Hamilton to Dent, our group (Larry Canning, Richard Fellner, David Newbery and Sam Arthur) were whisked up the steep hill to the modern and spacious clubhouse, where we were met by the club's friendly golf professional Cherie Alison (nee Byrnes).
She gives us a brief description of the course and tells us we have a choice of three alternative tees, which offer differing degrees of difficulty to all players. They are referred to as Hoop Pine, Pandanus and Grass Tree – named after three trees of differing heights.
Cherie suggests we play off the championship tees (Hoop Pine), but warns club selection is critical.
"You don't need to hit your driver off the tee on every par-4 and par-5," she says.
We should have listened.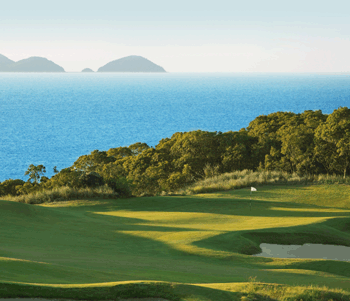 With egos bursting out of our polo shirts we sucked it up and chose the "Hoop Pine Course" which we agree could easily host any major Championship in the world. If you don't feel like challenging yourself to that degree, then you can play the Pandanus Course or the shorter Grass Tree course, which is perfect for the casual golfer.
Because we're playing off the "Tiger" tees, David and Richard (playing a best ball match against Sam and Larry) don't heed Cherie's advice – and opt to take driver on most holes. Several lost golf balls later (and several lost bottles of wine– Note: NEVER play against Larry Canning when there are beverages on the line) it was apparent that Cherie's advice was sound.
Certainly part of the challenge when tackling the Hamilton Island Golf Course is the magnificent (and magically distracting) ocean views throughout the course. The tropical blue water contrasting against the green grass is mesmerising, and you can be forgiven for forgetting how to hit a golf ball. And with many elevated tees, you can't HELP but want to let the big dog eat.
We particularly enjoyed playing the four par-3s – especially the 175m fourth, which is a real challenge played across a valley to a large angled green. In windy conditions, which we experienced, it's a treacherous hole, but the views across to the mainland are spectacular and make up for any blemishes.
It's the longest par-3 on the golf course, but it can be played from the Pandanus (161m) or the Grass Tree (110m) for a bit of relief. Similarly, the par-3 14th hole has its own valley of death, but this can be avoided by playing from the shorter tees, which are cleverly positioned at a near 90-degree angle from the Hoop Pine tees, thus creating a completely different hole.
In fact, many of the Grass Tree, Pandanus and Hoop Pine teeboxes on the course are placed in such a way as to almost create three different golf courses on the one site. While it would have been easy to just place the teeboxes in a row at increasing lengths (as most courses do), Thomson Perrett intelligently placed them in a way to offer completely different shot selections, challenges and views. Very clever.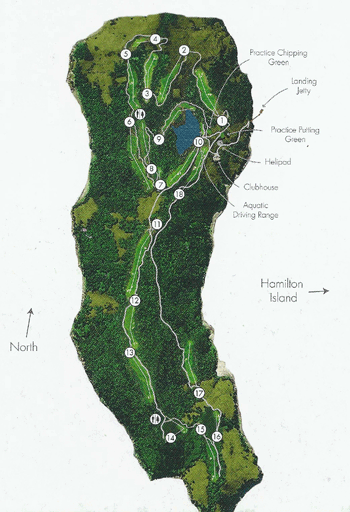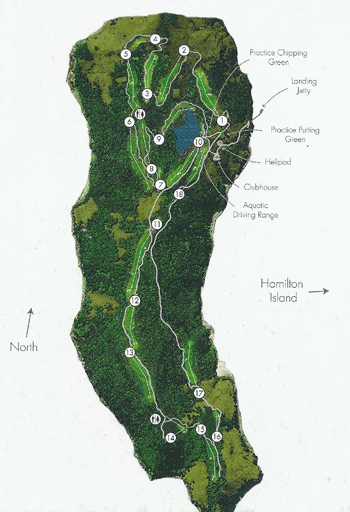 The longer holes are also special. The par-5 sixth hole is a solid three-shotter, requiring finesse and solid lay-up skills. So too is the par-4 ninth, which is guarded by the resident lake (which also houses the aquatic driving range). You'll need nerves of steel to make that approach shot to heavily protected green.
What really gives the golf course a unique feel is that there are virtually no parallel holes, which gives the impression your group is the only one on the course. Such is the seclusion of this hilly, island adventure that you might almost forget you are playing golf in a world heritage marine park.
The golf course is a tough, yet rewarding challenge. With many blind tee shots (and a few blind approaches) you really have to use your head to get around the course (which doesn't explain how Larry played so well. But never mind).
But if you play smart and have the mental strength to take your eyes off the magnificent scenery long enough, there are plenty of birdie opportunities, and certainly a bounty of good memories to be had.
The clubhouse is something special as well, with its entire eastern side open to the magnificent views and cooling breezes. It wasn't hard to kick back with a cold beer while we each feasted on a sumptuous meal (the Barramundi fillet was excellent!), and lied to each other about how well we had just played.
Occasionally, we'd lift our heads to gaze out over the tranquil turquoise ocean as boats and yachts zigzag from island to island. Magic.
The whole Hamilton Island experience was special and with 6 different styles of accommodation from the opulent luxury of Qualia or the boutique Beach Club, to the more family-friendly hotels and self-catering apartments, there's a little something for everyone.
It's a cracker of a course. One to tick off your "must play" list.
Course Notes

Hamilton Island Golf Course
Par: 71
Designer: Peter Thomson/Ross Perrett
Green fees: 9 holes – $100, 18 holes – $150 (includes golf cart and return Hamilton Island transfers)
Telephone (07) 4948 9760 or email golf@hamiltonisland.com.au
http://www.hamiltonislandgolfclub.com.au
But golf is only aspect of Hamilton Island. There are other great activities available on the island, as well as some world-class accommodation.
Firstly, it should be noted that there is simply nothing better than flying into your own holiday island. There's no messing around with cabs or public transport, and no stress from trying to navigate busy roads in a hire car. On Hamilton Island, the main mode of transport is via golf buggy, which is not only stress-free, but also puts you into instant "Holiday Mode" from the word go.
We had the pleasure of staying in two of Hamilton Island's most luxurious resorts: the Yacht Club Villas — a collection of stand-alone private villas overlooking Dent Passage—and the new pinnacle for luxury resorts in Australia, qualia, on the secluded northern-most tip of the island.
The Oatley family – of the Wild Oats fame in yachting – invested over $185m into the development of these two properties, and it was certainly money well spent. We were simply amazed by the quality of the accommodation – the pavilions and villas were beautifully appointed, the views breathtaking and the food and beverages at the respective restaurants were nothing short of exquisite. At qualia, some of the pavilions have private plunge pools, while others feature floor-to-ceiling windows that open up (or should I say, sink down below the floor!) to magnificent private balconies.
Spa qualia is also not to be missed. Guests can indulge in a range of indigenous treatments from Australian company LI'TYA, while wine lovers can try a Burgundy Bath Soak, Vinotherapie Body Scrub, Pinot Noir Mask and Chardonnay Massage
Both resorts were simply heaven on earth. The prices start from $950/night, but if you're looking for total indulgence, you'll find it here.
If you're travelling with a family, or simply prefer more modest accommodation, there are other resorts on the island, featuring a variety of prices and packages to suit every budget (starting around $270/night). There are also some very good packages and specials that include golf, sailing or a range of island adventures.
There is a wide range of activities available on Hamilton Island, ranging from snorkelling, jet skiing, sea kayaking, go-karting, sailing, parasailing, golf and reef trips to name a few! A reef surrounds the island and at low tide, the beautiful Catseye Beach turns into a snorkeler's paradise. Fish have been hand-fed there for more than 20 years, so their numbers are plentiful and their colours amazing. For the ultimate Great Barrier Reef experience, visit the outer reef by boat, plane, helicopter, semi-submersible or from an underwater viewing room on a stable platform.
Hamilton Island and the Whitsundays are also known as a sailing Mecca. If you get the sailing bug, you can complete a "learn to sail" course and take your own yacht on a bareboat charter for a few nights. The last week in August is a sailor's delight as Australia's largest offshore yachting regatta, the Audi Hamilton Island Race Week, is staged.
We had the pleasure of taking in a sunset sail onboard the Banjo Patterson, a 60ft sailing vessel that cruises along the sheltered waters off the island. If you're concerned about seasickness, then put your worries to rest: this cruise was so smooth that our complimentary champagne and beer glasses – not to mention the light nibblies platter — had nary a shake. It was the ultimate in relaxation.
But Hamilton Island is more than just a holiday hotspot — there are around 500 wedding ceremonies held on the island each year (fair enough, we reckon, as it is a very romantic location), while it is also a popular conference location, with extensive facilities that can comfortably cater from 10 to 1000 people (Can you say "Corporate retreat"!)
So the next time you're considering a quick holiday or extended vacation, look no further than Hamilton Island. You won't be disappointed.
For more information, visit: www.hamiltonisland.com.au
Travel Notes:

LOCATION

Hamilton Island is one of the 74 tropical islands in the Coral Sea, between the Queensland coast and Great Barrier Reef. It is the largest inhabited island in the Whitsundays, positioned nearly halfway between the coastline of Mackay and Townsville.

CLIMATE

Hamilton Island lies on the same tropical latitude as Honolulu in the northern hemisphere and Mauritius in the south. It has a year-round tropical climate with an average temperature of 27.4 degrees centigrade.

GETTING THERE

Hamilton Island has direct flights daily from Sydney, Melbourne, Brisbane and Cairns, with Jetstar, Virgin Blue and Qantas. Regional charter flights can also be organised from Mackay, Proserpine and Airlie Beach. Ferries sail to Hamilton Island throughout the day from Shute Harbour, on the mainland. Yachties sailing to Hamilton Island will find a welcoming berth at the Marina.

ACTIVITIES AND RESTAURANTS BOOKING

It is recommended that you ring and book ahead for all activities or dining arrangements:

Tours and activities: +61 (0)7 4946 8305

Restaurant bookings: +61 (0)7 4946 9999

Clownfish Club and babysitting services: +61 (0)7 4946 8941