THE township of Gisborne, often referred to as "the Village in the Valley", nestles in the southern slopes of Victoria's Macedon Ranges.  
Only 55kms from Melbourne GPO and 40kms from Tullamarine airport, the Macedon Ranges are one of Victoria's tourism highlights.
Located on the fringe of the township but at a higher elevation, Gisborne Golf Club boasts superb views towards the ranges and to Mount Macedon itself.
An attractive and challenging 18-hole course, Gisborne offers one of the best and most affordable golfing experiences North-West of Melbourne.
The year 2021 marks 100 years since the vision of a few and the efforts of many, have seen Gisborne Golf Club continue to evolve into the high standard course, facilities and clubhouse, of which the members are justifiably proud.
THE EARLY YEARS
Like so many others, Gisborne Golf Club began life in a very basic way.
Initially, it shared the Garden Reserve area, (now Sankey Reserve), with other sports and social activities.
Some of the nine-hole links even shared the football ground – with obvious scheduling problems. High creek levels and floods were also a problem as the golfers' footbridge was frequently washed away.
The basic, hand-mown grass greens had to be fenced to keep grazing stock away. In no time at all, other clubs, including Romsey and Dandenong, arranged to play at Gisborne.
The Garden Reserve site continued as the home of Gisborne Golf Club for some 24 years.
There is little information regarding the club's activities during this period but no doubt the Great Depression and the Second World War would have seen golf become of lesser importance to the community.
Nevertheless, on the 21st June 1946, the Gisborne Gazette reported: "At a well-attended meeting of members of the Gisborne Golf Club held on the 13th June, the business was the proposal to shift the Gisborne Golf Links from the present site in the Garden Reserve to Brady's Paddock on the Melton Road where a very suitable location exists."
From Brady's Paddock to a wonderful golf course.
From 1946 until 1963, the Brady family accepted a nominal rental for the 180-acre site, providing sheep could continue to graze. On special golf days the sheep would be moved to any adjoining paddock. Renowned course designer Mr Vern Morcom was commissioned to provide a course plan, along with advice for progressive improvements over time. Armed with Morcom's plans, working bees commenced on the first nine holes.
Membership at the time was 25 members and 20 associates.
Working bees were held virtually every weekend and over the next seven years, the full 18 holes were developed. It was felt that grass greens would be desirable but with the absence of any irrigation, it was decided that good sand scrapes would be better than poor greens.
During this time, Gisborne was only a small town and loyalty to sport was demonstrated by those who played golf in the winter, and tennis or cricket in the summer.
The course was closed and left to the sheep from November to March each year, a practice that continued until the mid 1960's.
Eventually, in 1963, the club negotiated to purchase the property from the Brady family on advantageous terms for which members have been and will be eternally grateful.
Through the late 1960's and 1970's, things moved rapidly. The first stage of the clubhouse was built; a liquor licence granted and an upgraded course design was provided by Messrs Horne and Brown.
Latterly made a life member, Mr Ray Keane was, in 1970, appointed the first course curator, a position he held until 2003.
The construction of grass greens commenced in 1971, thus marking the end of sheep grazing.
By the end of the 70's, plentiful dams had been constructed; an automatic watering system installed, and with all 18 greens in play, golf at Gisborne was a 12-month activity.
Improvement of a golf course and its facilities is an ongoing major undertaking, and for Gisborne this is no exception.
Over time, the fairways have been planted with couch grass, the clubhouse extended, the interior recently renovated, practice facilities upgraded and expanded, and catering and function operations modernised.
The work continues and maintenance is a part of everyday club life.
And now, one hundred years have passed by. To all those who have played a part in the emergence of Gisborne Golf Club as a truly wonderful club, we cannot thank you enough.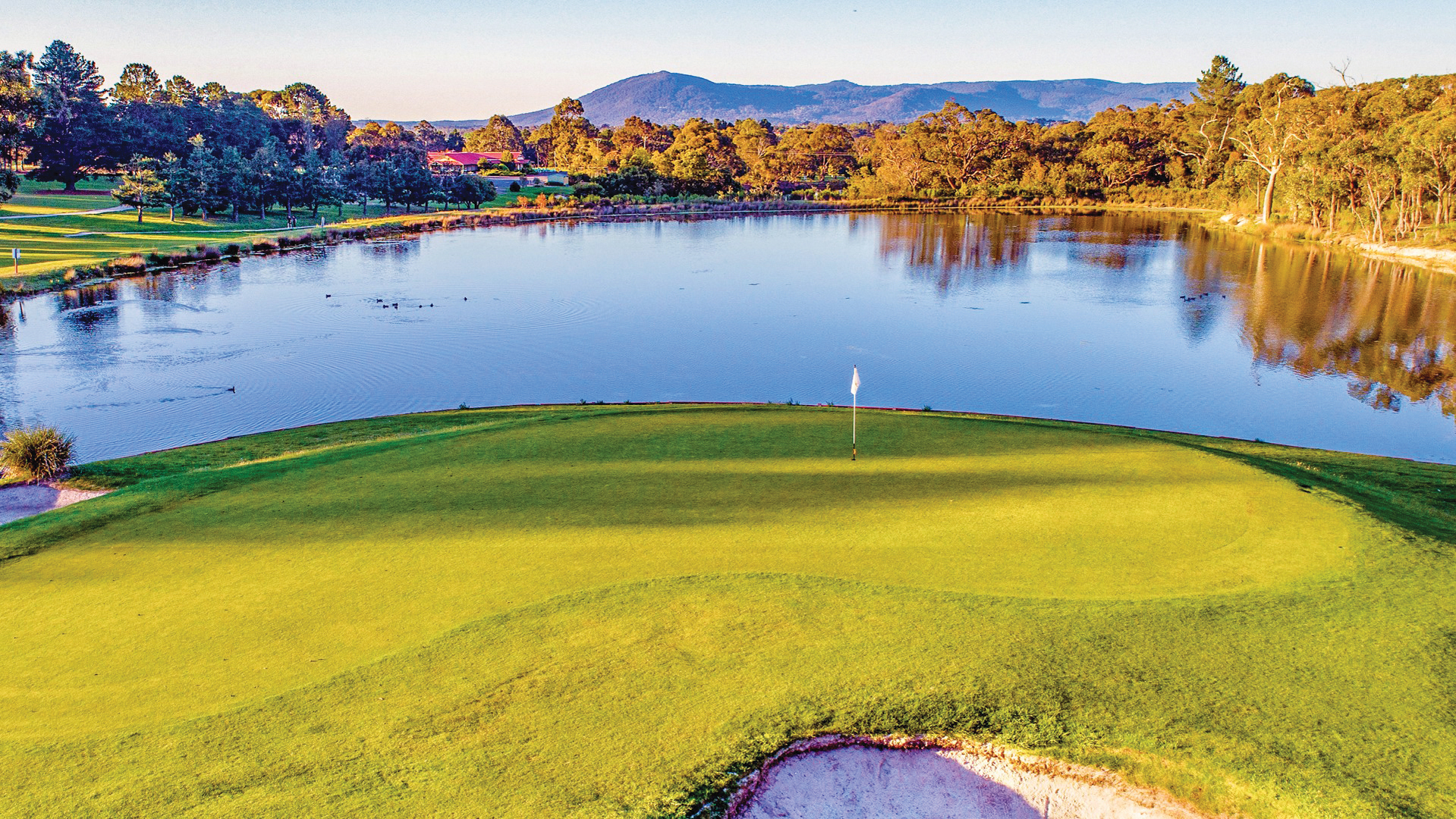 GISBORNE GOLF CLUB TODAY
At times, it is hard to maintain one's concentration when playing golf at Gisborne.
Each round offers many fabulous scenic views, a diversity of flora and birdlife, and literally hundreds of Eastern Grey kangaroos that quite happily co-exist on the course.
Occasionally the 'roos will emit a grunt of disapproval when assessing a golfer's poor shot, but will willingly move away to make room if a ball has ended up in the mob.
But concentrate you must. The course is challenging; no two holes are similar, the bunkers are plentiful; the greens are true but quite small targets and the fairways demand accuracy from the tees.
The signature 16th hole and its wondrous view of the Macedon Ranges has to be seen to be believed.
The independently operated pro shop offers everything that is required.
The teaching professionals are of the highest calibre and on-line booking is available for members and visitors.
The number of social clubs that return to Gisborne year after year bears testament to the way in which they are cared for.
These groups are always made welcome and have become a vital part of the club's culture and community.
Whilst deemed a regional course, Gisborne Golf Club has a proud history of entering its best players in the highest level of golf competition available to amateur golfers.
Currently, Gisborne has both men's and women's teams playing in Golf Australia's Victorian pennant competitions. And at a local level, Gisborne has teams entered in North West Region Golf Association (NWRGA) men's and junior pennant, as well as men's senior and women's interclub fixtures.
On the subject of performance, the annual pro-am demonstrates that the course represents a true challenge to even the most capable golfer – although the much admired Jarrod Lyle recorded a course record 66 in 2005 only to have Macedon Ranges-raised professional Chris Gaunt produce a new record 62 in 2007.
The best women's score of 73 is shared between Gisborne's winner of numerous Victorian and national titles, Carol Leaney and Sara Love from Goulburn Valley.
One other notable performer was former long-standing club professional James Wright, who achieved the remarkable feat of winning the Australian Club Professionals' Championship in both 1996 and 1997.
From its earliest days, it is well-recorded that men and women alike were keen to see the course develop and grow, and that enthusiasm has not diminished.
Without doubt, Gisborne is proud of its approach to equal access and equal rights for all members.
Whether it be organising major events, participating at all levels, volunteering support on and off the course, and enjoying the variety of social opportunities – Gisborne enjoys and encourages the involvement of all its members, and happily, there is never a shortage of support when needed.
THE FUTURE
Gisborne Golf Club is well-poised to continue building upon what has gone before – to grow the club and provide a welcoming environment for new members and guests.
The clubhouse is also proving increasingly popular as a host venue for private and public events in the Gisborne and surrounding Macedon Ranges communities.
The menu compiled by our in-house catering company is having a strong impact on attracting locals and visitors to enjoy breakfast, lunch and dinner and to simply enjoy the environment of "The View" – indoors or outdoors.
The club has attracted and retained a sizeable number of members by way of its generous membership categories.
To suit the needs of any and all prospective members, the range now offers many membership options which include : Full 7-day; 6-day; 5-day; Lifestyle; Young members; Juniors; Three-month trial period; Social – golf; Social non-playing and Country.
We will be happy to discuss any of these categories with you. Meantime, details are listed on our website.
In response to Golf Australia's Vision 2025, the club adopts a progressive approach in order to adapt and respond to a changing world.
One aim in particular is to attract more women and girls to our wonderful game. One of our club professionals has a strong focus on women's golf, hosting introductory clinics for new players and ongoing support for current women members.
You will also find quality coaching opportunities for any level with the resident head professional.
In recent times, we have introduced open competitions to expand access to the course for all players. In addition, multi-tee competitions have proved very popular, giving the choice, on any one day, to play from the blue, white, red or yellow tee blocks.
These initiatives are designed to attract players at all levels and encourage new memberships, which in spite of recent restrictions, continue to grow.
If you would like to have a look around, we are very happy to showcase our facilities and offer a warm welcome. Come for a chat, come for lunch, come and play golf with us.
Enquiries: (03) 5428 2493.
Email: manager@gisbornegolf.com.au