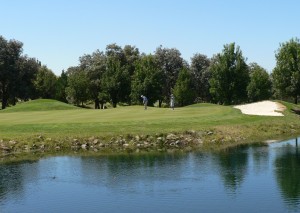 This month, Inside Golf ventures to the nation's capital to sample one of Australia's popular inland courses. Host of the 1996 PGA Seniors Championship, this Bruce Devlin-designed course received high praise by none other than Lee Trevino himself. Offering both pay-for-play and innovative membership options, the 18-hole championship course is part of a multi-million-dollar leisure facility, which includes health club, pool, children's recreation centre, café and restaurant.
But the real question is: how does the golf stack up to other courses in Canberra and surrounds?

Richard Fellner
On the one hand, Gold Creek is a corporate golfer's dream: wide, perfectly-manicured fairways, gentle rolling hills, tee-to-green cart paths, playable rough, and soft, subtle greens. The entire course is manicured extremely well, and presents a treat. Definitely the type of course that's perfect for an "extended business meeting", management escape, or corporate golf day.
But don't get the idea that the corporate-like layout lacks challenge. On the contrary, it has its fair share of traps, tight doglegs, water hazards, and general "danger" to make it equally suited to casual play, and a formidable challenge for the serious golfer – especially when the wind kicks up. Overall, the course has a nice combination that allows a little something for everyone.
The par-3s, for example, while all quite short, each have their own subtle way of magically slapping a bogey (or worse) on your card. Whether it's a ball-grabbing pond, a strategically-placed mound, or super-tight pins guarded by deep bunkers, few are a walk in the park. From the white tees, a couple of the par-5s are reachable in 2, but it's a different story altogether from the blues/plates. And that doesn't take into account the numerous mounds bordering the fairways & rough – get stuck between a few of those and you may as well forget any chance of par.
Two standout holes for me: The 360-metre par-4 13th – a steep, uphill dogleg that feels like a 460-metre "trip to the dentist". Trees right, deep bunker guarding the green on the left, thick rough all around – it's tough, but fun. Equally fun is the 390-metre par-4 17th – nail your drive to the top of the mound and, with a little help from the hill, you could end up with a drive over 300 metres long! (always good for a story at the 19th hole!)
For locals and visitors alike, Gold Creek is certainly worth a round or two the next time you're in the area.
Warren (Wazza) Gray
Social golf organiser
Having had some recent and decent rain in Canberra, the courses here are looking a lot better than you'd expect from a drought-ravaged country. Gold Creek was no exception! Upon arrival, the course looked a treat from the car park and, once out on the fairways, it was a pure treat to play on. It did not disappoint. Having played here only twice before (the first time when it originally opened) I was surprised at the many improvements to the course. The staff (all very polite and friendly), course management and the greens keepers are to be commended for having this course in such good nick!
From my own point of view, this is a "Resort Course", catering to the corporate golfing fraternity. The fairways were in excellent condition and great to play off. Mind you, if you miss the fairways (which I did on numerous occasions) you still had a shot. It's kind to golfers of different abilities. While putting is my downfall, I found the greens to be true, evenly paced, and very, very subtle in borrow.
It's not a lengthy course (just under 6,000 metres from the white markers) but it is still best to take a cart — as some of the walks between green and tee can be as long as some of the holes.
My favourite hole is the short, picture-perfect 115-metre par-3, 7th. I would rate it as the "Postcard" hole for Gold Creek, with the serene duck pond on the right, gentle hill on the left, and an open, inviting green in the middle. Mind you, I was dreading playing this hole (on my last visit I put three balls in the water!), but I successfully hit the green in one this time (alas, I still managed a three putt! But still an improvement over last time).
After the round, we went back to the clubhouse for a beer (and tall tales) where, again, the staff are very friendly and polite. A great day of golf on a great course. I encourage Inside Social Golf readers to come a sample this great course, as well as some of the other fine courses we have to offer in Canberra.
Bob Garrett
Retired
Handicap: A few strokes less than my age
A long time resident of Canberra, I'm amazed at how things have changed in the area. Where there was once only bushland and the miniature village of Cockington Green, there is now a thriving shopping centre, sprawling housing development, and, thankfully, a rather pleasant golf course.
Though I'm used to playing the more "traditional" courses in the area – where the holes are short but tight, the trees tall and imposing, and the rough is a monster to avoid — I must admit that Gold Creek did appeal to me in many ways. It is a very picturesque course – with breathtaking views of the Brindabella ranges at nearly every turn. It is well maintained, and certainly enjoyable to play – even with my ultra-low-tech irons and persimmons woods (yes, they still exist). Though I didn't hit many fairways, I was always able to find a way to recover from the rough, which speaks a lot to the playability of the course for the mid-high handicapper. The layout of the holes makes good use of the natural terrain, while also providing some real challenges. And while I can boast that I am a traditional "walker" (I eschew carts whenever possible), I agree with Warren that a motorised cart is the way to go.
I enjoyed many holes on the course, but my favourite would be the 18th – an uphill 399-metre par-4. It's my favourite not just because I managed a solid score on it, but because it offers a good combination of fairness, challenge and, best of all, the promise of an ice-cold beer a few metres beyond the green.
The clubhouse and bistro at Gold Creek is a grand facility. Spacious, modern, and comfortable – a perfect 19th hole setting to exchange stories of putts that dropped, and the ones where "we were robbed!". The views from the clubhouse and the outdoor patio area are magnificent, and the facility as a whole is quite remarkable.
Overall, I was very impressed with Gold Creek, and would recommend it highly.

Food & Beverage
The Bistro at Gold Creek offers a wide selection of dishes, from daily lunches to fully-catered corporate and social events. Golfers can grab "on the turn" quickies like pies, burgers, sausage rolls and toasted sandwiches, while sit-down diners can enjoy selections including Grilled Nile Perch, Char-grilled Steaks, and a variety of pastas, salads, and chicken dishes. Entrees start from $6.50, while mains start from $12.50. Beer is very reasonably priced (my Stella Artois was a modest $3.80, while other brands are in a similar $3 range). For large groups, there are full platters available (30-80 pieces), offering vegetable spring rolls, samosas, calamari rings and more.
Need To Know:

Par: 72
Length: Blues: 6310; White: 5968; Red: 5439
Green Fees: 18 Holes $30 (Mon – Fri); $40 (Sat-Sun-Hols). 9 Holes: $18 (Mon – Fri); $25 (Sat-Sun-Hols)
Mortorised Cart Hire: $20 (9 Holes) / $35 (18 Holes)
Designer: Bruce Devlin
Address: 50 Curran Drive, Nicholls ACT 2913
Phone: 1300 11 GOLF
Bistro/Functions: (02) 6255 4678
Website: www.goldcreekcountryclub.com.au

Bistro: Open noon to 2.00pm and 6.00pm to 8.00pm (Thursday, Friday and Sunday); noon to 8.00pm (Wednesday and Saturday).
Bar: open from 9.30am to at least 8.00pm daily.