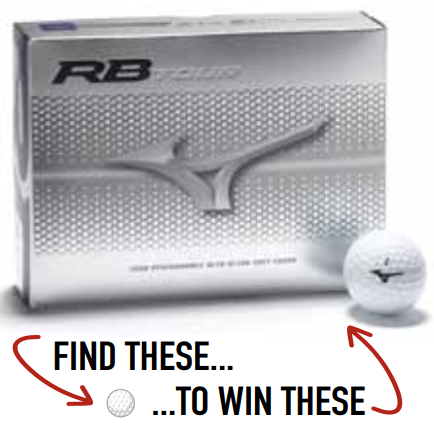 Inside Golf and Mizuno are giving two lucky readers a dozen new Mizuno RB Tour Golf balls. These new balls feature Mizuno's breakthrough 360 Cone Dimples, which offer optimum greenside feel plus excellent performance in the wind – with controllable, penetrating driver flight, and noticeable distance gains on full iron shots. (Read our full review here)
TO ENTER:
Our man, Oliver Mulligan, has lost six golf balls throughout the pages of Inside Golf, and he needs your help to find them!
To begin the search, carefully examine every page of this month's Inside Golf for the hidden/lost golf ball icon — which looks like our sample in the image above. Once you have found all six balls, which are numbered 1 to 6, simply enter your answers in the entry form below, (i.e. "Near the page number" or "Near the Ad of "x", etc).
Inside Golf will choose two winners at random, from the list of correct entries, and send each winner a dozen RB Tour balls!
Terms and conditions here.
ENTER HERE