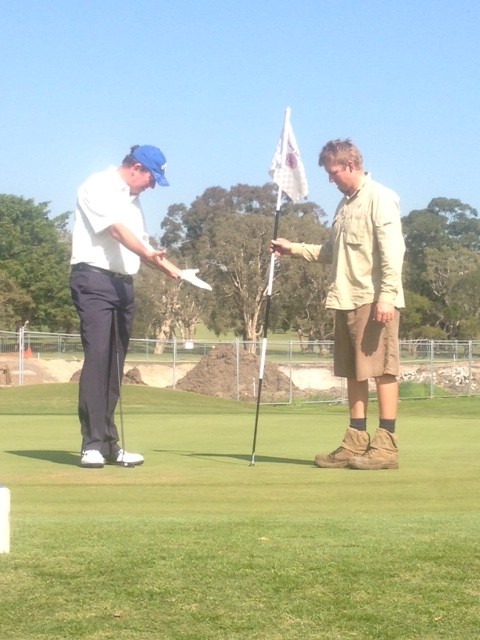 I would like to ponder, along with you, my readers, the subject that is Course Superintendents. We used to call the lads Green Keepers but in this day of political correctness, it's now Course Superintendents. Just like a Club Pro is now The Senior Manager of Golf and Retail Operations and the Gardener is the Executive Officer of Horticulture, Bark Chips and Manure Management.
With the GFC (which until recently, I used to think stood for how expensive KFC had become), Management and Committees have had to make some pretty tough decisions to keep the game buoyant and sustainable. Gone are the days of bribing a board member into putting your grandson's name down for membership so he can become a mid-week probationary member by the time he retires. The people in charge of golf clubs, on the whole, have made golf memberships and social play more accessible with all types of clever initiatives and I applaud their lateral thinking.
I reckon we all have accepted this new way of making sure our respective golf clubs—and for that matter, the game of golf in general—isn't pricing itself out of the market and is offering an easy, enjoyable experience. Well, maybe except for our mates, the Greensk…. sorry, Course Superintendents.
For those of us who have dealt with the golfing public for any period of time it's pretty obvious you need the customer to leave your course thinking he or she can one day master it if only they could just improve their slice. Sure, there are some tough holes out there but it's a fair dinkum layout that rewards good shots. That way you can charge an appropriate amount of money for the experience. It's called hospitality.
All the employers from the club have been trained to look after the member or his/her guest, so when July the 1st comes around, they might just front up with their subs again and even introduce a brand-new member to the club.
Everyone seems to get it except our old mate, the Course Super, who obviously has some kind of vendetta to settle with everyone who has attempted to play well on his course.
Has he been belted once too often by a stray Titleist? In all my years as a professional, I've heard all kinds of complaints from golfers like, "It was so slow out there I had to play a provisional on 17 for fear my first ball could decompose" or "Old Clem Windbottom is such a burglar, it's a wonder he doesn't roll up to the first tee with a stocking pulled over his head".
But I'm yet to hear someone come into the pro-shop and say "Larry we need to make this course harder because we all played too well today".
I'm pretty sure we don't need to do a global referendum to establish that the game isn't very easy and the best way to keep the game forging ahead is not to find ways to make it harder. So why do our mates put flags on the side of cliff faces or 4 feet from the edge of a water hazard?
It's as if the term "Monthly Medal" has some strange masochistic underlying interpretation by the Course Super around the world and a Pro-Am is a licence to make scores as high as physically possible so the sponsors look like buffoons and the pros appear to be beginners.
The sad thing is I've met some really super… Supers who know more about grass than Keith Richards, and can turn an ordinary piece of dirt into a manicured area of fairway you could eat with a knife and fork. But when you suggest someone might want to play well on their golf course they suddenly grow hair on their cheek bones and turn into a mower-wielding werewolf.
Guys if you're reading this please understand there are those of us who have spent their lives trying to keep people playing golf by attempting to make the world's hardest game almost playable. And if any of you want to talk to me about this issue, well, unfortunately my family and I have been placed in witness protection and won't be available for another 5 years.
Sorry!