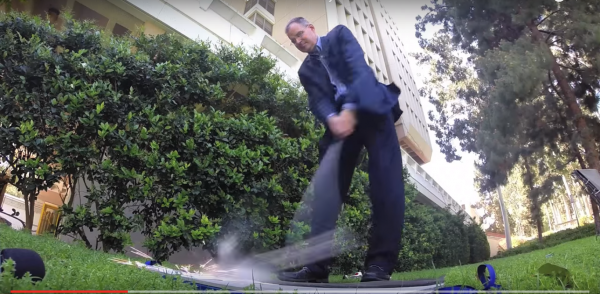 Titanium was promised to be the hot new material for golfers back in the 1990s, but given recent events in California, we'll bet the creators had no idea of the flammable properties.
TV stations in America reported last week that a golfer was trying to hit his ball out of dry rough at Arroyo Trabuco Golf Club (Orange County, California) when his titanium-alloy club struck a rock, causing a spark that, in turn, set off a blaze that eventually spread to nearly 100 acres of adjoining bushland.
The science behind it all is that a metal clubhead won't spark with a rock, but a titanium head will – just about every time it strikes a rock at 90 miles per hour or more. In fact, the temperature of a spark coming off a Titanium headed golf club can be as high as 1648 degrees Celsius, reported the local Californian Fire Authority.
In California, the golfer in question attempted to put the fire out, but it spread too quickly. It was three hours before it was fully contained. Interestingly, the same thing happened at the same course in 2011 and has happened at other golf courses in America. (Maybe their rocks are more 'sparky' that our old Australian ones?) Because we sure know, with the average handicap of Australian golfers currently at 19, there are a lot of missed fairways, a lot of rocks and plenty of titanium wielding c-graders, in prime bushfire conditions.
What does it all mean? Keep your ball on the fairway and if you are playing a dry course in Victoria this summer and happen to hit a wayward shot into the hay, perhaps chip it onto the fairway, or if you must have a lash, make sure you are carrying a fire extinguisher!
RELATED STORY
Video: Titanium Clubs Cause Golf Course Fires, UC Irvine Study Finds
Click here to read the findings of a 2014 UC Irvine Study on titanium golf clubs causing fires,  published  in the peer-reviewed journal Fire and Materials, .