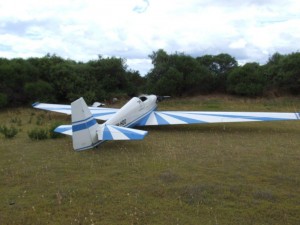 Golfers at Perth's The Links Kennedy Bay received quite a shock recently when an aerobatic fixed wing aircraft was forced to make an emergency landing on the course's driving range.
The Sportavia/Fournier RF-4D power-glider lost power around 12:30 on Dec 7, while doing practice manoeuvres 3000ft above the course, causing the pilot (reported only as "Bob") to begin searching for a suitable place to put the craft down.
"The driving range was his best option as he said there were too many bunkers and dog-legs on the course," explains Peter Whittle, general manager of The Links Kennedy Bay.
Before landing, the pilot did a fly-by of the range, and shouted "fore!" at golfers from his open cockpit before managing a safe 'forced landing'. Once on the ground, the pilot had to weave through the range's various distance markers before stopping about 50m short of the bush at end of range. No one, including the pilot, was injured
"It's hard enough to keep a ball on our fairways, so he has done well to keep his plane on the course!" laughs Whittle.
(We've played the course, and can certainly attest to that!)