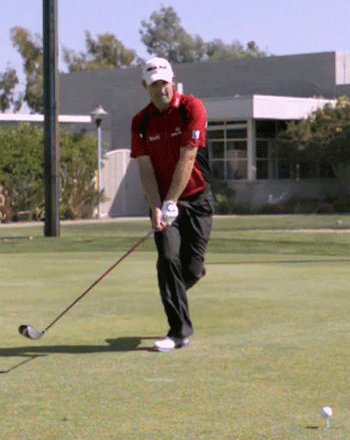 So… golf has "made the cut" for inclusion into the Olympics. Let me be the first to celebrate this monumental achievement with a long yawn and an even longer nap. Now, I love the game of golf. Really love it. But I mean, c'mon, how will Olympic golf be any different than, say, any one of the other hundred tournaments held every year. 60 players, 72-holes, stroke play, blah blah blah, Tiger wins, an Aussie chokes…blah blah blah. If the IOC wanted to make it REALLY interesting, they would have introduced some of the great golf "skill games" that we all know and love. The ones that make golf truly fun. The ones that separate the REAL golfers from the "wanna-be's", and are usually started with a giggle and a statement like "Hey mate, I'll wager a pineapple that you couldn't hit that from here, using one of these."
Here are a few examples:
Hit the Range-ball Tractor
The urge to nail that harmless little tractor/cart at the driving range is simply too great for a mere mortal. Besides, what BETTER way to measure real accuracy than battering a moving, weaving target? To be true to the sport here, players would need to hit off heavily-worn synthetic mats, using rock-hard range balls on wobbly rubber tees, while listening to a know-it-all hacker give bad golf advice to a mate, while dodging mis-hit skulled shots from the beginner in the bay directly behind. Oh, and do it against the clock. Money Bet: John Daly
Club Toss
We've all either done it or seen it. Bad shot + bad reaction = club flung down the fairway (often outdistancing the ball itself). For this event (which could be a solo or synchronised team event), competitors spin around like a discus thrower, and fling either a driver or putter for maximum distance. (Swearing is optional.) Money Bet: Mark Calcavecchia
Alternate event: "Caddie Toss". Money Bet: Robert Allenby

Skip across the pond/pool
Every year at the US Masters, players in the par-3 championship have a mini competition where they intentionally skip a ball across a pond on the 16th hole. (Concurrently every year, players across the world unintentionally skip balls across ponds on every hole – I seem to do it every week). Anyway, I reckon that you put a few floating obstacles in the pond (ducks, kayakers, ex-Robert-Allenby-caddies, etc), then blindfold the players and let them have a go. Even better, we could hold the event at an Aquatics centre during the Synchronised Swimming event, requiring the swimmers to maintain those silly smiles while dodging an onslaught of skipping golf balls. Boo-Yah!!! Money Bet: Vijay Singh

Long Drive…Happy Gilmore Style
Simple, really. Competitors tee it up, walk about 10 metres backwards, then make a running attempt to hit the ball into the stratosphere. Or, replace the drivers with mallet putters, tennis rackets or cricket bats, and then we'd really have a show. Money Bet: Padraig Harrington (See a video of Padraig hitting it "Happy Gilmore Style )
Golf Cart Steeplechase
Cart driving is an underappreciated (and under-hyped) discipline. Naturally – in the interests of highly boring things like "safety" — manufacturers have all but sucked the joy out of these "built for speed" racing machines. I say, why not "pimp out these bad boys" with a V8, and then let them loose on the course. Individual events could include the Carpark 100 (Speed), the Gumtree Slalom (Accuracy) the 50m Bunker Jump (Distance), and The Full-Speed Screeching Halt (for length of skid). The finals would include an Endurance combination of these events while drinking a beverage on one hand, and eating a stale proshop-purchased "it-almost-tastes-like-chicken" chicken-product sandwich in the other hand. Money Bet: Jason Gore

Play from the cabbage
Some would argue that the best golf shots in history have come from off the fairway – in the thick rough we sometimes call "the cabbage". So why not implement a closest-to-the-pin contest where players hit a ball embedded in actual cabbage (Thick-cut, not cole-slaw). Slather the cabbage in mayo and it's guaranteed fun for the whole family. Money Bet: Tiger Woods
Other Events worth Considering:
Footwedge: Competitors try to "improve their lie", using only their foot, when nobody is looking.
Hit ON the Beverage Cart gal: Best pick-up line wins.
9-iron Juggle: Like the old paddle-ball game, athletes compete by juggling a golf ball on the clubface.
Pond Stretch: Athletes are given a two-metre-long ball retriever, and must retrieve golf balls submerged in a pond 3 metres deep.
Barbed Wire Leap: Similar to hurdles, golfers leap over barbed wire to rescue a ball in a muddy paddock.