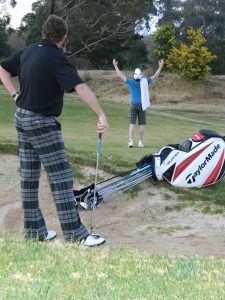 I thought the public was a little hard on Tiger when he was forced to sack his caddy of 12 years and five thousand wins. You see, I too have been down that very same path. Like Tiger, I've had to make some very difficult decisions which have literally torn the heart from many of my caddies over the years. They didn't actually say that but I could tell.
One of my best mates and loyal bag man was a bloke called Spider Legs. Spider had just retired from an executive position in the Reserve Bank of Australia, so he was used to dealing with the sort of cash 10% of my winnings could produce. The problem with old Spy was–as well as having legs so thin he couldn't walk on a green that had just been cored–he was also the loudest flatulator that the good Lord had bestowed with an anus. It wasn't the fact Spider was out of tune or anything. In fact– and I'm not too big a man to admit that– to this day, Spy is the only bloke to have ever brought me to tears when he blurted an entire verse of Louis Armstrong's "What a wonderful world".
What Spider didn't grasp too well was the timing of his execution. He knew not to let one go during a colleague's swing but when he ripped into his interpretation of Flipper the dolphin after Peter Headland skulled a wedge shot during a big Pro-Am at Manly, right as Pete watched his nut splash into the Narrabeen Lake, well I had no choice but to put Spider Legs on probation. Sadly, he violated this an hour later when one of the amateurs in our group caught one out of the heel and belted Spider in his left knee. This incidentally, was as near as this bloke had been to a flagstick all day. Spy went down and Pete ran over to help. When he picked up my caddy's leg and started to rub it Spy busted a grumpy. I think he was just in shock but I had no choice. I had to let Spider Legs go… before he soiled himself.
I had a caddy in Fiji once whose nickname was Fingers. I thought he was called this because he had hands like a bunch of bananas. By the time we had reached the 4th tee, Fingers had offered me a woman for the night, a man, a man dressed like a women, a fake passport, a strange looking mushroom, the combination to the resort's safe and a few other items not suitable for print. He was also a bloody show-off and when he ran up a Palm Tree near the 8th green, grabbed a coconut then sliced it open with a machete hidden in his pants and started to drink it, I was none too impressed. The feeling was mutual when I suggested we could have just waited until we went past the proshop and bought a Caramel Move. I was forced to let Fingers go and he went his way on the ninth. I finished the round carrying my own clubs which were actually quite a lot lighter due to the fact that most of my irons were now missing.
Finally my wife Sandra took on the bag and, of course, all the bonuses which went along with it. And yes, I had to let her go as well. I just thought it was unfair to see her lapping up all the limelight and when I noticed the spectators looking at her and not me, I felt betrayed. It got worse when we would leave the course and go back to the motel room. The wicked little attention seeker would use me as nothing more than her personal plaything, exploiting my physical gifts for the sake of her own personal satisfaction…. It still hurts to talk about it.
Ahh yes… I know exactly how Tiger feels. It can be a very lonely place at the top.