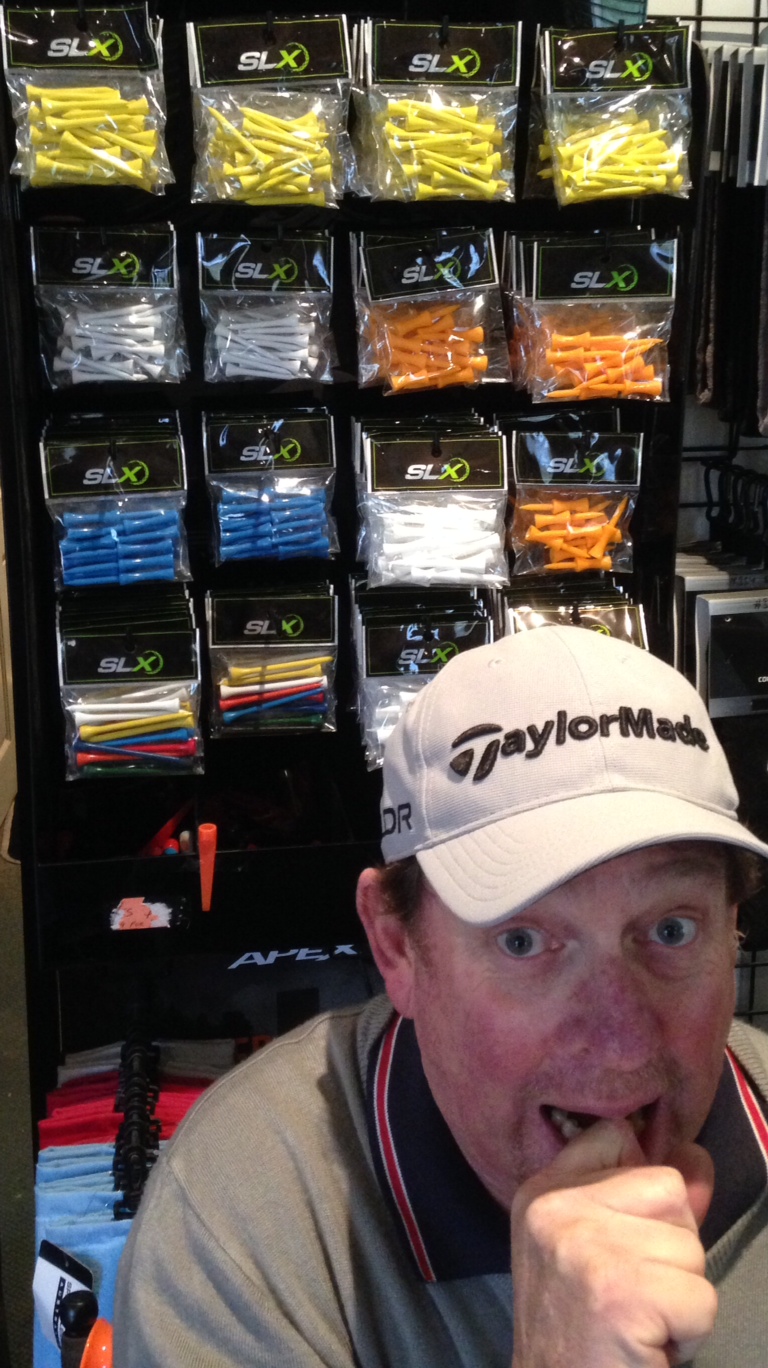 When I was a young trainee golf professional, being asked for advice on golf equipment required little more than offering a choice of "B51 or Hot Dot ball" or selecting one of the three different types of clubs on display. My advice was based on my estimation of the customer's previous year's earnings and whatever golf bag the boss had in stock.
Club fitting didn't mean determining the player's launch angle, spin rate and the distance between his armpit and buttock. All I did was to ring my mate Simmo and ask   "When you played with Roy last week, did he hit it past you?…No?… Ok, that means he's regular flex". The putter usually came with the set and if he needed shoes it was a choice of Niblicks in black or Niblicks in white.
It's pretty clear, golf has become a little more scientific now but I've tried my level best to stay up with all the modern equipment and technology. You know… just in case some poor person comes into the shop at Mount Broughton and asks me for some advice on a shaft or something. For an old bloke I thought I was doing OK and often surprised myself when I could explain the green shaft with the yellow dots has a high kick point which takes the spin off but the red and white one that looks like it should be hanging outside a Barber Shop is a low kicker.
Well that was until I walked into a huge retail outlet the other day and became so emotional, I finished up sitting in the golf shoes section in a foetal position.  When you see all the choices of gear under one roof, it is absolutely terrifying!
The first display I saw was a giant accessory stand consisting of nothing but tees. It really is scary to see just how bloody enormous and evil looking the common tee has become. When a shop assistant spoke to me from behind asking if I needed any advice, I expected to turn around and see a bloke wearing a pair of black leather underpants with a whip in his hand.
He turned out to be perfectly normal looking kid… except for the haircut which looked like a divot I took in last Saturday's single stableford. To correctly fit me out with a tee he asked what kind of ball I use. Silly old me responded with "I've actually been thinking of changing to another ball but I think I know which one its going to be".
Next thing I know, I'm standing in front of a giant wall of golf balls. The first thought that came to mind was, I hope my final choice isn't anywhere near the bottom of this construction. If Divot-Head pulls one out to show me, the whole building could collapse!
"What swing speed are you, sir?" he asked. I always find this question a little invasive. Like something I should only be telling my doctor—hopefully when he isn't wearing a glove on one hand. My standard response is always "aaah, it was 108 mph but it hasn't been checked for a while." (actually it was 1996).
After some more interrogation, Fescue-Fringe suggested a ball which has been designed to have the best aerodynamic performance for Tour-level swing speeds. (I knew I could trade them in back at Mount Broughton for ones designed for "senior" Tour-level swing speeds).  The dimple pattern is specifically engineered to reduce distance-robbing drag at high speeds to produce long, stable, penetrating ball flight while offering spin on short irons and check with pitch and chip shots as well a soft feel for putting…. And it was near the top of the wall!
"But it all depends on what type of driver you use, sir…" he threw in at the end. By this point I'm wondering if there's a driver big enough for my wife and I to live in because I would have to mortgage the house before I leave the store.
I took one more look at Turf Top and thought it was time to look at my watch and fake an impending appointment. I left the shop with a dozen balls and a packet of tees which came with a free first aid kit and let Sandra drive home because I was still suffering chronic bewilderment.
I have now tucked myself away in the back of the Pro-Shop for the next few weeks while I study up on new golf technology. If you need some advice on golf equipment at Mount Broughton just ask one of the friendly staff with a funny haircut.