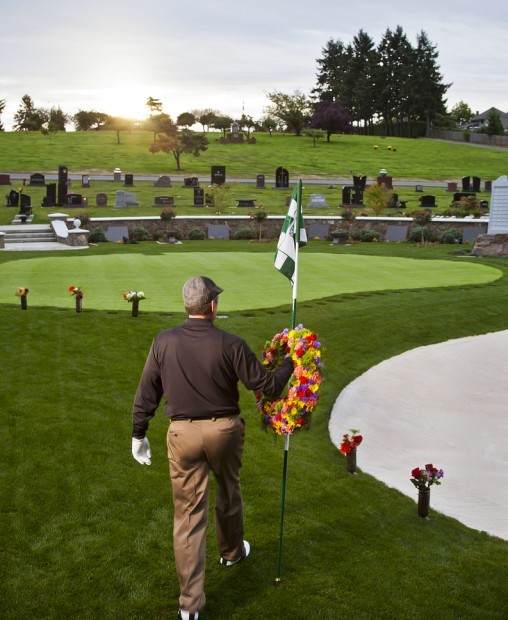 Golfers understand the simple joys that accompany a day on the course: the smell of a freshly cut green, the sound of a well-hit drive and the satisfaction of watching a long putt fall into the hole.
It is with these joys in mind that Sunset Hills Memorial Park and Funeral Home in Bellevue, Washington, recently opened its new Memorial Golf Park, a complete golf hole which allows committed fans of the game to be buried or placed in a permanent golf setting, America's first golf-themed memorial park.
The Sunset Hills Memorial Golf Park, located near Kelsey Creek Park in Bellevue, can accommodate more than 1,281 golf enthusiasts, between full-casket plots and cremation placements. The golf memorial also features an ossuary located under the green, accessible through the actual golf hole.
Designed by a professional golf course designer, the park includes a tee-box, 820-square-foot green, fairway and sand trap. The green features a custom-made bronze cup, which will be used as a passageway to the ossuary.
Sunset Hills is a proud member of Service Corporation International's Dignity Memorial network of funeral, cremation and cemetery goods and service providers.
"At SCI, we strive to serve families and individuals by celebrating lives with individually designed and themed experiences," said Arne Swanson, market director for Dignity Memorial's Seattle Region. "We are proud to be a leader in this area, and Sunset Hills Golf Hole Memorial is a great example of our approach."
The concept of a golf-themed memorial park came to Swanson – an avid golfer – when he saw a group of golfers spreading ashes at a local golf course, probably without the permission of the golf course management.
"My thought was that there were likely other golfers who would like to be memorialized amid the surroundings of a verdant, peaceful golf course," Swanson said.
According to Swanson, residents of the Pacific Northwest choose cremation at a higher rate than the national average. But with cremation and scattering often comes a problem; families miss out on visiting the grave or interment of a deceased loved one.
"In the ceremony I witnessed, the family of the golfer can't easily visit the eighth fairway of the public golf course on his or her birthday," Swanson said.
Swanson began working on his vision for the golf-themed memorial park so it would fit the need for this segment of golf enthusiasts.
The park features both cremation placements and casketed burial plots. It will also feature five bench estates, giving family members the chance to establish a future place of rest together and inscribe a permanent message.
(Via wire services)