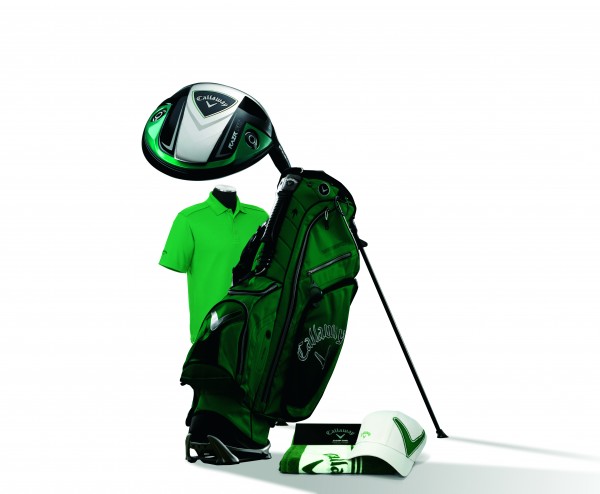 THIS CONTEST IS CLOSED
Callaway Golf has long been known for their cutting-edge innovations in golf. In many ways, they have regularly led the pack in bringing bold and vibrant ideas to golfers and the golf industry.
Following in that tradition, Callaway Golf has now launched a brand-new campaign that allows you to bring bold and vibrant colours to your game. Callaway Golf's Colour Your Game collection discards the traditional black and white pallets of today's drivers and challenges golfers to identify themselves through four exciting colour options: blue, orange, green and yellow.
For those of you who like to stand out from the crowd a bit, and colour-coordinate your wardrobe to make a statement, imagine being able to colour-coordinate your equipment to your wardrobe! Choose a RAZR Fit driver, bag, cap and towel that match your favourite golf attire, or even choose from the high-quality Callaway Apparel Line currently in the market.
Or you can follow the lead of Callaway Tour Pro Alavaro Quiros (a colourful character in his own right), who plans on ordering one of each colour of the new RAZR Fit and matching his apparel accordingly. Now that's style!
"Colour Your Game is about challenging people's perception of golf on and off the course," says Leighton Richards, Callaway South Pacific Managing Director. "Callaway wants our players to dare to be different and stand out from the pack; this new collection will help you do this".
In addition, colour is a very powerful tool when it comes to mental preparation, according to Jamie Glazier, founder of Dare2Dream, and mental game coach to players like Bryden Macpherson and Stacey Keating.
"As a mental game coach to some of Australia's most talented up-and-coming players, I have used colour in my work for years," Jamie explains. "Colour is such a practical way to help anchor a player's peak performance state. Using colour also helps players to visualise ball flights and attach to the shot shape they want, helping block out negative thoughts. Much like the PGA Tour's Shot Tracker."
Not only are Callaway providing colour to the golf market, they are doing it with the award-winning RAZR Fit Driver which is in itself a highly-innovative and amazing bit of engineering. I had the opportunity to experience a RAZR Fit clubfitting last month, and was amazed at the options available to "dial-in" a correct setting to my swing.
The number of face settings, weight configurations, loft options and shaft flex combinations are almost mind-blowing, and they truly allow you to get a club that perfectly matches your swing. In my case, we tried a variety of settings: open/neutral/closed face, stiff/regular shaft, adjustable weight set in toe/heel and various starting lofts. At the end of the session, my ball speed had increased by 7mph, my distance increased by 20m and accuracy had become razor-sharp (pardon the pun).
To be honest, I had almost forgotten about the colour options; I was that impressed with the performance of the club.
With the Colour Your Game collection, The RAZR Fit driver will feature coloured head plates, shafts and grips and will sell for around $469. The drivers also come with an upgraded Proforce shaft ($100 value) at no extra charge. The collection also includes a set of limited edition caps ($24.95), exclusive new coloured stand bags ($209) and matching towels ($29.99).
The Colour Your Game campaign is a real head-to-toe game changer. It's the sort of innovative thinking we've come to expect from Callaway.
WIN

This contest is now closed.