I wasn't sure what to expect as I disembarked my Air New Zealand flight and took my first step on Norfolk Island. To be honest, I knew almost nothing about the island, apart from the fact that 1) it had a golf course, and 2) there was some connection to the HMS Bounty story.
I was visiting Norfolk to play in the annual Hardys Wines Pro-Am Golf Classic, a four-day tournament that is extremely popular with many Aussies (you need to book WELL in advance to secure a spot). "Even if there's nothing else to do," I thought, "at least I'll get in some golf."
As I was about to find out, Norfolk has much more than just golf. HEAPS more, in fact.
A world away from the hustle and bustle of Australia, a visit to Norfolk Island is like stepping back in time. A journey to the quintessential 'Small Town Australia' and the simple, honest and organic way of life.  Cows and chooks freely roam the island, everyone knows everyone else, doors are left unlocked, and the overall vibe is relaxed and carefree.
Some 1400km due east of the Australian Coast (a short two-hour+ flight from Sydney or Brisbane Airports, depending on the winds), Norfolk Island is a subtropical, peaceful and scenic outcrop that owes much of its current standing to its historic past.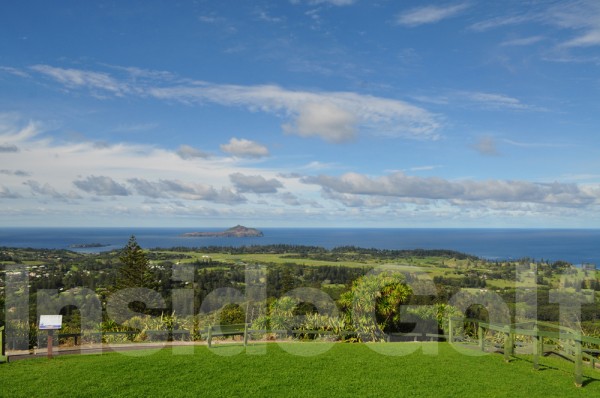 THE HISTORY
Originally settled by Polynesians, Norfolk Island was colonised by Britain in 1788, where it served as a penal colony for the "worst of the worst" criminals until 1794, when it was abandoned. In 1856, the island was re-settled by the famed mutineers of the HMS Bounty, who migrated from the overcrowded Pitcairn Islands.
Today, the descendants of the Bounty still make up the majority of the population – the phone book is filled with surnames like Christian, Adams, McCoy and Quintal. (Interestingly, the phone book also has a lookup by people's nicknames — because what small town doesn't have its share of people like "Spud", "Diesel", "Umi" or even "Farmer Teddy"?)
There are also Pacific Islanders, Aussies and New Zealanders on the island, creating a mini "melting pot" of heritages.  And while English is the main language, there is also the indigenous "Norfuk" language, which is a curious blend of olde English and Tahitian.
The residents of the island wear many "hats", and it is not uncommon to see familiar faces everywhere. The town pastor is also a bartender at the local pub; your waitress at dinner may also help check your bags at the airport the next day; even the local pig farmer might be the star of the evening's theatre show.
In its tight-knit community, the unofficial hobby on the island is waving while driving. A short trip to the market might see you "Flash the Norfolk Wave" 20 or 30 times to other drivers! By the time I left Norfolk, waving had become an engrained habit (which, upon my return to Melbourne, generated the odd stare from motorists. Oops.)
One of the most amazing aspects of Norfolk Island is the freshness of the food. Very little food is imported, so most items are grown or raised locally. A BLT sandwich at a local cafe, for example, would use bacon from Farmer Lou's down the street, Lettuce and Tomato from the cafe's veggie patch out back (or from the Saturday Growers Market), and the bread would have been freshly baked on-site at the cafe that morning. This is the way dining was meant to be!
The fishing is also spectacular on Norfolk. The lack of commercial trawling means that the local waters are teeming with fish, including bonito, trumpeter (red throated emperor), tuna, snapper, rock cod and heaps of other creatures like crayfish and the like. This is great from not only a sportfishing perspective, but also from a fine dining experience, as your evening's "Fish Special" at the restaurant was likely caught that very day. Amazing!
THE SIGHTS
There is simply so much to do on Norfolk, it makes your head spin. And its close proximity to the mainland makes it an ideal destination for a short break for couples, families or groups.
My adventure started with a trek to the highest points on the island: Mt Pitt and Mt Bates. From these vantage points you can see the entire island, which measures just 8km long by 5km wide. A short 20-minute hike between the two peaks gives you the chance to see much of the native flora and fauna, as well as some historical artefacts, including various items left over from WWII, when Norfolk served as a key airbase. We were fortunate to get a tour from Rick Kleiner (owner of Rick's Personal Island Tours). Rick is extremely knowledgeable and affable, and he is "The Guy" when you want to know something about Norfolk.
The island enjoys a very consistent and mild climate, with temperatures ranging between 24-28 degrees in the summer, and around 19-21 degrees in the winter. This makes it perfect for things like snorkelling (especially in the safe and secluded Emily Bay), windsurfing, hiking, bike riding, bushwalking, fishing and even whale watching. You could explore the historic ruins of the Kingston penal colony (with its dark and bone-chilling past), step foot on oldest cricket pitch in southern hemisphere, enjoy a stroll in the botanic gardens, or treat the kids to a round of mini golf (complete with "Haunted House" hole that the kids will want to play over and over.)
Another must-see is the Fletcher's Mutiny Cyclorama, an amazing 360-degree hand-painted depiction of the HMS Bounty, its crew, the mutiny and their travels to Norfolk via Pitcairn.
If that isn't enough, why not try some spectacular wines at the Two Chimneys Winery, which is a great location for couples or groups. The winery is operated by Rod and Noelene Buffet –a delightful couple who also run "By the Bay", a top-quality guest house featuring spectacular views and amenities.  (Tip: be sure to try one of Noelene's  famous "platters" which features a mouth-watering array of nibbles, cheeses, spreads and surprises!)
Accommodation is plentiful on the Island, with a full-range of options to suit every budget, from "no-frills" hotel rooms to a full "five-start luxury stay". Like many of the golfers in the tournament, we stayed at the Governor's Lodge Resort Hotel, which feature comfortable and clean Bungalows, complete with sitting room, kitchen and separate bedroom.
Dining on the island is a real treat. Our top pick is Norfolk Blue, a steakhouse that offers the full "paddock to the plate" experience. It features a rare breed of "blue" cattle (bred and raised on site) that is not unlike Wagyu/Kobe beef: super tender and amazingly delicious.  It was one of the best steaks I've ever eaten. Other great restaurants we sampled include Hilli Restaurant and Wine Bar (fantastic fish!), Bailey's (at Governor's Lodge) and Chom Cha Ba (amazing "fusion" of Eastern cuisines). Another highly recommended option (which we were unable to sample) is Dino's – the locals swear by it! There are heaps of great cafes as well, like the Golden Orb Bookshop cafe, Olive, Tempo… really, though, you can't go wrong.
THE GOLF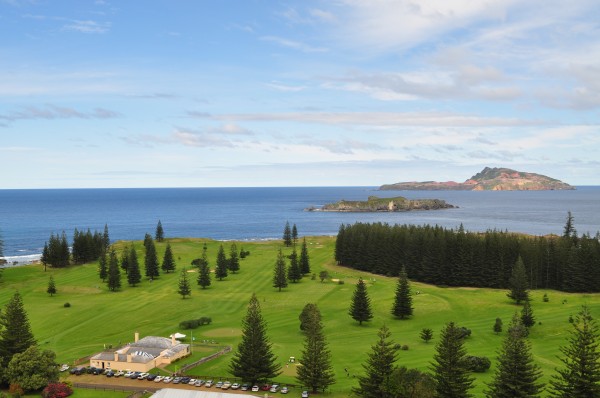 Of course, we were here for the golf. And we weren't disappointed.
Located within a World Heritage site, the Norfolk Island Golf Course is technically Australia's oldest existing golf course on its original site.  In 2010, The Golf Society of Australia concluded that the course (originally named "Point Hunter Golf Course") was built by convicts in 1843, and has not moved from the original site.  Thus, it outdates the Ratho Links in Bothwell–which historians claim may not have seen golf until 1860—and New South Wales Golf Club, which moved from its original site Grose Farm/Victoria Park to the current site at La Perouse.
In addition, Norfolk Island GC also technically qualifies for "Royal" status, as Queen Elizabeth visited Norfolk Island in 1974 and oversaw the construction of the clubhouse renovation.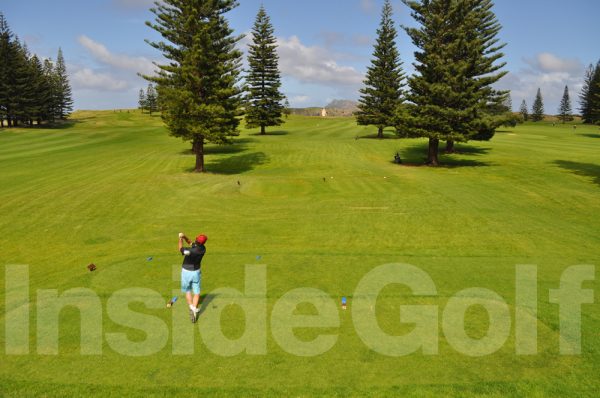 Norfolk Island GC has been described as the world's "Hardest 'easy' 9-hole golf course". I certainly agree. It could also be the best 9-hole course you will ever play.
Upon first glance at the relatively flat parkland layout – set uniquely in a links-style environment—one could easily become overconfident and assume that it would be a walk in the park. A few holes later, however, with a handful of bogeys on the card, you may need to reassess the situation.
The real "teeth" of the course are found in both the smallish greens and the thick Kikuyu rough. The greens are tiny and generally well-protected by bunkers. They are a pleasure to putt on, but are deceptively difficult to read for pace and break.  The rough that borders the fairways is equally tough, giving you either a flyer lie or a "grab the club right out of your hands" scenario. Indeed, hitting the fairways is critical on this course.
The signature hole is the par-3 4th/13th, a great little 120m/145m hole that plays along the ocean. The tiny green is tucked into a massive rock face, providing a very difficult target. Depending on the severity of the wind, you could hit anything from wedge to hybrid (or more) on this hole. The "bailout" area to the left is a safe option, but gives you a very difficult "up and down" for par.  Just thinking about the hole can give you the yips. (Side Note: In my opinion, if the green and tee area were swapped – and you teed off from the top of the cliff-face– this could be one of (if not THE) most spectacular Par-3s in Australia, hands down.)
Another great hole is the par-5 5th/14th. When played into the wind, it is a solid three shotter. Featuring a massive mound splitting the hole, OOB along the entire right side (including a cemetery), an elevated green and thick rough everywhere, it can make or break a round.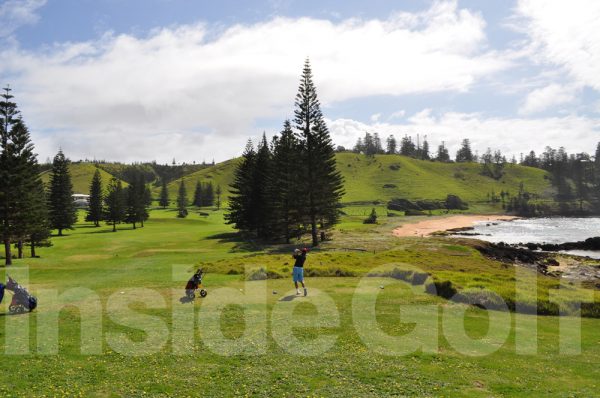 Overall, Norfolk Island Golf Course was a real pleasure to play. Despite four full rounds there, we never tired of the course—which was in spectacular condition, thanks to the stellar efforts of Superintendent Grant Newman.   We highly recommend you check it out when you have a chance.
(SEE FULL PHOTO GALLERY BELOW)
GETTING THERE

Before booking any trip to Norfolk, contact The Travel Centre on Norfolk Island. General Manager Rebecca Christian (yep, a descendant of Fletcher Christian) can arrange absolutely anything and everything for your journey. A true one-stop-shop service! www.travelcentre.nf; phone: Int +(6723) 22502; Email: rebecca@travelcentre.nlk.nf.

Air New Zealand is the exclusive carrier to Norfolk Island. They currently offer flights to Norfolk from Sydney and Brisbane.

Things to know:

Though part of the Commonwealth of Australia ($AUD is the main currency), Norfolk is also self-governing territory, so you will need a passport. You'll also pass through the International terminal and customs upon return.

Mobile phone coverage is charged at international rates, so be sure to either get an international SIM or adjust your mobile phone's data roaming. WiFi is available at selected locations.

Duty-free alcohol is available on the island, and you can get an extra 30% discount when you show your return Airline boarding pass.
PHOTO GALLERY (Picasa Gallery – you may need to hit refresh to view the galleries)
Norfolk Island Golf Course

Norfolk Island photos